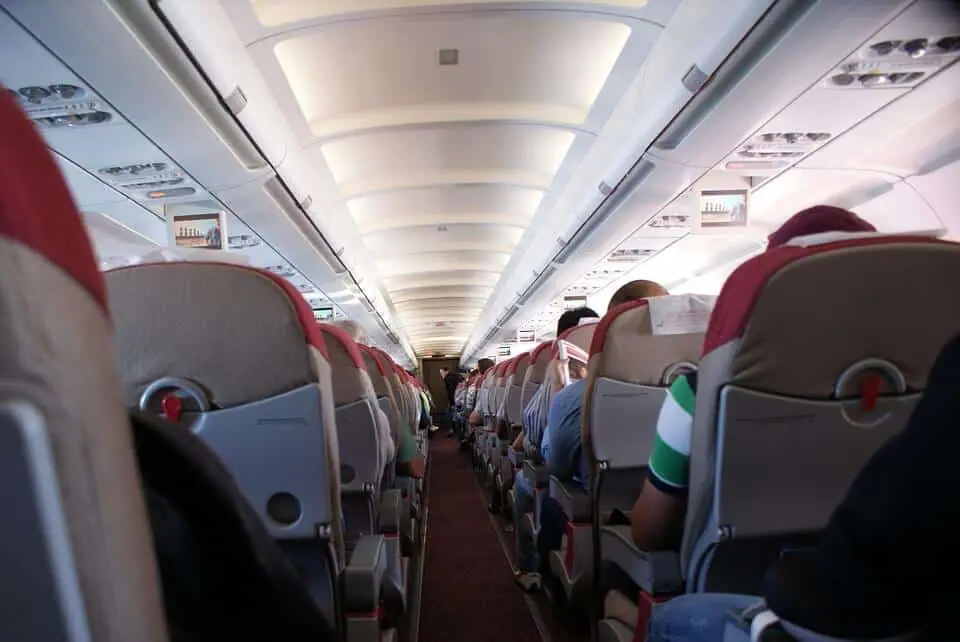 If you are going on a long flight, there are some must-have travel accessories you definitely want to put into your carry on bag. I know this from traveling on many international long-haul flights, whether it was operating these flights as a pilot or sitting in the back as a passenger.
These travel accessories are considered must-haves in my book, as they really will help the flight be more comfortable and enjoyable for you. Long flights can be very frustrating as a passenger and it probably goes without saying that the longer the flight, the more uncomfortable and bored you can be.
So, I have compiled a list of 10 items that I believe will help you have a much more enjoyable flight.
What should I bring on a long haul or international flight?
Keeping your sanity on a long haul flight is going to be difficult unless you remember to pack all the necessary items in your carry on bag. Packing them in your checked luggage is not going to help! As mentioned in my post Lightest Carry On Luggage Guide, if you are unsure, contact the airline and follow their specific policies and regulations for carry on luggage.
Now, what to bring.
1. Noise Canceling Headphones
There are so many reasons why this is number one on my list. You should have noise canceling headphones on an airplane in case of loud babies, people snoring, engine noise and the overall noise of hundreds of people in a confined space. This adds stress whether you know it or not and takes a toll on your body. I know this first hand.
Plus having headphones will allow you to listen to music or movies with great sound quality and comfort. If you are on a budget, check out my post Best Travel Headphones Under $100.
My recommendation is definitely the Bose QuietComfort 35.
I personally have been using the Bose QuietComfort for years and have really linked both the noise canceling effect and the quality of the speakers whether im listening to music or watching movies.
They are available on Amazon here.
If you are looking for more information on rules for bringing headphones on an airplane, you can read my post here.
2. Laptop/Tablet
Long flights are the perfect time to relax with a good movie or listen to your favorite music. Bringing along your laptop or tablet will let you do this. If you are traveling for business, this will able you to get some work done while en route.
It's becoming more popular these days to bring a tablet on board instead of or in addition to a laptop. They are much more convenient to carry with you and usually smaller and lighter.
Your individual needs may vary, but I recommend the Amazon Fire HD 10 tablet. It is a best seller on Amazon for a reason and travelers love it. You get so much for your money, it's hard to beat.
I also wrote an article covering the Best 10-inch tablets under $200, you can read here if you are looking for more options for a carry on tablet.
Another fantastic option is a Chromebook. Have you ever seen one of these powerful machines? They are fast and efficient if you usually spend time on th
e internet or in apps. And this one for that price?! I promise you will wish you had bought one sooner. My wife ditched her long-standing tradition of MacBook Pros for a Chromebook years ago and hasn't missed it a bit.
3. Backup Battery Charger
For long flights, you will definitely be in the air for more than a few hours, so charging your electronics will be necessary.
The Anker PowerCore 10000 is one of the smallest and lightest power banks on the market today. Travelers will love this gadget. This compact charger is easy to take anywhere and will provide rapid charging to all your devices. It's smaller than a deck of cards and as light as a baseball but can charge a phone over three times and most tablets once. 
You can get the Anker backup battery charger on Amazon here.
4. No Jet Lag – Increase Melatonin
This is something that you will deal with if flying internationally, Jet Lag affects many people. One thing you can do to help prevent jet lag iseBook increase melatonin. There are many products purported to prevent or cure jet lag. One of them is melatonin, a hormone produced naturally by the body to produce sleepiness.
Another product, No-Jet-Lag, has been proven effective in a scientific trial of round-the-world passengers.
Also confirmed by long-haul flight attendants in a test conducted in cooperation with their union. Since it is a homeopathic preparation using extremely low dosages, No-Jet-Lag has no side effects and is compatible with other medications.
You can get No-Jet-Lag by clicking here.
What accessories will help me stay comfortable on my flight?
Staying comfortable on a long flight is very important. If you are not comfortable, the chances of getting good rest are slim. This will lead to irritation, aggravation and is not healthy for anyone. These accessories will help you stay comfortable on a long flight.
5. Sleeping Mask / Eyemask
Getting rest on a flight can be difficult when there are so many variables that can prevent it. Most times on long flights, the cabin interior lights will be dimmed which is great. But there will always be someone with their reading light on which is annoying.
To prevent that from bothering you, use a sleeping eye mask. You will see many people using them on airplanes to help rest. There are so many styles available, and they are very affordable. They will fit into your carry on bag and are easy to access and use anytime you like.
I recommend the Bedtime Bliss eye mask. It is very comfortable, lightweight and blocks out the light. It is a top rated seller on Amazon with thousands of 5-star reviews. You can read those reviews and check out the Bedtime Bliss eye mask here.
6. Travel Pillow
It's no secret that the pillows that are handed out on flights these days are horrible. They are not comfortable and just end up being in the way. Getting rest on a long flight will only happen if you are comfortable, and having a good travel pillow will definitely help with that.
Just like the eye mask I mentioned above, there are so many different styles and prices for travel pillows. One thing I suggest is don't settle with the very basic and cheapest option. With travel pillows, you get what you pay for. I'm not suggesting you overspend for one, but you should be able to get a decent one for around $20-$30.
I recommend the Trtl travel pillow. This pillow is very comfortable, lightweight and is scientifically proven to keep your head in a better position while sleeping. It is also compact and easy to fit into a carry on bag.
You can check it out on Amazon here.
7. Air Travel Compression Socks
Long flights can really take its toll on our body. It's very common to have poor blood circulation when flying for long times. Have you ever noticed after you land from a flight and your ankles feel swollen and bulged out?
Enter compression socks. These will help prevent swelling and blood clotting on a long flight. They will help keep your circulation going. Perfect for swollen calves and ankles.
I recommend you try the Physix Gear compression socks. They are designed to be comfortable and look stylish. They are also very easy to put on and take off during a flight. You can wear them as often as you like and if you travel frequently, these are going to help you be more comfortable and protect your legs and feet.
You can find the Physix Gear compression socks on Amazon here.
The Last Three Great Must Have Travel Accessories For Long Flights
8. Carry On travel Blanket or Wrap
Most times the airlines don't provide great quality blankets if they provide them at all. Here is one of my wife's favorites
from Amazon that you should try. It's lightweight and versatile at the same time.
9. Toiletry Kit
Staying clean and fresh is important while on a long flight. You can buy different types of toiletry kits that include lotions, toothbrush, face wash and much more. Think through what you will need for your specific trip. You might just want some deodorant a toothbrush and some toothpaste, or you might want a little more. Have a look at the different types here. 
10. Travel Journal
It's a great time while on a long distance flight to gather your thoughts and write in your journal. For me personally, I always found I did my best writing while on the airplane. It can also be a nice way to reflect and further lock in the memories of that vacation or special occasion you just experienced if you take time to ponder and write about what you just experienced. There are many great travel journals to select from on Amazon that are very affordable.
Hopefully, you found these guides helpful. 
Thanks for reading!
If you enjoyed our must-have travel accessories for long flights guide, have a look at all our travel gear guides here:
Some of the links on this page are affiliate links, which means we may receive a small commission if purchases are made through those links at zero cost to you. I will only sell and recommend products that I have either used personally or believe will be helpful for you. You will only see proven and trusted gear, and I will help guide you away from the products that simply don't work!
You may also like