During my decades of flying, I have done some things right and some things wrong. This is a collection of 58 travel tips I have put together after a number of requests to compile my thoughts. I hope you find maybe a couple of these helpful on your next trip or vacation.
Before Your Flight
1. Research, research, research
Whether you are traveling to a country you have never been to before or just checking out some new areas closer to home, doing some research beforehand can really help you avoid some of the biggest pitfalls you may encounter. Checking out the locations you want to visit on google or YouTube or Pinterest can yield lots of information very quickly.
You can very easily learn about the country's culture, their language, check out the trade value of their currency, and more. Consider mapping the places you find on Google Maps or Pinterest to plan out which places you will be able to visit and the most efficient ways to do it. By taking a little time upfront, you can make sure to not waste time at borders, securing cell phone coverage or waste money with unnecessary bank or luggage fees.
2. Book your trip far enough in advance
Sometimes for business, you might have to book without much notice. But if it is possible, whether it is for business or pleasure. If you can book 3 months out or more, that is ideal. Doing this will not only save you some cash but give you time to make plans and time to enjoy knowing your trip is actually going to happen.
3. Tell someone, tell everyone
There are several reasons to tell people about your trip — close family and friends as well as sharing it on social media. Not only will they be able to possibly tell you about cool places to visit and things to do while you are there, but it is a good safety precaution as well. You can let them know the best way to contact you should something come up while you are away.
4. Learn about the requirements for your different destinations
Some countries only require a passport to visit. Did you know others require an additional visa? If you are looking for an uneventful time at the border, it's best to learn about what will be required before you get there. Some documents take longer than you think to acquire or renew so give yourself plenty of time. Also, when you travel, keep your most important documents in a multi-purpose RFID blocking passport folder like this one to keep them safe.
5. Do you need any shots?
I hate shots, but you might be required to get them depending on where your travel itinerary takes you. Make sure you double-check so you have time to prepare. Get your vaccinations weeks or months before your travel date. You have enough other things to worry about in the days right before your trip. Get this taken care of well in advance to save yourself the headache.
6. Let your bank know.
Speaking of headaches, telling your banks and credit cards about your trip can prevent you from having them blocking your accounts when you are abroad. If you don't tell them they will likely block them to prevent fraud with your account. If they get blocked it can take more time to correct the situation once you are overseas than if you would have let them know in advance, and it is time you could spend doing other things on your trip.
7. Take a small notebook with you (or a notepad app on your phone).
Bringing a small notebook with you, one that fits into a shirt or pants pocket can come in handy. By using a notepad app on your phone or a notebook, you can easily take note of new words or locations or recommendations and jot other important things down. It doesn't have to be very big. You will be thankful you have it when you need it and wish you had it if you don't.
8. Keep important numbers all in one place.
When you're traveling, there are a lot of important numbers you will want to keep track of along the way. Some of these will be numbers like your confirmation numbers for flights or hotels or cars, your actual flight number, your flight seat number, your hotel room number, as well as any phone numbers you may need. You will have addresses and parking spaces and floors. There are lots.
If you write them all down in a notepad or a notepad app on your phone or a piece of paper that you can put in your wallet, they will be easy to find and access later. Trust me; it's no fun to have to unpack half of your stuff on a busy sidewalk or the middle of the London Underground to find that one number or address you need.
9. Check your health and travel insurance coverage.
Well in advance of leaving on your trip, check your health and travel insurance coverage with your insurance provider. Review your itinerary with them and ask them what you should be aware of as far as your coverage. Make sure you have a good understanding of your coverage before you leave. That will not only give you peace of mind but can also influence where you go and how you spend your time as well. Checking it early provides you time to look for an alternative option if you need it. I highly recommend World Nomads Travel Insurance. You can read more about it here if you would like.
10. Back up and bring important computer files.
If you have a lot of important files on your computer, or your phone, back them up to the cloud (someplace like Google Drive or Dropbox) or put them on a hard drive like this one before leaving. This way, you can access them and use them while traveling and won't risking losing them. This is good to do no matter if you are traveling or not, but even more important if you are.
11. Consider checking out travel deal websites or booking websites.
There are lots of websites out there these days that are very useful when planning your trip or saving you money when it comes to booking flights, hotels, and car reservations. You can use them to make sure you are one of the first people to know about the best travel deals and promotions. Sign up for their newsletters and follow them on their social media profiles. By doing that, you increase your exposure to and chances of scoring the best deals.
12. Check out travel destination websites or social accounts.
This is usually lumped into the research phase, but I wanted to break it out here as well. Checking out websites about traveling or travel destinations will help you with your trip in several ways. It will help you find locations and things to do or places to visit while you are there. You can read about other people's experiences going to places you want to visit to see if you still want to go. You could even use a site like Pinterest to collect ideas and create a map of locations that can help you plan a route of where you want to go.
You could also find a site that helps you find good local cuisine. Here's a Pinterest board I just made for a trip to northern Spain and one I made a while ago to gather ideas for a trip to Canada.
13. Find a way to earn points you can redeem on travel.
You may or may not travel a lot. Either way, there are a lot of advantages to having both a card that will help you earn points you can redeem on travel and frequent flyer miles with an airline or hotel. If you travel a lot, you will use the accumulated points. If you don't, at some point those points will help you get out and see more of the world. They will help you justify some adventure in the future.
So pick an airline or hotel chain, or both and sign up so you can accumulate points with them and consider getting a credit card that will help you accumulate additional points. Many cards will offer you additional points, usually worth a short flight or a hotel stay just for signing up and spending some money with them in the first few months. You will really be glad you signed up for either frequent flyer points or a travel rewards program in the future. Trust me.
14. Double check your passport.
Taking a quick second to pull your passport out and check the expiry date of your passport before you get to the security line at the airport is a really good idea. Check it at least a couple of weeks before traveling. That way you have enough time to renew it should the need arise. Also, some countries may require you have at least 6 months left on your passport before it expires to enter. Just double check.
15. Take a moment to shop around for the best deals.
When it comes to booking your flights, don't just grab the first one you see. Shop around a bit. Take some time and compare multiple sites until you find the best deal. There are lots of places and travel sites you can check and book your flights on. The good thing for you is they are always competing with each other which means that there are always deals to be found!
16. Book your flight early
Flights cost less the further in advance you book them. However, you can also save additional money if you book your trip during the off-season or in-between seasons. A little bit of research goes a long way. And if you signed up for notifications or emails from those travel sights I mentioned earlier, and you can be a little flexible with your dates, you can find some really great deals out there.
17. Take a red-eye.
Red-eye flights are ones where you spend a majority of the flight traveling through the night and into the wee hours of the morning. And they are usually more affordable than other flights. This might not work if you are traveling with kids, but you might be surprised how fast the trip goes when the kids sleep through a good portion of it. Red-eye flights are usually the cheapest of the options available. If you see one next time you are looking for a flight, snatch it up for a good cheap ticket.
18. Select your seats in advance with the airline.
Did you know some airlines will let you select your seat days in advance of your flight? Check with your airline to see when the earliest to check-in is and take the time to do right when it opens. It will make a huge difference if you can get the seat you want. just set an alarm on your phone or schedule a reminder on your calendar. It makes a difference on a long flight if you can start with a seat that your comfortable in.
19. Optimize your seats.
If you really geek out over seat selection there are a couple of airplane seat information websites that you should check out before your next flight: SeatGuru and SeatLink. SeatGuru shows you airplane seat maps so you can see your exact airplane seat placement and know where the exits are and toilets etc. It gives you information and advice on which plane seats you might want to avoid or get.
You do need to know what type of aircraft you are on. SeatLink is better if you don't know what type of your the aircraft you are flying on, you just enter some basic information about the flight and it brings up your plane for you. You can also use your flight's number to search. SeatGuru does this too, but SeatLink's is a little slicker.
20. Print your itinerary.
It can be much easier to reference a printed copy of your itinerary when you are in a hurry between flights or if your phone doesn't want to connect to the airport's wifi fast enough or if the airport doesn't have wifi and you can't get a cellular signal on your phone at all. Just take the flight itinerary confirmation email the airline sends you, print it and put it in an easily accessible pocket of your carry-on for safekeeping. Also, consider doing this with any other reservations like hotels or car rentals as well.
21. Use a credit card that doesn't charge fees for international use.
If you are traveling internationally, make sure you use a credit card that isn't going to charge you extra fees for using it abroad. Those fees will add up. You can ask your bank when you call them to let them know you will be traveling. Ask them about the fees for use overseas as well. Some people think they have to pay a fee to use their cards overseas. You don't. The card I use for point accrual and when out of the country is the Chase Sapphire Card. There are no fees at all. I just use it as I would back home and they sort out the exchange rates and all that. I love it. And I still earn my travel points.
22. Call travel site (if you want additional flight or hotel booking options).
When booking your flight or hotel reservations, you can call them if you want to see additional options or flexibility. If you aren't seeing an option you would like, reach out to them and ask. You might be surprised what they can do for you.
23. Double-check baggage requirements.
There are typically both size and weight requirements to check. International flights are usually a bit more lenient when it comes to baggage size and weight than the domestic ones but double-check. It's not fun to get to the airport expecting to check a bag for free only to have them ask you for the equivalent of a night at a hotel to get it to your destination. It's a good idea to check the requirements for both checked luggage and carry-on.
24. Print your itinerary.
It can save your bacon. Just do it.
25. If you prefer, travel agencies still do great work.
If you are more comfortable booking your plane tickets, hotel, and car through a travel agency, make sure to shop around first. Some of them are very expensive and others are very reasonable. Make a good list of requirements so they have a clear idea of what you want to get out of your trip. You are paying for the assistance, make sure to give them the tools to help you. Ask them questions about your locations as well. They should have ideas of ways for you to maximize your travel experience and ways to avoid bad experiences too like shady parts of town.
26. Dress well for your flight.
Some flights can be quite long, especially when you are flying overseas, which is why it's a good idea to think about what you will wear before you get on the plane. Make sure your clothes are comfortable before they are fashionable. But these days they can be both. You can also save space in your luggage if you wear some bulkier items on the plane.
Some planes can get really cold as well. If you keep a jacket or sweater with you, it will save space and give you a way to keep warm or something to create a makeshift pillow with or to put behind your lower back if needed. You have lots of options. Also consider wearing flat shoes and not raised ones. That will be more comfortable and aid you in all that walking and maneuvering you will be doing around airports and on planes.
27. Learn a few words in the language(s) you may encounter on your trip.
You will have a better experience and the locals will welcome you more warmly if you can at least say a few words like hello, please, thank you and sorry. Remember that you are in their country and they aren't obligated to know English, although many people do. And if they don't understand you, don't speak louder. Add some hand gestures in or point to a location on a map or use a nearby object to help communicate. If you need to, try using a translation app on your phone like Google Translate when you're really struggling. Don't rely on technology too much though or you won't learn much.
28. Convert some money into your destination's currency.
At some point, before you go, go to your local bank and convert some of your money into the currency of the country you will be visiting. There will be expenses upon your arriving at your destination you may need to pay cash for, like a taxi to your hotel, that may only take cash. Your local bank should be able to do this for you. Most banks offer some sort of currency exchange.
Check with your bank several weeks in advance though, as it can take two or three weeks to receive funds in the currency you need if the bank has to order an obscure currency in for you. Some websites offer this service as well, although I haven't personally used any of them.
29. Book the best flight schedule.
Depending on whether you are a morning person or a night owl, decide when you would like to land in your travel destination. I am a morning person so I like to land in the evening so I can try to go to sleep after a long trip and wake up in my new location and start my day fresh. I have a friend who likes to land in the morning and spend that first day taking in the sights or get started on their road trip first. Thinking that through and figuring out the time change that will occur can allow you to optimize your flights and experience even more.
30. Book at a site that has the best deals.
Certain sites have the best deals, but finding them will likely require some research. This kind of offer simply means that if you find a flight, a hotel accommodation, or even a package at a different website that is exactly the same, but offered at a more affordable price. However, you should take note that, in most cases, this kind of offer can only be availed by calling the toll free line of the site.
31. Invest in a good camera.
Invest in a camera that you will use. If you will use a separate camera like a DLSR, get one and a good one. If you don't think you will or know already that you don't want to carry around an additional camera, then use your phone, and consider upgrading it to one with a great camera if you need to. You will regret not taking enough pictures as you tell your stories to friends and loved ones, but you won't ever regret taking too many.
32. Adapters, Batteries and Digital Storage
Have you ever gotten to where you are going and realized you forgot a charger, your batteries die, or you don't have enough storage space for your photos or voice notes? Think all those scenarios through and do what it takes to have plenty of power and chargers and space to save every picture and scrap of digital goodness you capture during your adventures.
33. Bring a powerstrip.
If you have more than one or two things that will need charging, try bringing a power strip with multiple outlets on it. It will save you from having to spread your different things around a hotel room or cafe to get them all ready to go. In some countries, you might only have one outlet in your room and then you will have to choose, do i charge my phone or my laptop or my camera batteries tonight?
A powerstrip can simplify your charging routine immensely. And if you are traveling with a small group or your family, it's a must-bring. This one on Amazon is fantastic because it has USB chargers built right into it which will save you from having to bring your big clunky phone charging plugs as well!
34. Always pack light.
No matter how short or long your vacation would be, challenge yourself to pack a little lighter than you think. Map out beforehand how much you will need for the length of time you will be there and the weather conditions you expect as well. If you will be away for more than a week, plan to do a little washing. That can cut the number of clothes you bring in half or more. You can use compression packing cubes to help organize and maximize your luggage space as well. You can find the best deal on compression packing cubes on Amazon by clicking the link.
35. Pack from a checklist.
As you do your research and as your trip approaches, you will have things come to mind that you want to bring with you. Start making a packing list and keep it somewhere that you can easily add to it. Don't be afraid to start making your list early. That way you won't miss anything. Besides that, you have so many things to think about with work, home, and trip details that it will feel really good to know you don't have to remember what to pack; it'll all be on your list.
36. Pack it all in your carry-on
You will eliminate spending money on baggage fees and save time and potential headaches from missing luggage if you can fit what you need for your trip into a backpack and a carry-on bag. that you bring with you onto the plane. You will never show up to your destination missing any of your luggage if you can just carry it all with you easily. Here is a really well built carry-on bag on Amazon for a great price, and it meets airline specifications.
37. Pack an empty water bottle to the airport.
Unless you are terrified of readily available public water or like paying $10 for a bottle of water at the airport (I might be rounding up a little just to make my point), take an empty water bottle with you to the airport so you can make it through security. Then fill it up and use it on all your flights. If you haven't flown much, know that you won't be able to take a full one with you through security.
38. Preventing Airsickness
If you are not a frequent traveler, or if you are and you experience airsickness, selecting your seats can make a huge difference in your flying experience. Choose a seat by or over the wings. Those seats experience the least amount of turbulence during the ride. Buying your tickets early so you can select your seats early is recommended.
If you are a price-conscious person, it might be hard to do but you might want to pay a little extra if required to choose your seats on the flight. If all else fails, just talk to the staff at the gate when you arrive and see if they can help shuffle people around a little bit and seat you there. Otherwise, sometimes a fresh piece of gum in your mouth, trying to pop your ears by fake yawning and just looking out the window at the horizon have all been known to help relieve some of those queasy feelings.
39. Bring your own snacks.
Whether your flight offers an in-flight meal or not, you should bring your own snacks as well, like crackers or a sandwich. This way you can have what you want and eat it when you want it. You won't need to wait from the flight attendants to bring you the next round of drinks or snacks if you are hungry. You also won't have to pay the exorbitant prices for the in-flight meals offered.
40. Go "incognito" when booking.
Have you ever experienced this? You are looking at flights and going back and forth between sites and you come back to buy your tickets and the prices have increased on the same flights you were just looking at. You can beat the airlines at their own sneaky game by either browsing incognito or buying incognito. It's an option to open an incognito window in your browser. Try it. The prices will drop when you are ready to buy.
41. Utilize layovers.
As you look at your different flight options, consider how you might utilize layovers to reduce cost, get some exercise, and add some additional locations to your travel itinerary. You might be able to stop for a while in a location that you would like to get out and see for a bit before boarding your next flight. Think outside the box a little and you might be able to make good use of what would otherwise be seen as an obstacle to your travels.
42. Should I book connecting flights together or separately?
Try looking at booking both together and separately. I have a friend that recently saved a lot of money booking them separately. They first booked a round trip ticket out of New York with two weeks in between and then booked a flight into a smaller region in Europe with a layover in Madrid. By booking them separately they saved nearly 30% of the ticket price had they been booked straight from their local airport to the final destination. Check multiple options to see what works best for your trip.
43. Check the weight of your packed luggage before you leave the house.
Checking the weight of your luggage can go a long way, as far as saving up some money from paying airline excess luggage fees is concerned. Therefore, you should make sure that you stay within the limits of the weight restrictions. Use your weighing scale for it, so that you won't have to deal with these fees. I recommend this luggage weight scale on Amazon. They are very affordable and will eliminate any surprises at the airport with excess luggage fees.
44. Learn about the local foods before visiting.
During your research, make it a point to learn more about the cuisine in the area you will be visiting. This will help you know what foods you need to try before your trip is over. You will also learn if there are any you should stay away from if you have food allergies or strong preferences, like a low tolerance for spicy foods. You can also have a greater appreciation for what goes into preparing those dishes and the traditions that surround certain meals. YouTube is a fantastic way to learn about the local cuisine.
45. If you have dietary requirements…
If you do have special dietary requirements and you are traveling to a region that speaks a language you don't, just take the time beforehand to make a list of foods in their language that you can't eat and just show it to your servers. They will be happy to accommodate you.
46. Don't forget your medications
It might go without saying but don't forget your medications. If you have antihistamines or emergency meds bring those as well. You can likely buy basic meds wherever you travel, but it is much more convenient if you have them with you when traveling, especially in the event of an emergency. You can travel with your medication in both carry-on and checked baggage. I would recommend packing them in your carry-on luggage if you need immediate access.
47. Give your immune system a little boost.
When you fly on a plane, you will be exposed to other people's germs. Traveling to other parts of the world will also expose you to lots of new microbes and germs. That, combined with the fact that traveling, especially flights across multiple time zones, put a strain on your body, including your immune system. And, you can't afford to get sick. You're on vacation!
Therefore, pay special attention and take care of your immune system prior to and during your travels. Boosting your immune system, by doing things like taking a multi-vitamin getting some good sleep, refraining from alcohol, eating clean and refraining from large amounts of sugar will make a difference in how you feel. You'll enjoy your trip much more!
During Your Flight
48. Board the plane like a pro.
When boarding the plane, keep in mind what you will want to use in-flight and keep it close to you, either in the seatback or the pockets of your clothes or at your feet. The rest can go in the overhead bin or your checked luggage. It's always a good idea to keep your most important items like passports, money, keys, phone, etc with you.
Also, make sure if you are going to be using electronics on a long flight to have a charger with a USB on the other end as most flights now that cover long distances have a USB charger on them. If everything is right where you need it, you will be able to board the plane, place your bags where you need them, and be seated quickly.
49. Make safety your priority
After you have made it to your seat and all your gear is stowed and you are ready for your flight, make sure you listen to the flight attendants as they give their safety presentation. Make sure you note where the emergency exits are. Determine which ones are nearest to you, and count the rows to get to them. You can also check out the safety information in the seat pocket in front of you as well. You can never be too safe.
50. Skip the alcohol.
When traveling on a plane, it is always better to skip the alcoholic beverages.
The FAA website states, "Brain effects include impaired reaction time, reasoning, judgment, and memory. Alcohol decreases the ability of the brain to make use of oxygen. This adverse effect can be magnified as a result of simultaneous exposure to altitude, characterized by a decreased partial pressure of oxygen."
There are many details to keep track of and tasks to complete as a part of successful flight experience: boarding a plane, taking care of luggage, understanding new languages, navigating ground transportation options, and much more. Instead of drinking alcohol, drink lots of water so that you won't get dehydrated. Water can also keep your mental state from deteriorating and keep your immune system healthier. And if you want to avoid jet lag, you need to avoid alcohol.
When you Reach Your Destination
51. Try taking a class when you are there.
There are lots of apps and websites that offer or advertise classes or meetups that you should try when you get to your destination. A trip is the perfect excuse to try something new. And you will never forget doing that activity in that new-to-you location. And it's even better if you are learning or trying something that you haven't done before as well. Think of taking a cooking class in Barcelona, or fishing off the coast of Tahiti, or a surf lesson in Bali. Are you getting the picture?
52. Spread your money around, if you must.
Depending on where you are traveling, there isn't a huge need to keep a lot of cash on you. If you can travel with a good credit card that should help as well. then just keep your cash and card close at all times. If you find yourself needing to keep a lot of cash, then spread it around. Don't keep it all on you and not even all in one place. That way, if you get pick-pocketed, you won't lose everything. Another tip: don't show too much cash when you open your purse or wallet to make purchases. That can make you a target of would-be pick-pocketers or thieves
53. Use your phone for free abroad.
If your phone can make calls over WiFi or if you use any number of apps that allow you to make calls or do video calls, all you need is WiFi. Then, you have a fully functioning phone without needing to pay for any extra coverage. Just keep it in airplane mode from when you leave your home country until you get back. McDonald's and Starbucks are in nearly every major city around the world and nearly always have free usable WiFi.
Yep, if you want to check emails or Google Maps or do anything online or in your apps, just connect to Wifi and you are good. It works really well. To make the time display correctly go into your settings and manually adjust the time to the local time. Just keep it in airplane mode.
54. Only stay in places you're sure you'll like.
If you find yourself having to book overnights at hotels you aren't that certain about, just book it for two nights. It doesn't matter how long your trip is. This way, you have a place to stay and if you like it you can extend your stay there and if you don't you have time to find somewhere new.
55. Consider keeping a brief journal of your trip.
Even if you aren't the type to regularly keep a journal, try keeping one during your big trip. Even taking pictures and videos, you will forget bits and pieces of your trip with time. Photos and videos do a great job of recording facts like where you were or who was there, but a journal can help you remember feelings and other non-photographable types of things. A journal could be written or it could be audio only or it could be a video one. Pick whichever is easiest for you to actually do. Do that. You'll treasure it in years to come.
56. Give yourself time.
There are lots of reasons not to overbook yourself on a trip. Make sure you have plenty of time to cope with jet lag or travel fatigue. Give yourself some free days to just do whatever comes up. That way, you don't rush through your itinerary and not really get to enjoy all your new surroundings and culture.
57. Talk with strangers.
Whether you are a chatty person or more of an introvert, you will end up talking with people all along your journey. It might be with the passenger next to you on the airplane or at the airport or on a trolley or donkey cart. Be cautious when it comes to the details and information that you share. Make sure not to tell the other person all your plans or where you are staying. They might be completely trustworthy but you don't know who might be listening. I tend to be a little louder when I'm in a new situation so I have to be extra cautious.
In The End
58. You will have setbacks; stay positive and be flexible.
Everyone wants everything to work out just as they planned on vacation. Just so you know, sometimes things don't go according to plan. And while you might need to put on a serious face for a baggage handler or hotel staff to get your point across from time to time. Be patient and polite and don't let yourself get too wrapped up in things you don't have control over. Mistakes happen. Other people have bad days too.
Lines can take a long time. You might get sick. Do your best to be patient with others and situations that arise and be as flexible as you can. Be ready to create a backup plan if needed. If you can do these things you will have a much better experience. And who knows, you might be able to help a fellow traveler in need.
Hopefully, you found these 58 Top travel tips and advice helpful. There are always many things to prepare for when traveling, the list is endless. But having some great tips can go a long way in helping you plan your trip, and be mindful of events during your trip.
Thanks for reading!
Pin It!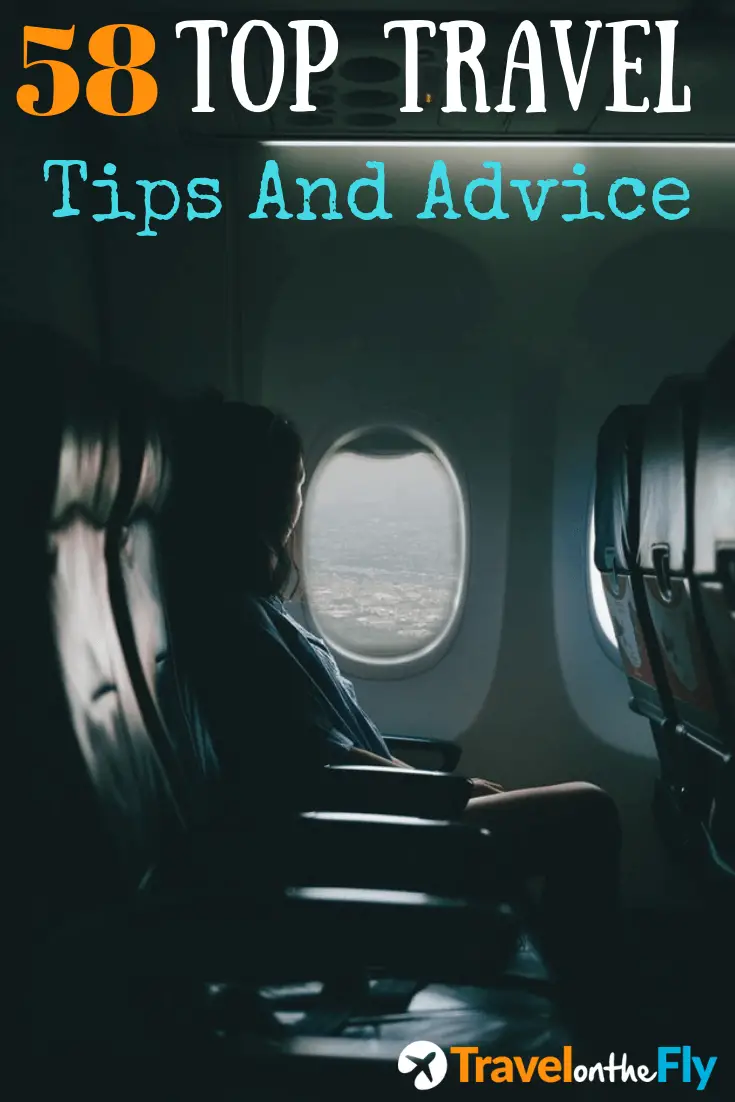 Some of the links on this page are affiliate links, which means we may receive a small commission if purchases are made through those links at zero cost to you. I will only sell and recommend products that I have either used personally or believe will be helpful for you. You will only see proven and trusted gear, and I will help guide you away from the products that simply don't work!