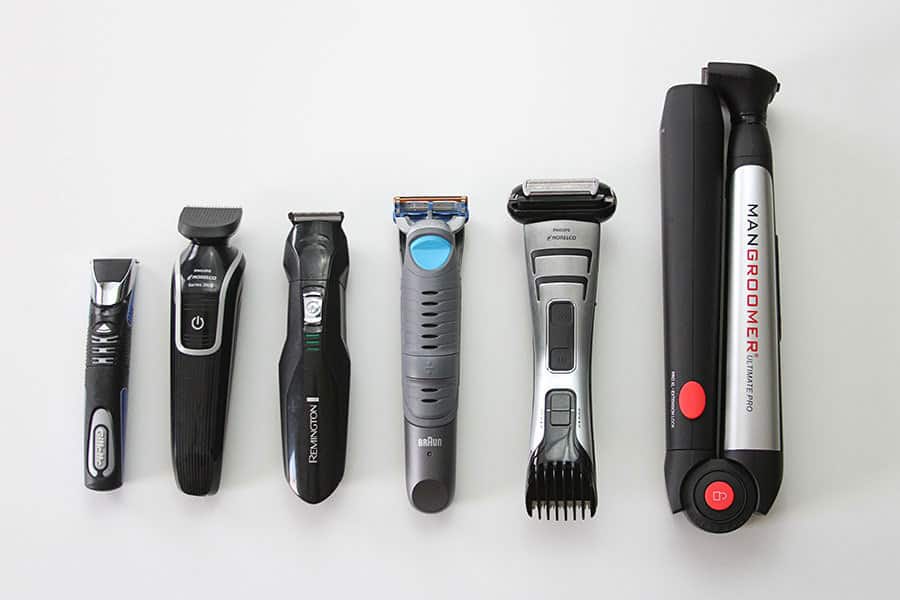 In this post, I will show you the best beard trimmers you can carry on board an airplane. It can be very frustrating with all the rules and regulations today, knowing what you can actually carry on board an airplane.
You should never assume that an item will be allowed on board your plane. Always check the current regulations to confirm before packing your items.
One of the more common things to carry on board an aircraft is electronics. An electric beard trimmer is one of those items you may need to stow away in your carry on luggage.
Can You Carry an Electric Beard Trimmer on an Airplane?
The answer is yes! According to the Transport Security Administration, you can bring them on board. Click the link to see the TSA website for more information.
You can carry a beard trimmer on board the airplane inside a shaving kit or carry on bag. But keep in mind, just because it is allowed on board, the item is still subject to being searched and confiscated if anything is suspicious.
Also, according to USA Today:
Not only is an electric razor allowed in checked baggage, but it can also be carried onto the plane. This is also true of disposable razors and cartridges. Straight razors are not permitted on a plane, and neither are safety razors unless the blade is removed beforehand.
All razors are allowed in checked luggage. Batteries for your electric razor are also allowed in carry-on or checked luggage.
You are free to choose how to take them with you because electric razors don't have sharp points. It's recommended you pack your razor securely, so it won't get damaged during your travels. Any other sharp components should be wrapped tightly and securely to prevent baggage handlers or inspectors from getting hurt or injured.
Ok, so now you know that beard trimmers are allowed on board airplanes. Let's look at the best beard trimmers for you to actually carry on.
Before You Buy
You are aware of what you need to do when packing your beard trimmer for travel, but do you know what you should look for when it comes to finding the best beard trimmer?
Versatility
Always determine how the beard trimmer or groomer will be used. Do you need it just for your beard or do you also need to use it on your head and body as well? If this is the case, then you may want to consider a multi-use beard trimmer that allows you to achieve a variety of different length settings for more effective trimming and grooming.
Cord or No Cord?
If you want more in the way of flexibility, then you may want to choose a cordless beard trimmer with a rechargeable battery. This is also great for travel because these types of beard trimmers can be used virtually anywhere; you won't have to worry about having access to an electrical outlet if you need a quick trim.
On the other hand, a corded trimmer may give you more power, and you won't have to worry about charging its batteries for it to work when you need it.
Attachments
To achieve different styles and looks, you want to have a few comb attachments. Keep in mind the kind of beard you have for this as well because you may require specific comb attachments for your goatee or whatever beard style you are rocking.
Beard Length
You also need to consider the length of your beard. This is how you determine how many length settings you will need to have. You will also find that some trimmers are more suitable for shorter hair, while others are better for longer hair. You may even just require a stubble trimmer.
Wet and Dry Use
Finally, many beard trimmers and groomers can be used for both wet and dry use. This means some of them can be used in the shower, so if you have a plane to catch, this may be useful for saving time.  Waterproof trimmers are also much easier to clean which also helps with cutting down on your time and offers more in the way of convenience
Now that you know what to consider, let's get right into our top three picks for travel.
Our #1 Top Pick
Philips Norelco Oneblade QP6520/70 Pro Hybrid Electric Trimmer and Shaver
Unlike a dedicated shaver or beard trimmer, Philips Norelco OneBlade Pro is a revolutionary hybrid tool. OneBlade Pro can do it all with just one tool – trim, edge, and shave any length of hair. This makes it fantastic for traveling.
The unique shaving technology integrates a fast-moving cutter (200x per second) with a dual protection system to give an efficient and comfortable shave on longer hairs. OneBlade does not shave too close, so your skin stays comfortable. The replacement blades last up to 4 months
Features:
✅ Trim, edge and shave any length of hair with only one tool
✅ Unique OneBlade technology with 1 replaceable blade
✅ Not too close, so your skin stays comfortable
✅ 14 length settings from 0.4 – 10mm
✅ Li-Ion battery
✅ 90 min battery usage / 1 hr charge time with LED display for battery status
✅ Product Dimensions : 3.8 x 5.1 x 8.6 inches
✅ Product Weight: 13.4 oz
✅ Use wet or dry
Why we love it:
It's tough to find a beard trimmer with several length settings, and the Phillips Norelco OneBlade Pro comes with 14. Tough to beat that
Also, the build quality is great and will last a long time
Very durable
The replaceable blade will last up to 4 months. You get your money's worth.
Cons:
The shaver blade replacements can be more expensive than some other trimmers. But you will get more use out of it, so it's worth paying the extra for better lasting quality.
Summary:
The Phillips Norelco OneBlade Pro is a great beard trimmer, and we highly recommend it. It's super stylish and powerful. The build quality is great, and the Norelco products are a grooming staple.
The Philips Norelco OneBlade Pro is a revolutionary hybrid tool. OneBlade Pro can do it all with just one tool – trim, edge, and shave any length of hair. Longlasting battery life with a quick charge and indicator is a great feature.
Other Phillips Brand Beard Trimmers that are recommended are the OneBlade and the Norelco BT3210/41.
You really can't go wrong with either of these choices. Our top pick would be the OneBlade Pro.
Our #2 Pick
Wahl Lithium-Ion 2.0 Deluxe Groomer
The Wahl Lithium Ion 2.0 Trimmer is a great option as well. You'll have all you need to keep your facial hair looking great. This kit gives you Wahl's Lithium Ion 2.0 Power as well.
Features:
✅ Lithium Ion 2.0 Technology
✅ 1-hour charge
✅ Up to 4 hours run time
✅ 2X power
✅ Smart LED
✅ Auto charge off
✅ Made in the USA
✅ 5-year warranty
✅ 120-240V 50/60Hz
Why we love it:
The Wahl Lithium Ion 2.0 Deluxe comes with everything you need to trim, detail, and touch-up your beard, body, and head.
Also, love the fact that Wahl offers a 5-year warranty. They really stand behind their product and have confidence that you will be happy with your purchase.
Equipped with Smart LED that tells you when the charge is running out
Also has two times the cutting power of other standard rechargeable trimmers available on the market
 
Cons:
Some users reported that the on/off button does get stuck at times and could pose a problem due to eventual wear.
Summary:
The Wahl Lithium Ion 2.0 is another great beard trimmer with many features that make it a perfect choice for travelers. The long-lasting charge is a huge plus and the one minute quick charge that gives you three minutes of run time will prove convenient time and time again when you are in a hurry.
Any of the other Wahl beard trimmers are a good choice, but if you had to choose one, my pick would be the Wahl Lithium Ion 2.0 Deluxe Groomer. You will get great value for the low price.
You can get the best price on Amazon by clicking here: Wahl Lithium Ion 2.0
Our #3 Pick
Hatteker Men's Beard Trimmer Kit
The Hatteker trimmer kit is an All-In-One personal groomer with 5 different attachments with additional combs. This is a new release trimmer kit which will provide excellent precision.
Features:
✅ Max Lithium Power – 60 minutes of run time after 90 minutes charging
✅ Self-sharpening steel blades
✅ Fully washable
✅ USB charging
✅ LED display
Why we love it:
Another great All-in-one groomer that is durable and long lasting
Its modern design looks great, and the LED screen is nice
It's compact and easy to pack as a carry on item
Also, it is fully washable with non-corrosive blades and guards that are water-resistant for easy cleaning
The Hatteker trimmer sells for a great price and provides excellent value
Cons:
There aren't too many things not to like about this trimmer. It would be nice if the warranty was longer than 1 year. Not a big deal breaker but where many trimmers are offering up to 5-year warranty, I think this trimmer is good enough to offer the same.
You can check the best price on Amazon by clicking here: Hatteker Beard Trimmer Kit
In Summary:
You really can't go wrong with any of these beard trimmers. Each one of them can be carried on board an aircraft and will provide great quality at great prices. So whichever one you choose, I know you will be happy with!
If you enjoyed our best carry on board beard trimmers guide, have a look at all our travel gear guides here:
Hopefully, you found these guides helpful. 
Thanks for reading!
Some of the links on this page are affiliate links, which means we may receive a small commission if purchases are made through those links at zero cost to you. I will only sell and recommend products that I have either used personally or believe will be helpful for you.
You will only see proven and trusted gear, and I will help guide you away from the products that simply don't work!
You May Also Like: