Best Travel Cameras Under $500 (Guide For 2020)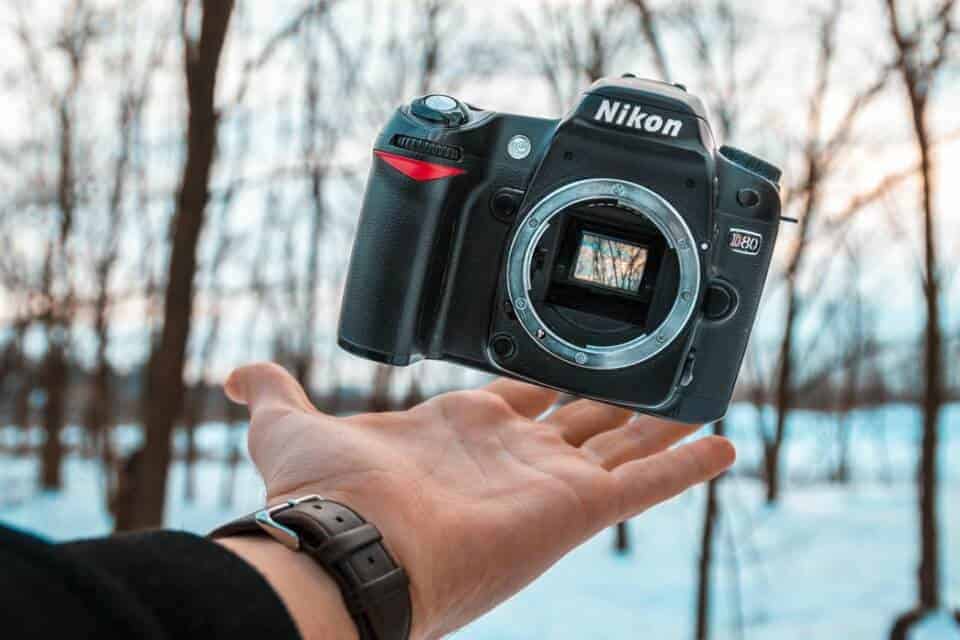 Are you looking to buy a great travel camera in 2020 without spending a fortune? The good news is you don't need to break the bank to get a really nice camera that is perfect for travel use.
Whether it's a compact digital camera, DSLR, or mirrorless camera, there are some great cameras that have many of the updated features and specs you would expect to see and do it for $500 or less.
So what are the best travel cameras for under $500? Here are my choices.
Best Compact Digital Cameras Under $500
Sony DSC-HX99
One of the many great features of the Sony DSC-HX is that it's the world's smallest camera with a 24-720mm zoom lens. Perfect if you plan to use it for everyday photos or grab amazing travel shots.
High-quality images with outstanding performance
4K3 video recording
180° tiltable LCD touch screen
18.2 megapixel
30x optical zoom
Shoot continuously at up to 10 fps for up to 155 shots
Touch focus and shutter
Control ring for advanced photography
Dimensions: 6.1 x 4.7 x 3 inches
Weight: 8.54 oz
The Sony DSC-HX99 is available on Amazon.
Check out this video showing a full review of the Sony DSC-HX99
Panasonic Lumix

DC-ZS70K
If you are looking for a great pocket-sized camera with 4K quality at a cheap price, check out the Panasonic Lumix DC-ZS70K. I love the 5 axis optical image stabilization feature. This will suppress blurring through 5 types of movements. Perfect for taking crystal clear, high-resolution images. It's slightly heavier than the Sony DSC-HX99, but not by much.
High resolution with close in detailed images
20.3 megapixel
30x optical zoom
4K video recording
4K photo and 4K post focus with internal focus stacking feature
Manual control ring
5 axis optical image stabilization
180-degree tiltable monitor
Dimensions: 1.62 x 4.4 x 2.64 inches
Weight: 11.3 oz
You can buy the Panasonic Lumix DC-ZS70K on Amazon:
Best Mirrorless Cameras Under $500
Panasonic Lumix G7
It might be tough to find a quality mirrorless camera under $500, but it can be done! The Panasonic Lumix G7 is proof of that. This camera will give you awesome DSLM image quality, it's lightweight and not as bulky as some other mirrorless cameras.
4K Ultra HD modes (video and photo)
Fast and precise autofocus
HDMI / WIFI sharing
High-resolution viewfinder
Many expandability options
16 megapixels
3-inch screen size
Dimensions: 4.92 x 3.03 x 3.39 inches
Weight: 14.4 oz
You can check the current price on Amazon.
Canon EOS M100
The Canon EOS M100 is another fantastic mirrorless camera at a great price. It has many of the great features that the Lumix G7 has, but there are some differences. The biggest difference for me is the Canon is smaller and lighter than the Lumix.
Amazing image quality
Fast autofocus and advanced Digic 7 image sensor
Built in WIFI and Bluetooth
3″ LCD touchscreen rotates 180 degrees
Ultra-wide zoom lens
24.2 megapixel
Up to 49 AF points
Dimensions: 1.4 x 4.3 x 2.6 inches
Weight: 10.7 oz

Check out the latest price on Amazon.
Check out this video showing a full review of the Canon M100
Pro tip:
If you wanted to spend a bit more money on a mirrorless camera, the Sony Alpha A6000 is my pick for the best mirrorless camera under $600, so it will cost you $100 more, but that might be an option for you. You can read my full review of the Sony Alpha A6000 by clicking the link.
Best DSLR Cameras Under $500
Canon EOS Rebel T6
DSLR cameras are a top choice for photographers and travelers alike. But similar to the mirrorless cameras, sticking to a $500 budget can be difficult. Yes, you can spend way more and get an amazing DSLR camera, but in my opinion, it's not necessary.  The Canon EOS Rebel T6 is a fantastic DSLR camera on a budget. This camera comes as a package with a tripod and full accessory bundle.
18-55mm EF-S f/3.5-5.6 IS II Lens
Full HD 1080p Video Recording
18 megapixels
Built-In Wi-Fi
Intelligent Auto Mode Basic+ and Creative Auto Modes
DIGIC 4+ image processor
3.0″ 920K-dot LCD
Dimensions: 13.5 x 8.5 x 23.5 inches
Weight: 17.1 oz
Kit includes additional lenses, flash memory cards, camera case, tripod, flash, RS-60 remote switch, 3 Piece UV filter kit, USB Card Reader, UV protector filter, memory card wallet, LCD screen protectors, 3 piece cleaning kit, lens cap holder
You can buy the Canon EOS Rebel T6 on Amazon.
Nikon D3500
The Nikon D3500 is similar to the Canon EOS as they both come with a complete accessory kit. Quality and price are similar as well, but there are a few differences in the features and specs. I think either camera is a great option if you are looking for a DSLR camera on a budget.
Features And Specs:
18-55mm f/3.5-5.6G VR Lens
Full HD 1080p Video Recording at 60fps
24.2 megapixels
Wireless transfers via Bluetooth
3.0″ 921k-Dot LCD Monitor
5fps shooting
Dimensions: 6 x 8 x 8 inches
Weight: 12.87 oz
Kit includes 64GB memory card, camera bag, wide angle lens, telephoto lens converter, UV, polarizer & FLD deluxe filter kit, flash, rubberized tripod, LCD/Lens cleaning pen, cleaning kit, memory card reader, Microfiber cleaning cloth
You can check the current price for the Nikon D3500 on Amazon.
Check out this great video showing a full review of the Nikon D3500
As you can see, there are some really good options for you if you have a budget of $500 and looking for a great camera. Whether it's a compact digital camera, mirrorless camera or DSLR camera, you can find one to suit your needs.
If you are a traveler looking to take some great photos and videos, or just looking to up your photography skills, have a look at all the cameras mentioned and choose the one that will suit you the best!
Hopefully, you found this article helpful. Feel free to leave some comments and let us know your thoughts.
Also, check out our photography section here where you will find other reviews, camera gear, books, and great courses!
Thanks for reading!
You May Also Like
Great selection of photography E-Books here!