Career In Travel – Start A Blog
One of the best ways to make money while traveling is to start a blog. Many people around the globe have blogs in different niches. Blogging is becoming a very popular way to make money online, whether it's something you do part-time or make a full time living with it. 
The one thing you need to know about blogging, and I believe is the most important. It takes a lot of time and a lot of effort. Anyone who tells you different is not telling the truth. If you are someone who is dedicated to learning and follow a system by people who are successful with blogging, then you are well on your way.
Every day there are millions of blog posts being written. There is a huge demand for information online. If you love to write and want to have your own blog, it's a great way to make some extra cash. 
Have a look at the information below. If you have any questions, feel free to leave a comment, I will be glad to help.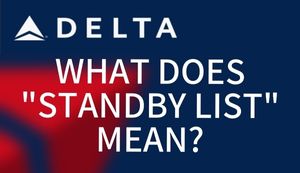 If you're flying Delta Airlines, but something comes up making it so you don't know if you'll make your flight, don't worry. Excluding Basic Economy passengers, for travelers flying domestically (including Puerto Rico and the U.S. Virgin Islands) and needing to make...