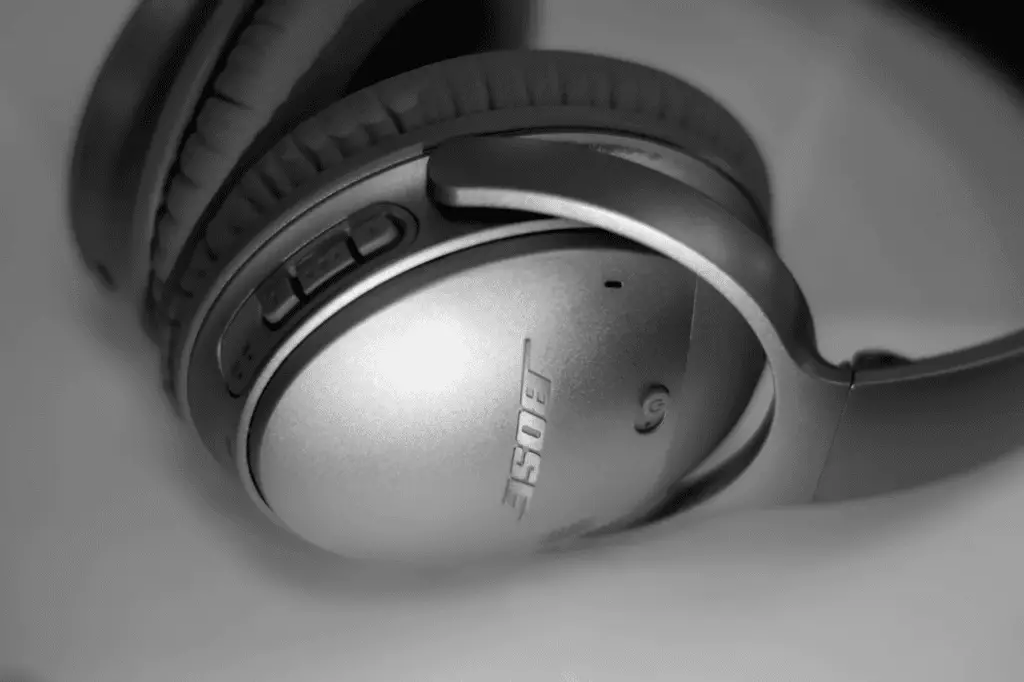 Can you bring your own headphones on a plane?
With all the different types of headphones these days, I get this question a lot. The short answer to this question is, usually yes. According to the TSA website, you can bring your headphones in a carry-on bag or your checked luggage when you fly. But there are some nuances of flying with headphones.

They are the one accessory that makes the biggest difference in your travel experience!
Depending on when you are reading this article, and where you are traveling, there may be an electronics ban in effect in the UK. In the past, these bans have prohibited passengers from traveling with wireless or Bluetooth devices larger than a smartphone, though most airlines say you can use the headphones during the flight itself. Just don't use them during taxi, take-off, and landing. 
As I said, you should be fine, just check with your airline to make sure your headphones are allowed to be carried on board.
Using Bluetooth or Wireless Headphones on an Airplane
Bluetooth headphones have become more and more popular in the last few years for good reason. Everyone seems to be using wireless Bluetooth headphones.
But the question is, can you actually use Bluetooth headphones on a flight? What are the rules?
The official global rule is that you cannot use any wifi or Bluetooth devices that are larger than a smartphone, and must be able to operate on "flight mode" while flying. If there's a flight mode and you've got it switched on, then the device itself is okay. Short range Bluetooth devices like keyboards, computer mice, or headphones are ok to bring with you.
Officially, from the FAA website:
Devices must be used in airplane mode or with the cellular connection disabled. You may use the WiFi connection on your device if the plane has an installed WiFi system and the airline allows its use. You can also continue to use short-range Bluetooth accessories, like wireless keyboards.
Different international airlines each have their own rules. Some, like Lufthansa, allow travelers to use Bluetooth headphones during the entire flight, while others, like British Airways, allow passengers to use Bluetooth devices while the plane is at cruising altitude but not during taxiing, takeoff or landing.
How do I connect my Bluetooth or wireless headphones to the plane? 
A Bluetooth adapter or receiver allows you to connect your Bluetooth headphones to the in-flight entertainment system so you can enjoy movie, music TV shows and whatever else they offer. 
It's easy to connect your Bluetooth headphones to your phone, tablet or laptop, but there isn't a way already built into the plane that allows you to pair your wireless headphones straight to their entertainment system. 
That's where a Bluetooth adapter like the ones below come in handy. You just pair your Bluetooth headphones to the adapter and then plug the adapter into the headphone jack of the plane. 
It's that easy. The sound goes from the headphone jack through the adapter to your headphones.
I have a full write up on using the AirFly adapter to connect wireless headphones here if you are interested in reading more about it.

Here are three great Bluetooth adapters
One last one one you can't go wrong with.
Bluetooth headphones in my checked luggage?
Absolutely, you can bring your wireless Bluetooth headphones in your checked luggage. Just make sure to pack them in such a way that they will be protected through all the handling they will go through as your checked bag moves through security and onto the plane and back off again.
Can I put AirPods in checked baggage?
You can transport your Airpods in either your checked baggage or carry them on with you. Just make sure you pack them safely where you won't lose them and they will be protected throughout your flight.

If you would like to use your AirPods while you are flying, you can do that as well. Just make sure they are charged and ready to go. If you want to get another pair for you or a friend, grab them here below.
Can you put Bluetooth earbuds in checked-in luggage?
The FAA allows you to bring Bluetooth earbuds with you on your flight in your checked luggage or on board with you. Unless you have another pair of headphones you plan on using, I suggest to bring them on board and use them. 
Bluetooth earbuds or some other type of headphone is a real upgrade to your flying experience. These are my personal favorite Bluetooth earbuds.
But you don't have to spend a ton of money for a good wireless headphone experience. These Jabras are fantastic value for the money! And they sound great too.
The best Bluetooth headphones I recommend for your flight are the Bose Quiet Comfort 35. I personally use these, and they are amazing quality and value. It can be really taxing on the body to have all the noise from the plane for your entire flight.
These block that out and allows you to listen to music or movies or games with great quality sound. I love them!
Can You Take Wired Headphones on a Plane?
Yes, you can bring your wired headphones on board with you. Ensure that the wires do not interfere with the aisle and anything or anyone else on board the plane. Use common sense goes a long way.
You will most likely be required to remove your headphones during certain phases of the flight like take-off and landing.
Depending on the aircraft you are on and the type of headphones you have, you may require an adapter to fit into the airplane socket. Some airlines will provide these but don't count on it for sure. I recommend you purchase one before your flight.
They are inexpensive to buy, and you can check the proper one to fit your headphones on Amazon here.

If you are looking for a really great pair of wired headphones, I would suggest either of the two below. They are used by countless professional recording artists for their comfort (these guys wear them for long periods every day, day in and day out) and their sonic accuracy. I have used the Beyerdynamics, and they sound absolutely fantastic!
These next ones are great because you can use them easily is different situations as they have 3 different cables that come with them. There are two long ones, one of them is coiled, and one short straight one. Again they sound great too.
Can I take the headphones the airline gave me after the flight?
It will be just fine to take the headphones you were given with you after the flight. You probably won't want to though as the quality of these headphones is usually really poor. Unless they tell you they will be collecting them, you are welcome to take them with you.
There are a few airlines that will collect the headphones after the flight. They will normally tell you when they distribute them and then come down the aisle with a bag you can deposit them in after the flight. In that case, don't take them with you. If you are unsure, just ask a flight attendant if it is allowed.
Will airport security confiscate my headphones if they are not in a bag?
Here is another common question that I have been asked many times before. "I am going on holiday, and plan to wear my new headphones at the airport. I am concerned that my headphones will be confiscated, as I don't have the extra cash to buy a new pair. Do you think they will get confiscated?"
The answer is no. I have been through airport security thousands of times and have never seen a situation where security has confiscated headphones. So, I don't think you will have anything to worry about there unless you are hiding something in them.
What other electronic devices can I use onboard the aircraft?
Many other electronic devices are really helpful to have on a long flight. The most common being laptops, tablets, cell phones, and gaming systems like the Nintendo Switch. The Transportation Security Administration recommends keeping your personal electronics in your carry-on luggage instead of in your checked luggage.
This will give you quick access and makes your electronics difficult to steal or get damaged. If you do put electronics in your checked baggage, secure your bag with a TSA approved luggage lock that allows TSA agents into your bag for screening if necessary but impedes access by others. If you use a non-TSA-approved lock, TSA agents may cut it off as part of the screening process.
I recommend this TSA approved luggage lock on Amazon.
Controversy Surrounding Bluetooth Headphones on Airplanes
Many people think that since Bluetooth wireless technology and other electronic devices that use WiFi send and receive data, then they can interfere with the communication and navigation system of the airplane.
However, it is hard to determine the exact effects, if any, of these devices on planes because many of these devices have different power levels which makes it more difficult to assess what happens when they are in use on a plane.
As a result, airlines require cell phones be put in flight or airplane mode along with other devices that use a cellular signal like tablets.

This doesn't usually inhibit passengers from using their phones or tablets for entertainment or work as most flights have WiFi on them and when you connect to it, you are able to use the full functionality of your device and the internet just fine.
Additionally, most devices work offline and can sync your work when you land, or

And each airline is different and may have different rules and technology onboard.
Different Airlines and Bluetooth Earbuds and Headphones
Southwest Airlines 
They offer WiFi service to their passengers and allow Bluetooth earbuds/headphones on their flights. All devices on these flights also have to be in flight mode for the duration of the trip.
Delta Airlines
They offer WiFi service and tell passengers that all devices need to be on flight mode. This means that you can watch a movie or listen to music during your flight with wireless headphones. However, you cannot use Bluetooth or any wireless device at all if it is not first put on flight mode.
Air Canada
They also offer their passengers WiFi service, but wireless earbuds can only be used when the plane reaches a height of 10,000 feet in the air. The device must also be equipped with a removable battery. Bluetooth earbuds can only be used on flights that offer WiFi service.
Porter
This is another Canadian airline, but they do not offer WiFi. Therefore, they also do not have any specific guidelines or rules when it comes to wireless Bluetooth headphones. So, as long as the device is on flight mode, you can enjoy your in-flight entertainment.
In Summary
For the most part, you will have no issues bringing your personal headphones onboard the airplane with you. Both wired and wireless headphones should be allowed providing you follow the regulations of both the airline and the government policies.
Remember to contact the airline beforehand to confirm your electronics and other carry on items will be allowed. Also, there shouldn't be any issues with airport security confiscating your headphones. So, you won't need to worry about that.
On my blog, I cover several topics regarding carry-on items, feel free to browse through the articles.
If you enjoyed our can you bring headphones on a plane guide, have a look at all our travel gear guides here:
Hopefully, you found these guides helpful. 
Thanks for reading!
Did you know my site is reader-supported?
Some of the links on this page are affiliate links, which means I may receive a small commission if purchases are made through those links at zero cost to you. I will only sell and recommend products that I have either used personally or believe will be helpful for you. You will only see proven and trusted gear.
You May Also Like:
best noise canceling earbuds for flying