If you're considering traveling to Spain in August, you might want to think twice. While it's a popular time to visit, there are several reasons why it might not be the best time for you to go. It depends on your vacation style. From the high prices of accommodation to the extreme heat, there are several factors to consider before booking your trip.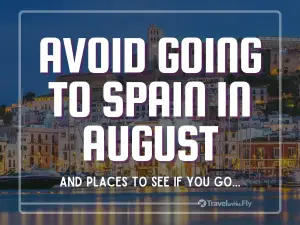 It has been said that one of the biggest reasons to avoid traveling to Spain in August is due to the high price of accommodation. You will not have many choices if you do not make reservations well in advance because most (think 85-95%) of the accommodations are completely booked and overpriced. The last-minute deals do not exist here, so don't expect them!
Another factor to consider is the weather. Coastal cities such as Seville and Córdoba often reach temperatures in excess of 100 degrees in Andalusia, which has little precipitation. This can make it uncomfortable to explore the cities and enjoy outdoor activities. While the weather in other parts of Spain may be milder, it's still important to consider the heat if you plan on visiting in August.
Weather
If you're considering a trip to Spain in August, it's important to know that the weather can be a major factor in your travel experience. Here are some things to keep in mind:
High Temperatures
Spain experiences its hottest month in August, with temperatures often soaring above 90°F (32°C) in many parts of the country. Inland cities like Seville and Córdoba can be particularly sweltering, with temperatures well past 100°F (38°C).
If you're not used to extreme heat, you may find it difficult to enjoy outdoor activities during the day. It's important to stay hydrated, wear sunscreen, and take breaks in air-conditioned spaces to avoid heat exhaustion or heat stroke.
Crowds
August is peak tourist season in Spain, which means that popular destinations like Barcelona, Madrid, and the Costa del Sol can be crowded with visitors worldwide. This can make it difficult to find affordable accommodations and to avoid long lines at popular attractions.
If you're looking for a quieter, more relaxed travel experience, you may want to consider visiting Spain during a less busy time of year. September and October can be great months to visit, with cooler temperatures and fewer crowds.
Overall, while August can be a beautiful time to visit Spain, it's important to be prepared for the heat and the crowds. With some planning and flexibility, you can still have a great travel experience in this vibrant and exciting country.
Accommodation
If you are planning to visit Spain in August, you need to be aware of the challenges you may face when it comes to finding accommodation. Here are a few things to keep in mind:
Availability
August is the peak tourist season in Spain, and it is not uncommon for hotels and other accommodations to be fully booked months in advance. If you don't book early, you may find that your options are limited, and you may have to settle for a less-than-ideal option or even change your travel plans altogether.
Prices
Another issue to keep in mind is the high prices of accommodation in August. Prices for accommodation can be overpriced, and last-minute deals are almost non-existent. If you don't book well in advance (by well we mean several months ahead), you may have to pay a premium for your stay.
So, if you are planning to visit Spain in August, booking your accommodation as early as possible is essential to ensure availability and avoid overpaying. Additionally, consider staying in less touristy areas or smaller towns where prices may be lower and availability may be better.
Activities
Spain is a country full of culture, history, and fun activities to do. However, in August, you may find that your options are limited due to the high volume of tourists.
Limited Options
During August, many popular attractions in Spain become overcrowded, making it difficult to enjoy them. For example, the beaches will be packed with tourists, and you may struggle to find a spot to lay your towel. Similarly, popular tourist destinations such as the Sagrada Familia in Barcelona or the Alhambra in Granada will have long queues, and you will have to wait for hours to get in.
Moreover, the high demand for accommodation means that prices skyrocket, and you may struggle to find affordable places to stay.
Closures
Another issue to consider is that many businesses in Spain shut down in August for summer holidays. This means that you may find that some of your favorite restaurants, shops, and attractions are closed during your visit.
For example, many smaller towns and villages may have limited options for dining and entertainment, as many of their local businesses will be closed. This can make it difficult to find things to do, especially if you are traveling with children.
While Spain is a beautiful country with plenty to offer, it may be best to avoid traveling there in August due to the limited options and closures. Consider visiting during another season when the crowds are smaller, and the prices are more reasonable.
If you do end up going… You can check out the following:
Popular August Events and Festivals in Spain
La Tomatina
La Tomatina is a world-renowned festival that takes place in the small town of Buñol, near Valencia. The highlight of this event is the massive tomato fight, where participants throw ripe tomatoes at one another as a fun and messy way to let off steam. Before you dive into the chaos, make sure you're prepared:
Wear clothing that can handle stains, as the tomatoes can get quite messy.
Protect your eyes with goggles, as the tomatoes hurt when they hit you in the face.
Keep your belongings safe in a waterproof bag.
Apart from the tomato fight, La Tomatina also includes plenty of music, parades, and celebrations throughout the town. Enjoy the lively atmosphere and make the most of your time here.
Feria de Malaga
Feria de Malaga is a week-long festival held in the beautiful coastal city of Malaga. The festival celebrates the city's vibrant culture and its rich heritage of Andalusian traditions. During the event, you can expect:
Traditional flamenco performances
Music concerts ranging from classical Spanish to jazz and rock
Parades and fireworks displays
Street markets, artist workshops, and exhibitions
Sporting activities and kid-friendly events
Don't miss out on the opportunity to immerse yourself in the local culture and try delicious Andalusian cuisine at the various food stalls.
Semana Grande
Semana Grande, also known as Aste Nagusia, takes place every August in Bilbao, located in the Basque Country in northern Spain. This massive festival showcases a unique blend of traditional Basque culture, music, and events. Some highlights of this festival include:
Concerts featuring local and international bands
Street performances ranging from theater to circus acts
Traditional Basque sports events
Fireworks displays every night
A variety of food stalls featuring Basque cuisine
Make sure to check the schedule for special events, and take the time to explore Bilbao's beautiful streets and architecture while you're in town.
Less Crowded Attractions and Activities
Visit National Parks
In August, Spain's National Parks offer breathtaking landscapes and a respite from the bustling city crowds. Take advantage of the warm weather and embark on a memorable adventure through Spain's natural beauty.
Picos de Europa National Park: Known for its incredible mountain ranges, this park offers various hiking trails. It's the perfect place for you to escape the city and enjoy some fresh air.
Sierra Nevada National Park: This park boasts diverse flora and fauna, along with stunning views of the snow-capped peaks. Spend your time here marveling at the unique landscapes and exploring the numerous hiking trails available.
Explore Small Villages
Spain is home to numerous charming and picturesque villages where you can experience local culture and traditions without the tourist crowds. Here are some recommendations:
Santillana del Mar: Located on the northern coast, this medieval village offers a truly authentic experience. Stroll down the cobblestone streets, visit quaint local shops, and take in the beautiful architecture.
Albarracín: Situated in the Aragon region, this village boasts remarkable cliffside dwellings and a well-preserved medieval fortress. You'll feel as if you've stepped back in time as you explore its narrow, winding streets and take in the distinctive red stone buildings.
Attend Music Festivals
August is an ideal time to attend various music festivals across Spain, providing you with unforgettable entertainment and cultural experiences. Some noteworthy options include:
Arenal Sound: This beachside festival features diverse music genres, attracting fans from all over the world. It's an excellent opportunity for you to enjoy live performances in a unique setting.
Rototom Sunsplash: As Europe's largest reggae festival, Rototom Sunsplash offers a relaxed atmosphere and an impressive lineup of international artists. It's a fantastic way for you to immerse yourself in the vibrant reggae culture while escaping the typical tourist hotspots.
Overall, Spain during August offers a plethora of less crowded attractions and activities for you to explore. From visiting national parks and exploring small villages to attending music festivals, you're sure to have a one-of-a-kind experience without having to navigate through throngs of tourists.
Is it a good time to visit Spain in August?
It depends on what you are looking for in a vacation. August is peak tourist season in Spain, so you can expect large crowds and high prices. However, if you enjoy warm weather and outdoor activities, August can be a great time to visit. Just be prepared for the heat and plan accordingly.
Is it too hot to visit Spain in August?
August is the hottest time of year in Spain, with temperatures often reaching 100°F or higher in some parts of the country. If you are sensitive to heat, it may not be the best time for you to visit. However, if you can handle the heat, there are plenty of ways to stay cool, such as taking a dip in the ocean or visiting air-conditioned museums.
Where do Spanish people go in August?
Many Spanish people take their vacations in August and head to the coast or the mountains to escape the heat. Popular destinations include the beaches of the Costa del Sol, the Balearic Islands, and the Pyrenees mountains.
Can you swim in Spain in August?
Yes, August is a great time to swim in Spain, as the ocean temperatures are warm and inviting. Just be aware that some beaches may be crowded, so it's best to arrive early to secure a spot.
What is Spain like in August?
Spain in August is hot, crowded, and lively. The streets are filled with tourists and locals alike, and there are plenty of events and festivals happening throughout the month. If you enjoy a lively atmosphere and don't mind the crowds, August can be a fun time to visit.
Should I go to Barcelona in August?
Barcelona is a popular destination year-round, but August can be especially crowded and expensive. If you don't mind the crowds and want to experience the city's vibrant energy, August can be a great time to visit. However, if you prefer a quieter atmosphere, you may want to consider visiting during a different time of year.
How many days in Spain is enough?
It depends on what you want to see and do in Spain. If you just want to visit one or two cities, a week should be enough time. However, if you want to explore more of the country, you may want to plan for two weeks or more. Keep in mind that travel time between cities can be long, so factor that into your itinerary.
What is the cheapest month to go to Spain?
The cheapest months to visit Spain are typically January and February, since these are the coldest months and not as popular with tourists. However, prices can also be lower in the shoulder seasons of April-May and September-October, when the weather is still pleasant but there are fewer crowds.
Conclusion
While Spain is a beautiful country to visit, August may not be the best time to plan your trip. The high temperatures, crowds, and expensive prices can make your experience less enjoyable. However, if you do decide to travel to Spain in August, there are ways to make the most of your trip.
Consider visiting the northern regions of Spain, such as Galicia or Asturias, where the temperatures are cooler and the crowds are smaller. Alternatively, plan your trip for the beginning or end of August, when the crowds are not as overwhelming.
When it comes to accommodations, book well in advance to avoid overpriced options and limited availability. Look for deals and discounts, and consider staying in hostels or vacation rentals instead of hotels.
Ultimately, the decision to travel to Spain in August is up to you. While there are certainly challenges to overcome, with proper planning and flexibility, you can still have a wonderful experience in this vibrant and exciting country.
Other Articles