Tips For Flying With A Dog In Cabin
For people with pet dogs, traveling time can be one of the hardest times. if you are leaving your four-legged friend behind, the anxiety and sadness of leaving them behind might get to you even if you know they will be under the greatest of care.
Taking them with you, especially if you are flying, is not also as easy as it looks either. You need to be prepared and keep an open mind. A friend once lamented about how hard and expensive it was for them to take their dog with them on vacation.
However, if you prepare yourself early enough, you can avoid leaving your dog at home while you enjoy your vacation- like my friend.
Here are the tips for flying with a dog in an aircraft cabin:
What is the size of your dog?
Unfortunately, a dog can only be up to a certain size for it to join you in the cabin. That said, before deciding to take your dog with you in the cabin, you need to be sure of its size.
The right size is one that can fit comfortably under the seat in front of you. Mostly, dogs weighing around 15 pounds or so can fit under the seat in a cabin but it is advisable to check with the airline.
Related: 'Can I Pet That Dog?' (Funniest Video)
Choose an airline that allows dogs 
Unsurprisingly enough, not all airlines allow animals in the cabin. Most importantly, the rules are also different for carriers that allow pet animals in their cabins.
So, once you have decided to bring your friend along, call the airline to see whether they allow animals in the cabin. If they do allow dogs in the cabin, try finding out their restrictions and anything else that might be needed of you- and your pet.
Be sure to confirm the size of the dog with the airline, too. If the airline does allow pets in the cabin, it is important to point out that you will be bringing your pet along. It will cost you some more dollars, of course, but with the right planning, they will be worth it.
Most importantly, book a seat in the middle since they tend to have a little bit more space. If you can get one close to the window, the better.
Pet-friendly travel website has a detailed list of airlines that allow pets in the cabin together with the policies.
Check if you need a passport for your dog
Surprised? Well, if this will be your first time taking your pet dog with you up in the skies be sure that your personal passport is not the only passport you will be needing.
Countries have specific and sometimes different regulations and getting yourself familiar before getting there will save yourself any unnecessary hassle.
Once you are aware of all the documentation needed for your dog in your country of destination, keep them together and be ready to present them to the immigration officers when required to.
Keep an eye on your dog's fitness 
Since you have decided to take your dog with you, and you have checked with the airline, the next step is ensuring that your lovely friend is healthy enough to tag along.
Take your pet to the vet for a checkup and if possible, have the vet give you documentation as proof that your dog is healthy enough to be in the cabin. Additionally, while there, ensure that your dog is up to date with all its immunizations. It might not be required in some places but better to be safe than sorry.
Get a pet carrier that is suitable 
First of all, confirm the size of a pet carrier that is recommended by the airline you are using. Most of the airlines accept pet carriers that are 10 inches tall and 16 – 19 inches long (some could be less so be sure to confirm). Your pet carrier will also be your carry-on bag so be sure to put all the necessary items you will need during the flight.
Most importantly, buy the pet carrier beforehand if you need to buy one and let your dog be accustomed to staying in it. This will in reducing its anxiety level during the flight because it will be accustomed to it by then.
This article explains airline approved pet carriers along with my recommendations.
Take a walk before the trip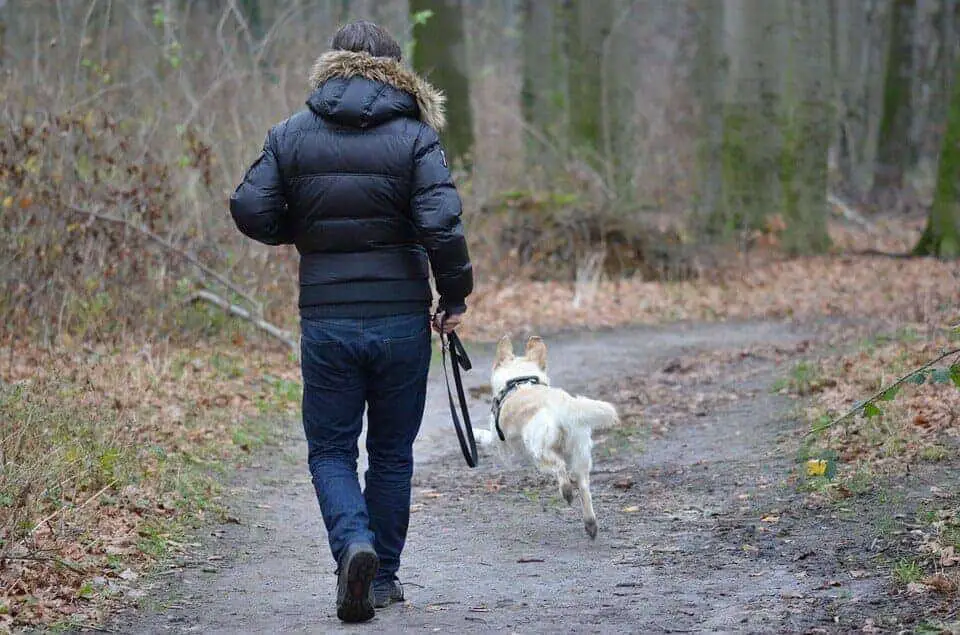 To keep the dog asleep most of the time on the flight, take them for a walk before you head for the airport. A long walk for that matters. If the pet is tired enough, the less anxious it will be especially if this is the first time flying. This will also ensure you are comfortable for the flight too.
No feeding before the flight
This goes for the water too. It is not such a harsh rule, and your paw friend can survive. But to avoid poo and pee accidents in the cabin, avoid feeding your pet a few hours before the flight.
However, you can ask for some water or ice cubes from the flight attendants and give to your dog. Just a little bit of it is enough, just keep him/her a little hydrated.
With the water, keep checking if your pet needs to make a wee-wee.
Be prepared for the cabin environment 
Some might be a little bit cold while others will be hot for the dog. Whichever one it is, be prepared to tackle the situation to avoid stressing your dog and making him/ her uncomfortable for the flight. It will be bad for both of you.
Bring a blanket or a cooling mat for either of the situations and you will both be happy.
Some dogs are not allowed in the airport, beware
 Apart from the security check desks, most airports do not allow dogs or any other animals for that matter. Usually, just service dogs are allowed. So, make sure you do not let your dog out of the carrier, I am not saying that you suffocate him/ her in there.
Make them as comfortable as possible. When it comes to stretching though, it is not recommended. Some travelers have tried it at the gates but it is a risky attempt. You can try if you are into taking risks but keep an eye on your friend just in case.
Thanks for reading!
Pin It!
Some of the links on this page are affiliate links, which means we may receive a small commission if purchases are made through those links at zero cost to you. I will only sell and recommend products that I have either used personally or believe will be helpful for you. You will only see proven and trusted gear, and I will help guide you away from the products that simply don't work!
Related posts:
You may also like: