In this article, you will find some great travel photography tips for beginners. Photographs act as a souvenir that can remind people of the wonderful experience they have encountered in life.
Travel photography will allow people to look back and remember the allure of the stunning location. It frames the beauty of the place perfectly as it will remind about the sights, emotions, and the atmosphere.
So, if you wish to know how to take travel photos that will take the photos to the next level, then you need to follow some tips. It will help you return home with incredible photos.
These travel photography tips for beginners will improve your photography technique that can enhance the overall travel photography experience by making it more enjoyable.
Camera
While discussing the travel photography tips for beginners, your camera is the first and foremost thing to focus on to get amazing photos. With several choices like DSLR, Mirrorless, Canon or Nikon cameras, it really depends entirely on the person using it to choose the best one.
The camera must provide durability compared to the ordinary point and shoot cameras. Another factor is knowing the functions of the camera completely upfront. This will help in taking mind-blowing pictures. Knowing the pros and cons of the camera will also aid in taking pictures comfortably.
So when choosing the right camera, ask yourself the following questions:
How do you like to travel?
This is a really important question. Maybe you are going to a beautiful resort, or on a tour where you can bring pretty much whatever camera and gear you want.
Or maybe you are always on the road, traveling by transport busses, climbing over high mountains, trekking through wooded forests and interacting with local people.
In that case, you need to be very picky about what you choose. You should be looking for something that travels light and is not big and bulky or awkward to handle. I think you should look at mirrorless cameras for this type of travel.
A great mirrorless camera is the Olympus OM-D E-M10 Mark II
This camera has great reviews and is a top seller. It's very durable, lightweight and can handle those tough elements. Plus it comes at a great price. You can get the Olympus OM-D E-M10 Mark II Here.
Where are you traveling to?
Do you only travel to beach resorts? If that's the case, then construction, durability, and size of the camera may far down the priority list.
You could most likely get away with a good Point and Shoot camera. Even a prosumer level camera with a fixed lens would do the trick.
The Canon PowerShot SX620 is a great point and shoot camera. It features 25x zoom, built-in stabilization, and even wifi.
This is another great best selling camera that is affordable and will last on your vacation while taking stunning pictures. You can check out the Canon PowerShot SX620 camera here. 
Now on the other side of that coin, if you are going to be taking your camera into some pretty harsh or extreme situations like trekking through a desert, rock climbing, hiking mountains, or running around in a rainforest, your camera needs to be able to withstand different temperatures, rocks, sand, trees, precipitation and whatever else you can throw at it.
In this case, be sure to look at something that is durable, has reliable construction and can take a good beating. Quality is the key here. Don't settle for poor quality to save a few bucks. You will be disappointed.
The higher quality DSLR's and mirrorless cameras mostly get away from plastic construction and are made of stronger materials. So really consider where you are traveling first before deciding on a camera to buy.
What do you plan to photograph?
When looking for a travel camera, remember that a lot of cameras are different. They might have certain specs, sizes, etc.. really no 2 cameras are the same. Well, I guess if they are the same camera then they are the same. Anyway, you know what I mean.
Cameras are geared toward many different situations. For example, a person who has a sudden impulse to shoot from the hip, like capturing festivals, parades or sporting events, will want to look for something that is more compact and quick and easy to use.
It takes time to set up all the manual functions, change lenses, etc.. and this could cause you to lose that moment in time and miss your shot.
Do you need an Action Camera?
If you love to plan where you are going to be, have a good idea of the overall shooting conditions, and know exactly what you want to shoot and capture, then I recommend that you go with a camera with many features such as a DSLR instead of a Point-and-Shoot.
The DSLR will give you the flexibility of interchangeable lenses and many user-defined controls allowing you to set the camera up for any particular situation.
My recommended action DSLR camera is the Canon EOS Rebel T6 DSLR Camera Bundle
This Camera Bundle Kit comes complete with all manufacturer supplied accessories. You get everything with this bundle at an amazing price.
It's a top-selling DSLR bundle on Amazon with great reviews. You can get the Canon EOS Rebel T6 DSLR Camera Bundle here.
 If you plan to shoot a lot of animal wildlife, look into a crop sensor camera. This will extend the reach of your lenses. But if you are a landscape photographer you should be looking more towards a full frame camera.
Photography Lighting
Light is a fascinating element that can make or break the beauty of the photograph. So, choosing the right time of the day is an imperative factor that will help capture the memorable moments precisely. Whether the camera captures the beauty of landscapes or cities, the right time is essential to make the photos vibrant and lively. Photographers have known to capture stunning images during the golden hour when the sun is low in the sky. It has a warm yet magical glow that can make the pictures memorable.
There are three basic lighting conditions for outdoor portraits which include full sun, shade, and no sun.
Full Sun
Shooting in full sun can sometimes be a challenge. Shadows and washed out images, people who love to squint in the sun can present a problem. But the full sun also presents an excellent opportunity for very bold and daring photos. The best way to work with the sun is to move the person or item into the shade. You can use a diffuser to filter the light, and a flash or reflector to fill in any dark shadows.
Try to set your aperture to f/16 in bright conditions. Then set your ISO and shutter speed at the inverse of one another. Start at with an ISO of 100 and a shutter speed of 1/100, and increase your shutter speed for less light, or slow it down for more light. Experiment with shooting at different angles, shooting with the sun behind them or to their side can yield better results with fewer shadows.
Shade
Shade is a great lighting condition for outdoor photography since the clouds act as a diffuser. The problem with shade is boring and flat images. To offset this, try using a reflector to help bounce light back into your subject's face. This will help give them that picture-perfect glow.
No Sun
Overcast conditions are obviously not as bright as full sun. This will require slower shutter speeds, wider apertures, and/or higher ISO settings. Try to make the most out of what light you have. Use a fill flash and silver reflector to add some light back in, and take advantage of pockets of the sun that come your way.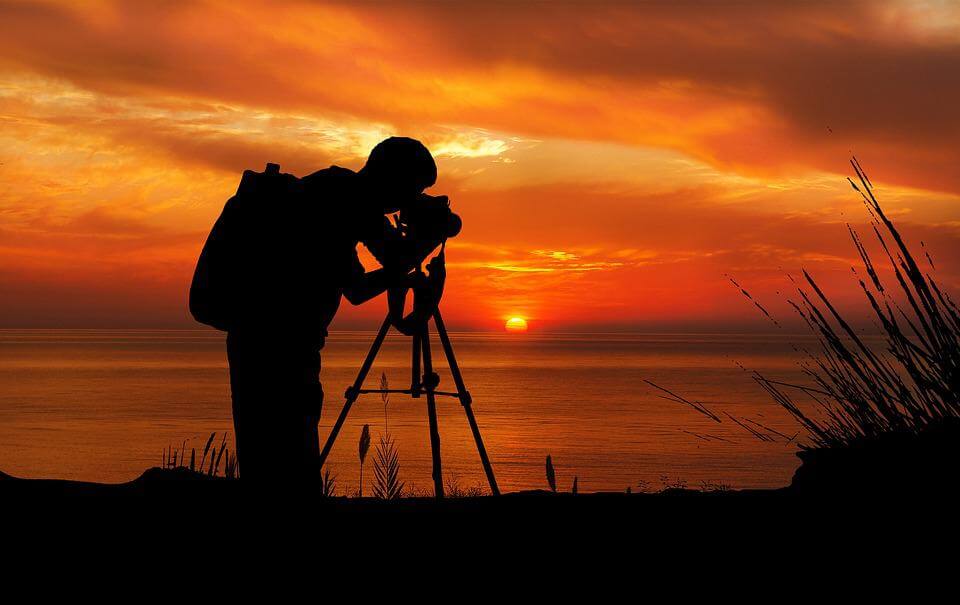 Researching or Scouting the Place
Knowing about the destination beforehand will give an idea about how to take travel photos effectively that captures the essence of the place. Reading about your destination in travel guidebooks, internet articles or blog posts will help in taking good photos that can convey the beauty of the appeal. Checking Instagram or Google Image search for travel photographs will help as it will expand your knowledge resulting in fabulous photos. Checking the weather, ideal time, and permission to take photos will make the process easier.
Choosing The Right Gear
Though keeping the gear as light as possible is advised for a relaxing experience, it is also important to carry the necessary gear.
Like I mentioned before, thorough research will shed light on the necessary equipment required like a tripod, types of lens, filters, etc. that can enhance the appeal of the photos. Travel photos require at least two lenses, a telephoto lens and a wide angle lens that will suit the different situation precisely. So, the correct lens based on the style of photography is opted for the photos to look great.
One thing I highly recommend but is often overlooked is you should use a water-resistant camera bag or backpack for your camera gear. This DSLR camera backpack is perfect to protect your camera. It's durable, made of quality materials and is waterproof. 
The Rule of Thirds
It is one of the important travel photography tips for beginners that every photographer needs to follow for the best pictures. It explains the basic principle that will aid in keeping the subjects of the photograph evenly arranged and balanced within the frame.
It is a rule that draws four imaginary lines across a picture that divides it into 9 even parts. So, the main elements/subject in the frame is placed near or within the intersection points of the imaginary lines. The rule will add an enchanting appeal to the picture that will capture anyone's attention to the photo.

Out-of-the-box Creativity
Can you learn to be creative with photography? Sure!
Creative Photography, in my opinion, is when you create an image or photograph something that most other people wouldn't necessarily see. It's about being creative in the current moment you are in.
A photo taken with creativity from a different angle can allure people as it adds a zing to the image. So, a travel photographer must challenge themselves that will expand the creativity and out-of-the-box thinking to capture exceptional images.
Settling for the first picture will not tap the potential completely, so yearning for more will give images with jaw-dropping effects.
Patience is the Key
Patience is an important virtue in getting in good photographs as people have little or no control over the weather condition, events in the destination, or surface condition that can impact the quality of the photos.
So, relaxing and waiting patiently to get the right shot will help capture the uniqueness of the place. Waiting for the correct time will aid in getting the right light that will help capture the moments with precision.
Talking to Locals
While traveling overseas to an exotic location, it is best to talk to the locals to get the inside knowledge about the hidden treasures of the place. Locals may know about the places that are not listed on sites, travel booking sites or other sources.
Talking to the locals will help in gaining their trust and respect that will help in knowing the do and don'ts of the place. It will help in encompassing the traditions and customs of the place in the pictures that will communicate a mesmerizing story through the photos.
Backup the Photos
To save the precious images captured with perfection, physical and online backups of the photos will save them from potential damages. It will aid in securing the photos in case of theft, damage to the camera or other issues.
So, photography backup that includes the external hard drive and online backup will save the selected images. Google drive will help in the online cloud storage of images with high-speed internet. If the internet is slow, then digital hard drives can save the day.
A great solution for backing up your photos is with the WD 2TB Elements Portable External Hard Drive. It's very portable and small, only weighs 5 oz and has lots of storage space. 
Learn New Techniques
Every second new photography techniques will emerge that will help take stunning photos. So, it is imperative to keep up to date about the latest techniques and skills in general photography that will reflect on travel photography.
Several online resources and classes are available to brush the skills to give the confidence to take images that can communicate itself. The additional knowledge will help you learn about the photography genres in detail that will have a positive influence on your photography technique.
If you are interested in taking your photography skills to new heights, I recommend you check out Digital Photography School. They are one of the most popular and longest-running blogs on the web about photography.  
Digital Photography School was born in 2006. Since then the site has grown to include a team around the world writing tips for a community of over 2 million. You can actually have the opportunity to be coached by some of the best photographers in the world!
They have a large selection of products available for you to explore. From books to online courses and digital downloads. You can read all about Digital Photography School here. 
1 of the many awesome product available is Transcending Travel 
Transcending Travel is an eBook designed to give you the skill and inspiration to take riveting travel photography images, ones so striking you're friends won't be able to stop talking about and sharing them.
The great thing about it is that it's just as applicable whether you're traveling near or far from home.
Best Still – as it's a downloadable eBook you can have it today (with no need for delivery fees)! It's just $19 USD.
Summary
Following these travel photography tips for beginners will ensure that you get incredible pictures. Ones that will capture the encounters and memories of the fabulous trip that will last forever. These simple tips will help in diving deep into the world of photography with ease. It will aid in recreating the beautiful visuals or memories in a frame that can garner appreciation from people.
Thanks for reading!