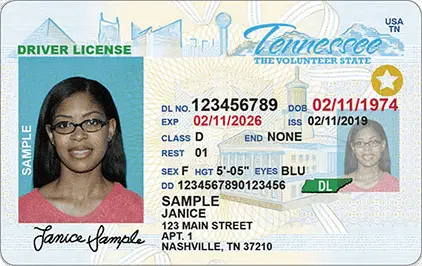 You don't need a gold star on your Tennessee driver's license or ID to fly today, but you will. Residents of the state of Tennessee must obtain their state IDs and driver's licenses with a star in a gold circle by May 3, 2023. After that, federal agencies will no longer accept identification cards and driver licenses issued at the state level without stars on them for passengers older than 18 years old. This is an extension from the original October 2021 date due to the COVID pandemic. 
The Tennessee Department of Safety and Homeland Security states that those without a star on their cards can continue to use their cards after May 3, 2023, but they will only be accepted for state-related purposes like driving, banking, and gambling. For federal purposes, this identification will not be able to be used.
Not everyone in Tennessee has a passport, especially if they don't travel internationally. For domestic flights, a state-issued document like a driver's license is all you need to fly. 
Related: Do You Need A Gold Star On My Driver's License Or ID To Fly?
However, according to a law called the REAL ID Act, air travelers in the United States will be required to use a driver's license that complies with the Real ID requirements when traveling within the United States of America beginning May 3rd, 2023.
Other documents that people will be able to use are passports or their U.S. Military card. Most people use their license to get through security on domestic flights though.
This law means that your driver's license MUST comply with TSA's requirements for you to fly domestically. A complying license will have a star on it. Does yours?   
The U.S. Congress introduced this law in 2005. It was one of the security measures put in place in the wake of one of the most significant attacks against the United States of America on its own land, 9/11.
It is meant to set minimum standards of security for identification documents issued. These documents include identification cards and driver's licenses.  
From May 3, 2023, you will need a gold star on driver's license or ID card for federal agencies such as TSA to board a federally regulated commercial aircraft. This will be the acceptable form of federal ID and ensure they are REAL ID compliant. 
Related: Do You Need A Black Star On My Wisconsin Driver's License Or ID To Fly?
Additionally, a REAL ID will be required to enter federal facilities in addition to the current identification requirements.
This is one of the new minimum security standards that will be used in federal buildings as well.  As such, your domestic flight in the US will require a REAL ID.
Here is a great video on it from the Department of Homeland Security
Do you need a star on your license to fly in Tennessee?
Real ID will be required for all Americans after May 3, 2023. This includes Tennesseans. The gold star indicates that your license has been certified as compliant with Federal REAL ID standards by the Department of Homeland Security. 
As of May 3rd, 2023, at least one REAL ID compliant credential or another form of identification will be required for domestic flights on commercial airlines in Tennessee.
Does your Tennessee driver's license have a star on it?
To check whether you have a real id compliant driver's license, check near the upper right-hand corner of your card. The star will either be gold or black.  It might also be a gold circle with a white star in it.
If your license isn't from Tennessee and it doesn't have a star in the upper right corner, know that some states already have enhanced their licenses to comply with the Real ID requirements. Such enhanced licenses do not have a star, but they have the United States of America flag on them or say "Enhanced".
Your license or ID does not meet the requirements if it has any of the two phrases below:
Federal Limits Apply
Not for Federal Identification 
How do you get the gold star on your Tennessee license? 
You will receive it on your new license when you renew your ID before the May 2023 deadline.
You may need to present more identification documents to get a REAL-ID compliant Tennessee driver license or ID to be verified. These documents include
Your social security
An unexpired U.S. passport card or book or the original of your Birth Certificate
Title or registration for an Tennessee vehicle
Legal documents proving your name change from your birth name if your name has changed
Policy or statement from your current car insurance company
Just call or visit your local DMV to replace your old one with one that is certified REAL ID.
How much does it cost to get a Tennessee state ID?
A REAL ID costs the same as a Tennessee license, $12.00. This new ID will replace your existing driver license and is good for at least eight years. 
What does a gold star on your Tennessee driver's license mean?
The gold star certifies that you have met the Real ID Act requirements. This means that the citizenship of the holder has been verified by a state department like the DMV that issued the ID.  
A star will appear in the top right corner of your Real ID license or non-driver identification card to indicate that this document can be used for federal identification.
Your card will be REAL ID compliant if it was issued after July 2019, and has a gold star in the right-hand corner. Your compliant card can be used as a form of federal identification until it expires.
Does REAL ID replace drivers license?
It will replace your current driver license, yes. And then you will use it as a driver license going forward.

It is a driver's license. It just ensures that each person that receives it has met some minimum guideline the federal government has established for identification purposes.
Related: Do You Need A Star On Your Iowa Driver's License To Fly?
What is the star on your Tennessee license for?
It indicates that your license is compliant and can be used anywhere a REALD ID is required for federal purposes. Flights, military bases, and nuclear power plants are a few of these places.
The video below has the wrong deadline dates but other good information about getting your Real ID for Tennesse.
video #1 Travelonthefly.com
What is the REAL ID Act?
It is a federal law that requires states to issue driver's licenses and ID cards that meet minimum security standards and prohibits federal agencies from accepting licenses and ID cards issued by states that don't meet those standards.
It states as of May 3, 2023, REAL IDs will be required to board domestic flights or enter secure federal facilities.
Your Real ID Driver License or Non-Driver ID Card will be marked with a star in the top right corner or will have an American flag on it or the word "Enhanced" to indicate it qualifies for use as federal identification.
If your current identification card or license doesn't qualify, so long as it hasn't expired, it will be accepted until May 3, 2023. 
Do I need a REAL ID card?
Yes, they will be mandatory as of May 3, 2023. Until then you can use your current driver's license or ID card that you have been using. But after that date, you will need to have a replacement card or REAL ID compliant card for international travel or domestic flight or to enter a secured federal facility.
If you have additional questions, the Department of Homeland Security has a great FAQ here.
Additional information can be found on the Department of Homeland Security's site here: state compliance and state implementation
You can also contact the Transportation Security Administration: 866-289-9673
To view information from individual Tennessee agencies including time saving tips, licensing locations, documentation requirements, fees, and other helpful information please click the links below.

Tennessee Department of Homeland Security announces the extension HERE.
Tennessee Department of Homeland Security's main page about REAL ID here.