Looking at the price tags of Tumi luggage, you may wonder, Why is Tumi so expensive?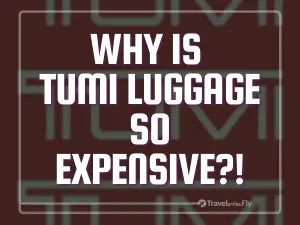 Tumi's high prices can be attributed to a few different factors. The brand uses premium quality materials such as ballistic nylon fabric, which is known for its durability and resistance to wear and tear. They focuses on providing luxury, innovation, and longevity in their products, making sure they can endure the test of time. This commitment to quality over quantity naturally raises the price of their luggage.
Another reason behind Tumi's expensive price tag is the brand's attention to detail in design and customer support. From the interior and exterior design elements, which are truly top-notch, to offering a lifetime warranty on certain products, Tumi knows how to take care of their customers and maintain their high-end reputation. Their meticulous approach to creating the perfect luggage makes it easier to understand why their luggage is so expensive.
If you want to find out more, let's dig in!
Tumi's Quality and Durability
Materials Used
My Tumi bags and suitcases are made of some of the highest-quality materials i've ever seen. They use a variety of durable materials such as ballistic nylon, Tegris, and FXT ballistic nylon to ensure lasting quality. (I had to look those up)

The aluminum used in their products is also of high-quality which helps make the bags sturdier. I've found that even the leather they use is top-notch, contributing to the overall quality and durability of their offerings.
Testing and Workmanship
The workmanship and testing involved in their production process leaves me impressed. Before they even reach our hands, their suitcases and bags undergo a series of rigorous tests to ensure they are durable and can withstand the wear and tear of travel. This meticulous attention to detail ensures that we, as customers, receive a top-of-the-line product which is trustworthy and long-lasting. So, when I invest in Tumi luggage, I feel confident that I'm getting a reliable and well-crafted product.
Tumi's Luxury Design
Design Philosophy
I love their commitment to sophistication and sleek aesthetics. As a brand, they focus on creating not only functional luggage but also stylish and unique products such as tumi suitcase, backpacks, and wallets.
I find their innovative designs to be a significant factor that sets Tumi apart from competitors. From their choice of premium materials like Tegris, which is known for its lightweight and strong construction, to their attention to detail, they aim to provide customers with unparalleled durability and style.
Unique Features and Functionalities
One aspect that truly stands out about Tumi products is their innovative features. By incorporating many unique functionalities into their luggage, like tumi backpacks and tumi wallets, Tumi continues to cement its reputation as a leading luxury luggage brand.
Some of the features that I find particularly impressive, and that make Tumi luggage worth the investment, include:
Durability and Longevity: Their products are designed to last, providing exceptional value for frequent travelers.
Security: They have a range of security features, such as TSA-approved locks and RFID blocking technology, to protect your belongings and personal information while traveling.
Personalization: Many of their products come with options for monogramming and customization, which I find to be a lovely touch that adds a personal flair to your luggage.
Cost – Why is Tumi So Expensive?
As someone who has experienced the world of luggage, I often find myself pondering why Tumi products are so expensive. It's no secret that Tumi is considered a high-end luggage brand, but it's often seen as a hefty investment in comparison to brands like Samsonite or other more affordable options. 
One factor that plays a massive role in their pricing is the quality of materials and craftsmanship. I noticed that their products tend to be very durable and long-lasting, thanks to their commitment to detail and quality. In fact, their bags are made from high-quality materials and must pass a minimum of 30 in-house tests before hitting the market. As a result, their products often outlive more affordable alternatives.
I personally think that a portion of Tumi's appeal lies in its prestigious branding. Some buy their bags just to make a statement. The brand is known for its sleek designs and luxurious feel, making it appealing to those who enjoy splurging on high-end items. Owning Tumi luggage is seen by some as an indication of success, wealth, or a penchant for the finer things in life. 
I'm into their bags for the quality and experience enhancing properties their bags bring to my travel experience.
I believe the investment can be worth it depending on an individual's personal preferences and needs. For some, the durability, quality, and status symbol of Tumi products make the investment worthwhile. On the other hand, if you prioritize affordability and are just looking for a functional suitcase, a Samsonite or other lower-priced options may be more suitable for your needs.
These Samsonite bags are a great value for money! Click here to pursue these hand selected bags on Amazon.
Ultimately, everyone has different tastes and requirements when it comes to luggage. I know that Tumi products come with a higher price tag, but their quality materials, craftsmanship, and luxury appeal can certainly justify the expense for those who see it as a worthwhile investment.
Customer Service and Warranty
Exceptional Customer Service
Tumi's customer service is top-notch. They are friendly and always ready to help with any issue or question that arises. Whether I've contacted them through their hotline, email, or visited one of their stores, I always feel like they listen carefully to my concerns and try their best to provide a solution. Moreover, they offer free monogramming services, which adds a personal touch to their products and helps their customers feel special.
Warranty and Repair Services
When I purchased my Tumi luggage, I was pleasantly surprised by their warranty policies. The Tumi warranty covers travel, business, and bag collections for five years, while wallets and accessories have a two-year warranty. This warranty period begins on the date of store purchase or delivery from an authorized Tumi store, dealer, or their official website.
In case my Tumi product gets damaged or has a defect, this warranty ensures that I can have my item repaired or replaced. The warranty process is quite simple, and Tumi's support team guides me through it efficiently. Although they no longer offer a lifetime warranty, their five-year warranty is more than sufficient to protect my investment in their high-quality products.
Tumi's Social and Environmental Commitment
As someone who appreciates luxury brands, I can't help but notice that in recent years, they have shown a strong commitment towards creating a more sustainable future. Let me share some of the areas in which Tumi is making a difference.
They are actively working towards environmental sustainability by adopting eco-friendly practices in its manufacturing process. The brand is striving to reduce waste and minimize its carbon footprint. Additionally, Tumi recognizes the importance of using sustainable and responsibly-sourced materials in its products, which not only enhances their quality but also contributes positively to the environment.
Did you know Tumi's committed to fighting modern slavery and human trafficking? 
The brand has established strict guidelines to ensure that its supply chain adheres to fair labor practices. By implementing monitoring and reporting mechanisms, Tumi encourages ethical business conduct and fosters an environment free of exploitation.
They also supports various philanthropic initiatives, focusing on community development, education, and environmental preservation. This dedication shows a strong commitment to social responsibility and allows the brand to maintain its reputable position in the market.
Best Tumi Luggage
I've gathered the top Tumi luggage options for you to make your travels a breeze. Check out the list below to find the perfect companion for your next adventure.
I highly recommend this TUMI carry-on for its durability, maneuverability, and modern design.
Pros
Lightweight and durable recycled polycarbonate shell
Easy to maneuver with smooth and quiet wheels
Stylish and modern design makes it stand out
Cons
Some concerns about the durability of the luggage tag snap
May be expensive for some budgets
Only two color options available
I recently traveled with the TUMI 19 Degree International Expandable 4-Wheel Carry On. The first thing that caught my eye was its unique, modern design with fluid-looking angles. When I lifted it to stow it in the overhead bin during my trip, I was impressed by how lightweight it was, thanks to its recycled polycarbonate shell. This hardshell suitcase was durable and resilient, protecting my belongings throughout my travels.
Maneuvering this carry-on throughout the airport terminals was a breeze. Its four recessed dual-spinner wheels offered exceptional maneuverability, gliding smoothly and effortlessly across the floor. Additionally, the expandable feature proved useful when I had to pack extra souvenirs on my way home – with an expanded depth of up to 11 inches, it accommodated everything I needed.
The interior of the TUMI 19 Degree carry-on was treated with innovative PROTX2 technology that aims to prevent odors on the lining's surface, keeping my belongings fresh during my trip. It's worth noting that some reviews have mentioned durability concerns about the luggage tag snap. Mine held up well, but it might be worth considering if you require additional luggage identification options.
Overall, I am very satisfied with this TUMI carry-on, and I believe it's an excellent choice for international and domestic travel. It combines functionality, style, and durability into an easy-to-maneuver and lightweight design that sets it apart from other luggage options.
Click here to grab the 19 Degree bag or read reviews from other owners here.
I highly recommend the TUMI Voyageur Leger International Carry-On as a top-quality, stylish, and feature-packed suitcase for any traveler.
Pros
Exceptional front lid access and organization
Built-in USB charging port
High-quality, durable materials
Cons
Pricey investment
Limited color options
Potential wheel alignment issue
I was excited to test out this TUMI Voyageur Leger International Carry-On suitcase on my latest trip and I was thoroughly impressed. One of the standout features for me was the innovative front-lid design that allowed easy access and organization of my items. This helped me keep everything in its place, without having to completely unzip the main compartment.
The built-in USB port has been a game-changer for me, especially during layovers or while waiting in long lines. It's incredibly convenient to have my luggage provide a charging source, and it made me feel more at ease knowing my devices would always be ready to use.
The materials used for this carry-on are of the highest quality, and I could feel the durability as I carried it through airports, hotels, and taxis. The leather-wrapped handles and compression straps not only look great but also provide extra support and security.
On the downside, the price point may be a bit high for some travelers, and the limited color options may not satisfy everyone's personal style preferences. Additionally, some users have reported issues with the wheels not rolling straight. However, I personally did not experience this issue and found the wheels to be smooth and easy to maneuver.
Overall, if you're looking for a luxurious, well-designed, and functional carry-on suitcase, the TUMI Voyageur Leger International Carry-On is definitely worth considering. The pros of this suitcase far outweigh the cons, and I believe that the investment will pay off in both style and convenience during your travels.
Click here to grab the Voyager Ledger or read what other owners have to say about it here on Amazon.
This TUMI suitcase is a fantastic investment for travelers seeking a spacious and durable luggage option for extended trips.
Pros
Lightweight and durable recycled polycarbonate material
Smooth and quiet 4-wheel spinner system
Expandable design for extra packing space
Cons
Expensive compared to other luggage brands
May be too large for shorter trips
Limited color options available
I recently took my new TUMI – 19 Degree Extended Trip Expandable 4-Wheeled Packing Case on a month-long trip to Europe, and I couldn't be happier with its performance. The recycled polycarbonate material not only made the suitcase lightweight and easy to maneuver, but also provided the durability I needed during my travels.
One aspect I particularly appreciated was the smooth and quiet 4-wheel spinner system. Navigating through busy airports and cobblestone streets was a breeze, allowing me to effortlessly glide my suitcase alongside me. The expandable design came in handy when I found myself with more souvenirs and clothes than I had anticipated – it provided the extra packing space I needed without compromising the sturdiness of the case.
However, the price point of this TUMI suitcase may be a disadvantage for some. While it is undoubtedly a high-quality product, those on a tighter budget may need to consider more affordable luggage options. Additionally, this spacious suitcase may be too large for shorter weekend getaways or travelers with lighter packing needs. Lastly, there are limited color options available for those who prefer a more personalized travel look.
Despite the drawbacks mentioned, I wholeheartedly recommend the TUMI – 19 Degree Extended Trip Expandable 4-Wheeled Packing Case to anyone in need of a spacious, durable, and easy-to-maneuver suitcase for their extended travels. The investment in this luggage piece has undoubtedly enhanced my travel experience.
Click here to grab the 19 Degree Extended or read about others' experiences with the bag on Amazon.
This TUMI suitcase offers durability and functionality for a comfortable travel experience.
Pros
Dual entry to main compartment
USB Power Port integration
High-quality materials and construction
Cons
Weight may be heavy for some
Concerns regarding wheel durability
Grip material may feel sticky
After using the TUMI – Alpha Continental Dual Access 4-Wheeled Carry-On Luggage for a few trips, I can say that its durability and functionality truly impressed me. The dual entry to the main compartment made accessing my belongings easy, and the removable garment sleeve came in handy when I needed to pack a suit for a business trip.
The built-in USB port is a game-changer when I'm on the go, ensuring that I can charge my devices as needed. Just note that a power bank is sold separately. The suitcase is made of ultra-durable FXT Ballistic nylon, and the Impact absorbing aircraft-grade aluminum telescopic handle system make it remarkably sturdy.
However, I noticed some minor drawbacks. The suitcase may feel heavy to some, and I had slight concerns about the wheels feeling lightweight on rough surfaces. Furthermore, the grip material might be a bit sticky for some people's taste.
Overall, the TUMI – Alpha Continental Dual Access 4-Wheeled Carry-On Luggage is a fantastic choice for those who value style, functionality, and durability in their travel gear. Despite a few minor issues, this suitcase is a worthwhile investment for smooth and enjoyable travels.
Tumi vs Other Brands
Samsonite
When I compare Tumi to Samsonite, I can't help but notice that Samsonite is known for offering affordable luggage options. While their products are of good quality, they don't match Tumi in terms of premium materials and innovative technology. Samsonite bags may be great for casual travelers, but in terms of luxury and durability, Tumi bags are crafted with high-quality materials that are meant to last, setting them apart.
If you want to check out Samsonite bags on Amazon, click here.
Briggs & Riley
Briggs & Riley is another luxury luggage brand that comes to mind when discussing high-quality travel gear. One thing that distinguishes this brand from Tumi is their lifetime warranty, which includes free repair for any damage, even caused by airlines. While Tumi bags are undoubtedly durable and designed for longevity, their warranty does not offer the same comprehensive coverage. However, Tumi possesses a special license for Tegris material, which gives their luggage an advantage in terms of resistance against various threats.
If you want to check out Briggs & Riley bags on Amazon, click here.
Rimowa
Lastly, let's talk about Rimowa. Tumi vs Rimowa is an interesting comparison because both brands use innovative materials in their products. Rimowa is primarily known for its stylish aluminum bags – a unique feature that makes them stand out amongst the luxury luggage brands. Although Tumi bags also boast a sophisticated and sleek design, they mainly focus on using high-quality materials, such as their exclusive Tegris fabric, which enhances durability and protection.
Here is the Rimowa website to learn more about them.
Conclusion and Final Verdict
Tumi uses premium materials, like the unique Tegris thermoplastic composite fabric and SRPP Ballistic material, which ensure long-lasting durability and resistance against various threats. These materials are not only strong, but also contribute to an appealing design and innovative features, making Tumi products stand out in the market.
Speaking from my experience, Tumi's customer support and unbeatable warranty add extra value to their products. They provide exceptional service, which not many brands in the industry can match. Moreover, Tumi's environmental initiatives and giving back programs also demonstrate their dedication to being a responsible and sustainable luxury brand.
Tumi is a great brand and worth the investment, especially for those who want a reliable, high-quality, and stylish travel companion. 
While the price tag may be high, the durability, innovation, and excellent customer support justify the cost. In the end, Tumi's expensive products actually have the potential to save you money by lasting much longer than cheaper alternatives.
Frequently Asked Questions
What justifies the high price of Tumi products?
I believe the high price of Tumi products can be justified by the quality materials and craftsmanship that go into their construction, as well as their status as a luxury brand. Tumi uses durable materials such as ballistic nylon and premium leather to create long-lasting products that withstand the test of time.
How does Tumi compare to other luxury luggage brands?
Comparing Tumi to other luxury luggage brands such as Rimowa, Samsonite, Travelpro, and Briggs & Riley, I'd say each brand has its unique features and strengths. While Tumi is known for its design, quality, and durability, other brands also offer premium materials, innovative technologies and distinctive style. However, it's important to research and compare these brands for your specific needs to find the best fit.
What makes Tumi bags last longer than others?
What makes Tumi bags last longer than others is their commitment to using high-quality materials, such as ballistic nylon and premium leather, which are both durable and long-lasting. Tumi also pays attention to detail and craftsmanship, ensuring their products are well-made and able to endure extensive travel.
Do Tumi backpacks have unique features?
Yes, Tumi backpacks do have unique features, such as their patented Omega Closure System, which reduces the risk of zipper damage, and the Tumi Tracer program, which helps reunite owners with their lost luggage. These features, combined with their high-quality materials and stylish design, make Tumi backpacks stand out in the crowded luggage market.
Is the Tumi brand known for its quality?
Absolutely! The Tumi brand is renowned for its quality and durability. As I mentioned earlier, they use top-tier materials and pay special attention to craftsmanship, resulting in long-lasting, high-performance products.
What factors contribute to Tumi's high price?
Several factors contribute to Tumi's high price. These include the use of high-quality materials, meticulous craftsmanship, unique features, and the brand's status as a luxury luggage brand. Additionally, the interior design of Tumi luggage is considered better than many of its competitors, which also helps justify the elevated price point.
What are the top TUMI luggage options for international travel?
When it comes to international travel, I personally prefer the TUMI International Expandable Carry-On and the TUMI Alpha Short Trip Expandable. They are perfect for me. But if you need a big bag, the TUMI Alpha 3 Extended Trip Expandable is the way to go for sure.
The International Carry-On is compact, yet spacious, and perfect for shorter trips. The other two offer more packing space for longer trips, plus it's incredibly durable and lightweight, making it easy to maneuver through airports.
Which TUMI Alpha 3 bag is the most popular?
In my experience, the TUMI Alpha 3 Expandable International 4 is the most popular option. It combines style, functionality, and durability, making it a reliable choice for frequent travelers. Its expandable feature allows for extra packing space when needed, and the four-wheel design ensures smooth mobility.
Where can I find TUMI luggage on sale?
I often find TUMI luggage on sale at the TUMI website, especially during end-of-season sales and holiday promotions. Additionally, you can check department stores like Nordstrom or Bloomingdales, and online retailers like Amazon.
I linked all those up so they go straight to the Tumi products they have.
Other Articles You May Enjoy