A little about Espiñeiro Beach 
Espiñeiro is a quaint sandy beach with some rocks at the far north end. The waters are calm and you can see boats anchored not too far from the shore. You can also see Mera Beach off to the left when looking out to sea.
It's located just 0.2 km from the marina and port in Mera, Espiñeiro beach is easily accessible on foot down a short seaside path, making it an ideal destination to reach by foot, scooter, car, or boat. Drivers can take the nearby AC-173 motorway (Rúa Celso Emilio Ferreiro) to reach this tucked-away coastal paradise in northwest Spain's Galicia region known for its pristine sands, rocky coves, and surrounding eucalyptus groves.
Espiñeiro beach offers convenient facilities including toilets, showers, trash bins, and regular cleaning service, providing visitors with a comfortable and maintained natural oasis to enjoy.
With its family-friendly atmosphere, accommodations for groups, outdoor seating areas, and suitability for children, Espiñeiro Beach offers something for visitors of all ages and interests seeking an enjoyable coastal vacation spot.
Topless, for those that care: If you didn't know, as far as bathing suits are concerned, tops are optional on all Spanish beaches. If you want a little less nudity Espiñeiro will be a better bet for you. And if you want a more "tops-off" environment, the close by Mera beach is more your scene. 
The Walk to Espiñeiro
It's not too far a drive to Espiñeiro beach from my Father-in-law's place, but we usually walk it. It's a charming portion of the countryside in Galicia, Spain. 
We first land and he picks us up from the airport La Coruña in his late 90's Jag. As we leave behind the city, and make our way out to Mera, where his house is, the landscape transforms into combinations of verdant forests of soaring pines and eucalyptus and open plots of land. On the windy roads, the glittering ocean peeks through the trees or over a hillside now and then.

We drop our bags at his home and decide to walk to the beach. We have a few choices within walking distance. The two closest are the beach in Mera (Playa Mera) and Espiñeiro (Playa de Espiñeiro). We decide to hit Espiñeiro. It is a bit more quaint and doesn't have the road along side it like Mera does.

It's a short walk from his home… maybe 10 minutes. We walk through the small town of Mera. It's on the north end… and then down a beautiful path under an old wooden bridge, along bamboo shoots, grasses and native flower on one side, and a centuries old stone wall on the other… down worn stone steps down onto the beach. 
Emerging from the coziness of the small town, you pinch yourself as an incredible vista – a crescent cove framed by rocks and foliage unfolds before your eyes. 
The beach was spotted with a few locals. The smooth rocks steps lead down to the hot sand beach and crystal waters. It makes me feel like a little kid again. I'm now on vacation, and I can't wait to explore this hidden paradise, again. (We've been here a few times.)
Exploring the Beach
Strolling along the shore hand in hand, the beach was a delight – just warm sand underfoot, boats bobbing up and down in the bay, kids and couples in the water and sunbathing in the sand, and not a speck of trash in sight. I waded into the crisp, cool waters, watching tiny fish dart between the submerged stones. Crabs moving out of my way as I walk through the shallow water seeing what I can discover.
My wife beachcombed happily, collecting pretty shells and stones smoothed by the tide. The hypnotic sound of the waves, mixed with happy people sounds, and the rustling of pine and eucalyptus trees was meditative. 
We breathed deeply, feeling the stresses of life back home wash away.
After swimming, we got cold, refreshing mint chocolate chip ice cream from the lone beach shack. That is something our beach trip wouldn't be complete without. Then we sat on our towels under the dappled shade of the trees, listening to birdsong and enjoying our sweet treats while drying off in the warm Spanish sunshine. 
We sat there for a couple hours alternating between talking and napping on our towels
Lunch at Chiringuito Espiñeiro
For lunch, we headed up different set of steps to Chiringuito Espiñeiro, a laid-back family-run tapas bar right on the beach. Totally recommend it.
Strings of lights swayed overhead as we ate outside, welcomed like old friends by the owners. We feasted on classic Galician dishes: buttery empanadas stuffed with tuna, sauteed pimientos sprinkled with sea salt, and fresh sardines simply grilled to perfection. 
Everything was so flavorful – you could taste the love and pride put into each plate. I sopped up every last bit of the rich sauces and olive oil with crusty bread still warm from the brick oven.
We met up with my wife's sister and one of our nieces before we finished, and after a couple of hours decided to head back.
Heading Back
Pleasantly full from lunch and tired from our flight, we slowly ambled back up the stone steps leading to the quite village of Mera. It was nice to know our trip was off to a great start.
Our short walk through town took us past small little homes and cobblestone sidewalks. There's a small church and tombs in the churchyard, and a bell in a small tower. There are multi colored houses, some whitewashed with red tile roofs clustered along the harbor and up through the hills. Strings of colorful bunting were strung between balconies, fluttering gently in the ocean breeze. The air smelled of salt and the sound of gulls mingled with lively conversation drifting from the seaside cafés. This even as you get further from the beach.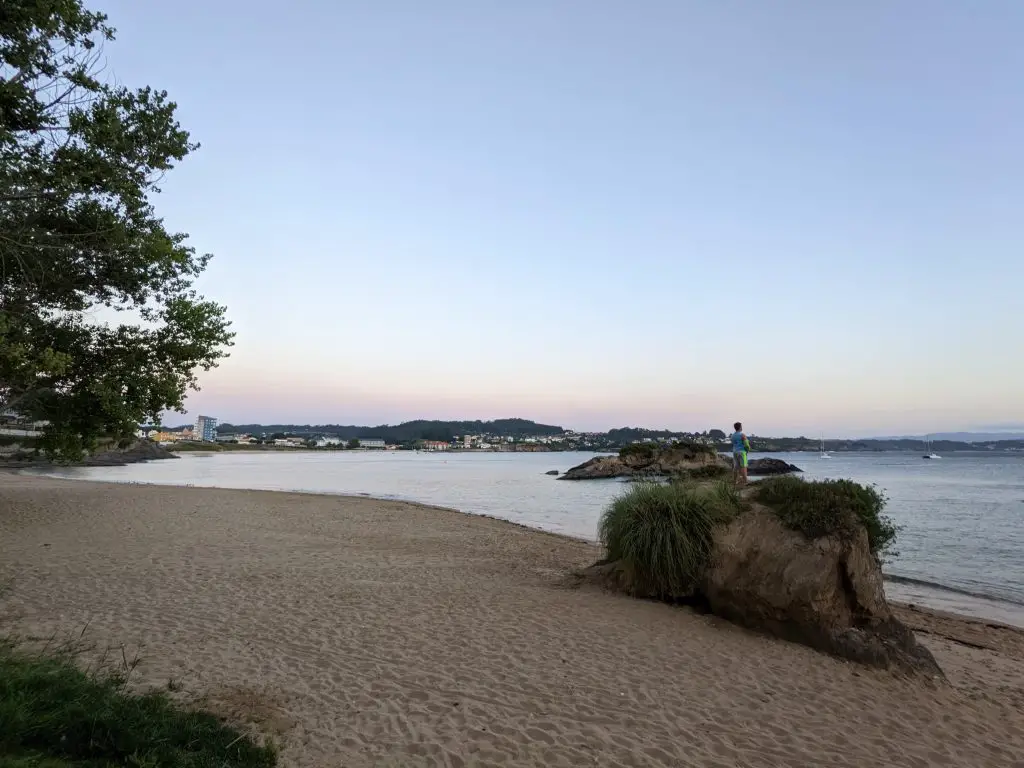 Mera is a quintessential Spanish coastal town straight from a postcard. 
My wife's father busies himself preparing a simple but exquisite meal of King Shrimp (gambones), green peppers (pimientos), squid (calamares a la plancha) and bread, with water and fruit juices for drink. The scene warmed my heart, as did the delicious smells of supper wafting through the window. 
We exchanged stories of our blissful day on Espiñeiro beach and other adventures over yet another incredible home cooked Spanish meal.
Just one of many days we have enjoyed in that little Spanish village. Family, the tranquil seaside atmosphere, delicious food, and authentic Spanish culture are all parts of what I love about visiting Spain. 
Other Articles