If you love coffee as much as I do, then you will love the idea of having a great portable travel coffee maker. Finding a great cup of coffee when on the road is not always easy.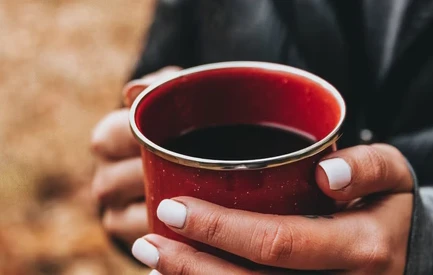 With a portable travel coffee maker, you can make your own coffee on the go just the way you like it! Keep in mind that there are many options for you to choose from, they are not all the same.
Finding the exact one you are looking for might be a bit tricky, but I will give you all the information you need to choose the right one for you.
If you were wondering, the best one for my needs and my next portable travel coffee maker will be the Chefman Coffee Maker K-Cup InstaBrew Brewer!
How do I choose the right travel coffee maker?
There are a number of things you might want to consider when answering this question. The first thing you should decide is if you need a power-operated machine. Some machines require power and others do not.
Next, decide how much space you will have. Depending on the type of traveling you are doing, you may have less space to take a coffee maker with you. Also, the weight may be a consideration for your luggage. If you are camping or hiking, you might be more flexible about the size and weight of the machine.
Also keep in mind the type of coffee you prefer, and whether or not you use K-Cups or similar. Maybe you prefer grounds only or just espresso, so keep this in mind when you decide on the right maker for you.
My TOP PICK
I absolutely love this brewer! There are so many great things about the Chefman Instabrew Single Serve Coffee Maker. It is a truly versatile unit, perfectly designed to accept all brands of K-Cups as well as coffee grounds. It will easily dispense a cup of hot coffee quickly, easily and efficiently with just a push of the button. It will then boil your next cup automatically!
A really nice feature of the InstaBrew are the dimensions. It's tall enough to use with almost all travel mugs while keeping a narrow profile. Really nice stainless accents give this brewer a refined look.
Features And Specs
Rapid brewing system with proprietary technology ensuring that you brew the perfect cup, fast and at the right temperature.
Sleek Design allows you to store it pretty much anywhere. Take it on vacation, camping trips, hiking and much more.
Great For K-Cups And Grounds. This will accept all types of K-cups and grounds including loose leaf tea.
Brews A Perfect Cup Of Coffee exactly how you like it. Brews the right amount every time.
Dimensions 6.8 x 5.3 x 13 Inches
Weight: 2.3 lbs
You can read actual customer reviews and see the current price of the Chefman Instabrew Single Serve Coffee Maker on Amazon.
---
My TAKE YOUR TIME Pick
Yes, Coffee gator is a great name, but I like this brewer for many more reasons!
Brews up the perfect cup of coffee really fast, in just a few minutes.
And it might not be as portable as some of our other options but it will really create more of an experience out of your morning routine and brings a lot of flavor out of your coffee as you make and enjoy it.
No paper filters! The stainless steel mesh filter is reusable, so it is not only eliminating your having to bring and repurchase filters with you, but it is better for the environment as well.
It offers a good balance of practicality and performance.
Features And Specs
Ideal for all types of travel and work. Perfect for coffee on the go.
Sleek, modern design — looks great no matter where you take it.
100% Dishwasher safe.
Dimensions: 5 x 5 x 8.2 inches
Weight 1.32 lbs
You can read actual customer reviews and see the current price of the Coffee Gator Personal Coffee Gator Pour Over Coffee Maker on Amazon.
---
My LUXURY ESPRESSO Pick
Seriously though, there is nothing better than enjoying a perfect cup of coffee when you are on the go. The Barsetto Espresso coffee machine will do just that for you. When you taste high-quality coffee, you feel relaxed and happier than ever. This machine lets you enjoy fine Italian coffee anytime, anyplace, anywhere brewed in under a minute. 15 Bar high-pressure brews rich-tasting espresso pure Italian coffee.
The special design will allow you to disassemble into multiple parts for easy carrying and cleaning. It's very lightweight and compact making it easy to take camping, hiking, fishing, and any other type of travel. The double-wall vacuum cup has a great thermal insulation function and can effectively protect fingers from being scalded by high-temperature water.
Features And Specs
Compact design makes it easy to take anywhere including carry on luggage, hiking, and camping.
Double-wall vacuum cup – great thermal insulation function.
Up to 20,000 Times Hand Press Lifespan. Will last a long time hassle free.
High-quality anti-slip silicone
ABS plastic Cover And tempered glass
Handcrafted, stainless steel handle
Dimensions: 2.8 x 2.8 x 8.8 Inches
Weight: 1.28 lbs
You can read actual customer reviews and see the current price of the Coffee Maker Barsetto Espresso Coffee Machine on Amazon.
---
My SUPER PORTABLE Picks
This little espresso machine and coffee maker has an innovative design and powerful extraction pressure for a rich and bold espresso. It's very small, compact and lightweight. It's very efficient, easy to use and looks great.
The MiniPresso GR uses a semi-automatic piston which is manually operated. This controls the amount of extracted coffee. It does not require compressed air, N2O cartridges or electricity to function.
You can use any variety of coffee beans, which will give you more flexibility in trying new flavors. Grinding your own beans will give you more control over your coffee preparation.
Features And Specs
Compact Design and modern look.
Simple and intuitive to operate. You have full control to make the exact brew you are looking for.
No matter where you are, enjoy an authentic espresso.
Built-in espresso cup and scoop
Grind your own beans giving you more control over your coffee preparation.
Semi-Automatic Piston Pressure 116 PSI
Dimensions: 6.89 x 2.75 x 2.36 inches
Featherweight: 0.8 lbs
You can read actual customer reviews and see the current price of the Wacaco MiniPresso GR Espresso Maker on Amazon.
---
The only thing you will need to make amazing coffee with the STARESSO portable espresso machine is hot water. Whether you are at home, at the office, on vacation, experiencing a power shortage, or out in the wilderness, you can easily make freshly brewed coffee in minutes.
No electricity or batteries are required. Just pump your way to fresh and delicious coffee in a flash.
Just your beans finely, and then pack them tightly. Fill the reservoir with boiling water. 
I didn't even read the directions, just figured I'd go for it. Everything was easy, pumping was effortless. I made a cold drink and a hot drink to test the quality of the espresso. There were a couple shots poured over ice with whole milk in it, which tasted like they came from a local cafe. In the second, I poured some foamed milk into the hot coffee, and it was equally as delicious.
Even though I listed it at number 5, I still highly recommend it because of the quality you get for a great price.
Features And Specs
Compact And Easy To Travel With. You can take this coffee maker with you anywhere you travel.
Effortlessly make freshly brewed coffee in seconds.
Makes Tea And Infused Water.
Silent so you can use it anywhere: school, home, the office, or camping.
Stainless steel inner tank for durability
No cords, electricity, or batteries needed to run this mini espresso machine.
Holds up to 11g of roast fine ground coffee
Dimensions: 7 x 3 x 8.2 inches (the size of a water bottle)
Weight: 1.1 lbs
You can read actual customer reviews and see the current price of the STARESSO Portable Espresso Machine on Amazon.
---
Do You Have Everything You Need To Brew Coffee While Traveling?
Aside from portable coffee makers, other coffee gear might also be required, given the variety of products available on the market. There are at least three things you will need, regardless of the type of coffee maker you choose. Here they are.
Boiling Hot Water
There is no need for electricity with most travel coffee makers, but you will need a means of boiling water. On Amazon, there are lightweight travel kettles that are ideal for urban travelers. If you're out on an outdoor adventure, you can boil water on your campfire provided you have a way to do it.
If you need a good electric kettle for your next trip, here are some excellent ones.
Ground Coffee Beans: A Method Of Grinding Them
There are a lot of coffee drinkers who prefer grinding their beans just before brewing, and that is also possible on the go. For portability, a hand grinder works best. You don't have to bring an electric grinder with you. Traveling doesn't mean you have to settle for stale grounds. This little Hario Mini Mill is ideal for your next trip!
A practical option is also to use pre-ground beans. Just make sure you store your grounds in the best way possible on the road. 
A Good Mug Or Thermos Type Cup
You need to keep your coffee hot after brewing! Any traveler's coffee kit should include a good travel mug or camp mug. You might already have a favorite, but these are great ones. Check them out quickly.
Related: Can I Drink Coffee And Tea With Invisalign?
What are the advantages of a portable coffee maker?
Certainly, you could grab a paper cup from your nearest Starbucks (or another coffee shop) on your way out. It is more satisfying and more economical to brew your own favorite hot drink.
Portable coffee makers are:
Easy
By pressing a button, you can brew a pot of coffee. On the road, your morning cup will taste as good as it does at home.
Cost-effective
It can be costly to buy fancy lattes and other drinks. Although nice as a treat every once in a while, buying one every day can quickly add up. It's definitely a lot more cost-effective to make your own.
Easily blended to suit your taste
With a few hours of practice, you'll soon be crafting the perfect cup of coffee based on your own blends and flavors, and somehow you won't be able to find a store-bought coffee that suits your needs.
Portable
Portable coffee makers are discreet, easy to carry, and conveniently sized to fit in a carry-on bag for brewing coffee whenever you want it.
Coffee Maker Types
Due to the fact that not all coffee makers are created equal, they allow you to brew your coffee in different ways.
There are several types of coffee makers, including:
Espresso Makers
Whenever you want dark rich espresso, you can with you with a portable espresso maker. In a compact and portable package, the machine applies pressure to the beans, allowing the beans to erupt with maximum flavor and oils. True coffee connoisseurs will love these models despite it being the most expensive.
Pour-Over Coffee Makers
Compact and lightweight, pour-over coffee makers may be the best choice for long trips. Whenever you need a quick cup of coffee, just carry a few grams of your beloved blend. Having to wait several minutes for your coffee is the only downside to these types of machines.
French Press
This method captures more of the natural flavor of coffee by immersing it all in hot water, resulting in a rich, robust cup. French press coffee makers may make better coffee, but cleaning them takes longer, and some are not as portable as other machines.
Considerations when choosing a travel coffee maker
The following factors should be considered when choosing the best portable coffee maker:
Durability
When you travel, your possessions can suffer, so you should look for appliances and devices that can go the distance. Choose durable materials such as plastic, silicone, or even aluminum rather than delicate glass coffee makers.
The type of coffee maker
I suppose that this question goes without saying, but what kind of coffee will you be making? What type of coffee maker do you need? An espresso machine, French press or a pour-over?
Portability
Portable coffee makers must be, as their name suggests, portable. Consider your needs before choosing a coffee maker, since some are larger and bulkier than others.
If you enjoy coffee makers of any type, they need to be easy to carry and have a small footprint. Or else you might as well keep it at home.
How much does it hold?
How many will you be brewing for and for how many days? If you have a small coffee maker, you might wake up grumpy with your fellow travelers. As the chief coffee maker, you will be able to make coffee for as many people as you like, but keep in mind that the larger the capacity of an appliance, the bigger and bulkier it will be.
Power
Does it require power or is it manual? Do you plug it in or can you run it with batteries? It is almost impossible to take anything with you without having to charge it or provide it with some form of power at some point. Just think through how you will power your portable coffee maker before you travel with it.
Easy to clean
Good coffee is not dirty coffee. Make sure to consider the location of your next trip and how easy it is to clean the coffee maker when you arrive. Hotel rooms and apartments may have hot water and dishwashers, but if you are camping in the middle of nowhere, you should pick a coffee maker that is easy to clean and with no complicated parts.
Time to Brew
Having to wait half of your travel time for a portable coffee maker to do its thing is pointless. You can enjoy fast coffee on the go if you pick appliances that brew in between 30 seconds and 5 minutes.
How Do Hikers Make Coffee?
Hiker boil water and one a portable coffee maker to make coffee. Another great way is to use coffee bags. Similar to tea bags, coffee bags make for a great portable coffee solution.
Something like these would work perfectly!
How to make coffee from coffee bags in 5 simple steps:

1 – Boil water on a camp stove or campfire.
2 – Place the coffee bag into your mug of choice.
3 – slowly pour boiling water over the bag.
4 – Let the bag steep in the water for 2 minutes.
5 – Move the bag in hot water by pulling the string up and down for at least 30-ish seconds.
Done! Enjoy!
Can you leave coffee in the car? Can you leave coffee in a thermos or backpack?
At room temperature, brewed coffee can only last for about two hours before its flavor is notably affected. Keep this in mind as you will want to make time to drink your coffee as fresh as you can after making it. 
Can you make coffee in your car? 
Sure, you can make coffee in your car. Just use a power inverter like this one! Just plug it into the cigarette lighter or power socket in your car and then plug your portable travel coffee maker right into it. You are good to go! I have the power inverter below and love it! 
Prices pulled from the Amazon Product Advertising API on:
Product prices and availability are accurate as of the date/time indicated and are subject to change. Any price and availability information displayed on [relevant Amazon Site(s), as applicable] at the time of purchase will apply to the purchase of this product.
Is day-old coffee OK to drink?
In general, I don't recommend drinking day-old coffee, especially if it has gone rancid or acquired an unpleasant taste or smell. When kept outside the fridge, brewed coffee is also prone to accumulating mold. Especially if it has milk mixed in it, you should not drink day-old coffee unless it has been kept in the fridge.
Can you refrigerate coffee?
If you'd like to keep it in the fridge, simply pour it into a carafe or container that's airtight. In addition to preserving its flavor and aroma for longer than two hours, keeping the coffee cold also preserves its appearance. You can store coffee in the refrigerator for up to a week. It will taste better if you brew it fresh, but you can reheat it from the fridge as well.
Summary
But you really can't go wrong with any of the five picks. They all have different designs, sizes, and weights, but they will all serve the purpose of making great coffee when you are on the road. The nice thing is you can take these anywhere. They are all easy to pack, take up very little space and if you really enjoy your favorite cup of joe, you will be glad you brought it along.
Thanks for reading!
You may also like:
Your Pre-Trip Checklist: What to Do the Day Before You Travel 
What To Pack In A Carry On Bag