Best Flight Bags for Pilots – As a pilot, I understand the importance of having a reliable and organized flight bag to carry essential gear and documents. I have tried a bunch!
They come in various sizes, styles, and materials, and choosing the right one can significantly impact the flying experience. From the moment you step into the cockpit, you want to be confident that your bag meets your specific needs and preferences.
When selecting the best flight bag for your needs, consider factors such as size, weight, material, and the number of compartments or pockets available for organization. It's essential to choose the right one that will accommodate all your items while being comfortable to carry and maneuver during your pre-flight checks and travel. Ultimately, the right one makes all the difference in your overall efficiency and performance as a pilot.
Through my experience and extensive research, I have compared and evaluated various flight bags to help you find the perfect match for your aviation adventures. 
At the end of the article I have put a buyers guide as well to help you with your selection.
Best Flight Bags for Pilots
As a pilot, I know how important it is to have a reliable and functional flight bag. That's why I've curated this list for pilots to help you find the perfect one. Enjoy!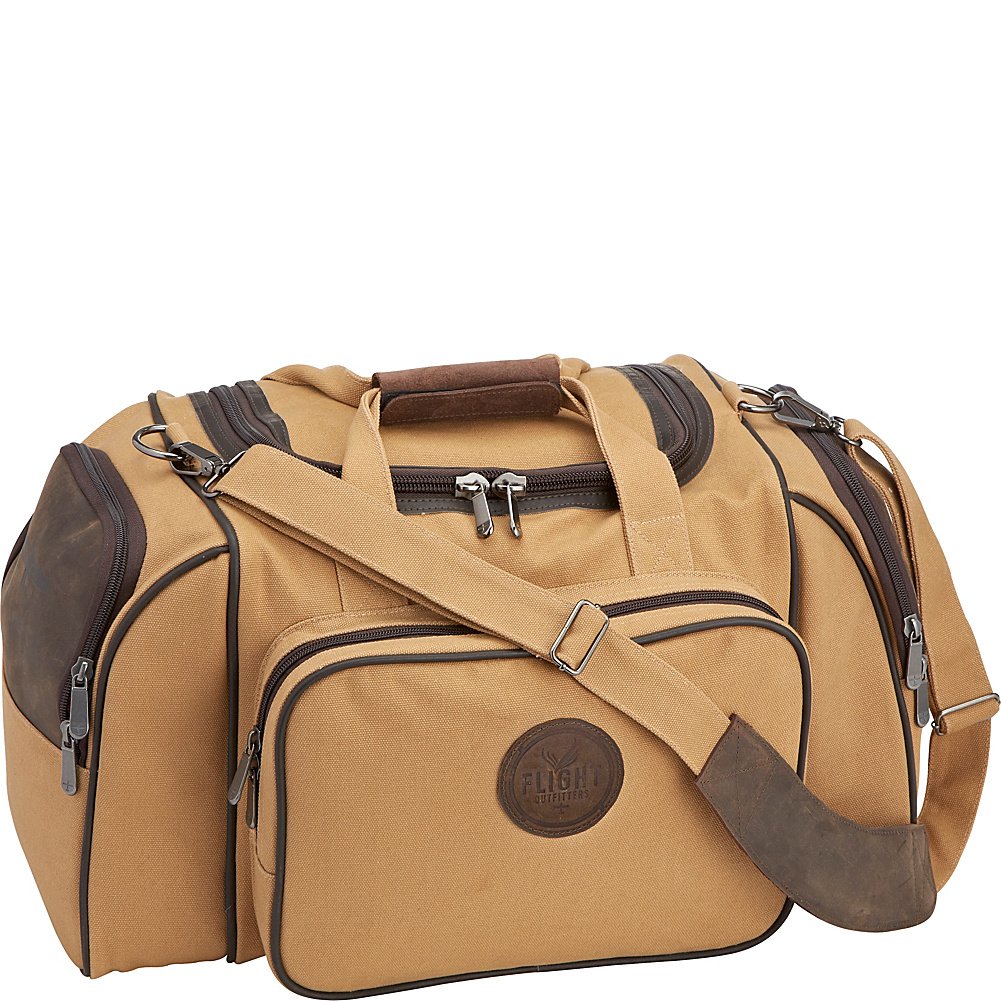 The Flight Outfitters Bush Pilot Bag is a stylish and durable option for any pilot looking to stay organized and secure on their flights.
Pros
Spacious and padded headset pockets
Convenient front organizer pocket
High-quality canvas with leather accents
Cons
May be too large for some users
Price might be high for some buyers
Occasional stitching issues reported
As a pilot, I recently used the Flight Outfitters Bush Pilot Bag and found it to be quite impressive. The bag's size allowed me to store my large headsets easily with its two padded side pockets, providing excellent protection for my gear. The front organizer pocket came in handy for keeping my chargers and other small items in place, preventing them from sinking to the bottom of the bag.
The Flight Outfitters Bush Pilot Bag is not only functional, but stylish too. The canvas construction and leather accents give it a rugged, classic look that has garnered compliments from other pilots. The durable metal hardware and comfortable padded shoulder strap ensured easy and comfortable carrying during my trips.
One minor issue I found with the bag was its size, which may be too large for some users. While the spacious main compartment is a great feature, it might make the bag too bulky for pilots with limited storage space in their aircraft. The stitching on the handle also showed signs of wear after some use, but it was not a significant concern.
Overall, I found the Flight Outfitters Bush Pilot Bag to be an excellent investment. It's stylish, durable, and offers great storage options for any pilot needing a reliable flight bag. Its premium quality might come at a higher price, but for those who value organization and protection for their gear, it is worth considering.
I truly believe the Flight Outfitters Waypoint Backpack is a fantastic choice for pilots seeking a versatile and durable bag to carry their essential gear.
Pros
Spacious compartments for various gear
Dedicated pockets for electronics protection
Comfortable to wear during long travels
Cons
May be too bulky for some users
Zippers might require extra care
Limited color options
Upon using the Flight Outfitters Waypoint Backpack, I realized its thoughtful design offers ample space for all my aviation equipment, including my headset, kneeboard, and even a change of clothes. The orange interior makes it a breeze to find items, even during nighttime flights. The padded laptop and tablet compartments kept my devices safe and secure, and they're easily accessible during flights.
The exterior of the bag also offers plenty of organization options with an organizer pocket, soft-lined sunglasses pocket, and a carabiner for hanging larger items like a water bottle or radio. The padded shoulder straps and back support made it comfortable to wear throughout the day, even when it was fully loaded with gear.
However, I did find that the zippers needed extra care to prevent breakage, and some users might find the bag a bit too bulky. Additionally, it would have been nice to have more color choices. Nevertheless, the Flight Outfitters Waypoint Backpack remains a reliable option for pilots who need a versatile and well-organized bag for their equipment.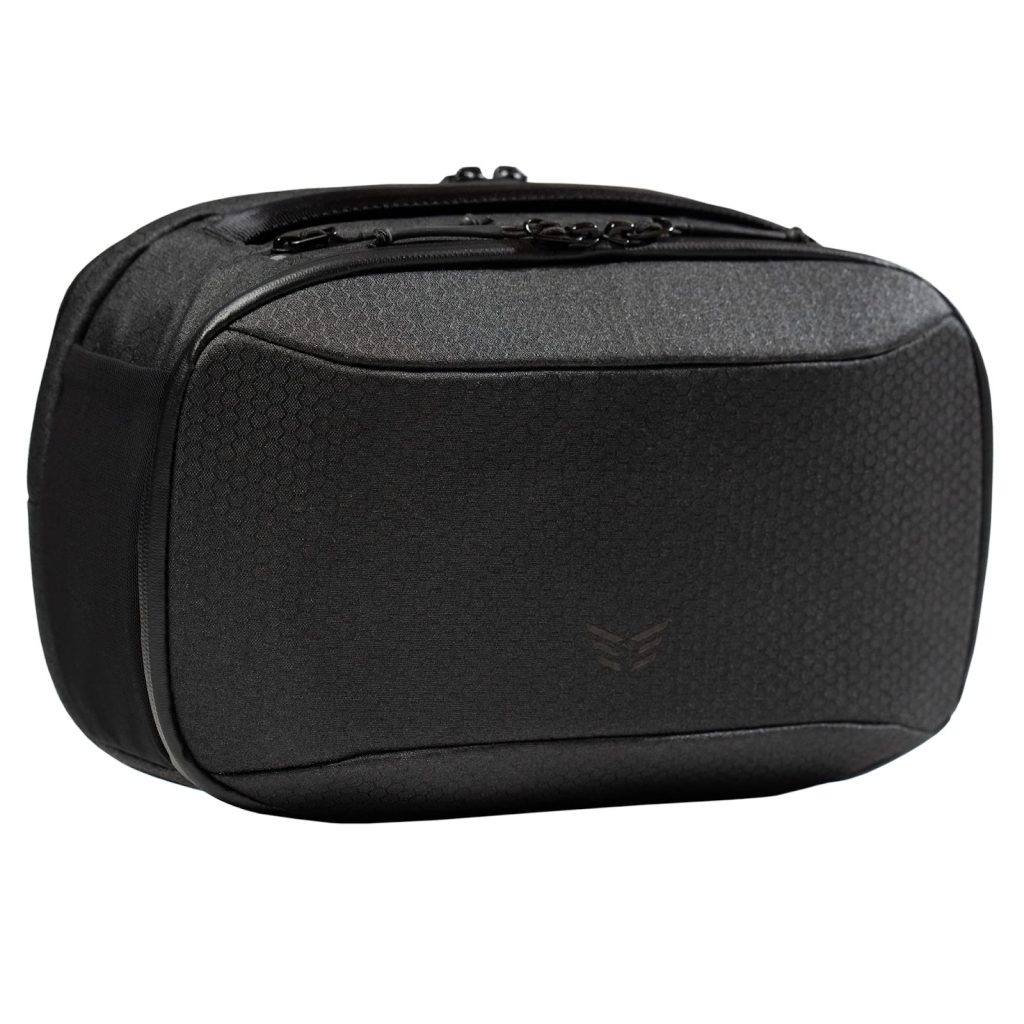 The Wairworthy Solo Pilot Flight Bag is a worthwhile investment for pilots seeking a compact, durable, and well-designed bag.
Pros
Spacious enough for any aviation headset
Accommodates up to an 11″ tablet
Convenient quick access glasses pocket
Cons
Zipper resistance when rounding corners
May not suit those who prefer a hard shell bag
Limited color options
I recently took the Wairworthy Solo Pilot Flight Bag on a flight and was impressed by how well it suited my needs. The bag's multiple compartments allowed me to efficiently store various gear, including my aviation headset, tablet, and additional batteries. The quick access glasses pocket was particularly useful, as I didn't have to fumble around for my sunglasses during the flight.
The bag's removable shoulder strap and external water bottle storage were also practical features that made my experience more comfortable. I also appreciated the license/medical ID holder, which ensured my essential documents were always within reach and well-organized.
However, one minor drawback I noticed was the zipper resistance when going around the corners of the bag. A little extra effort was needed, making it slightly less smooth to operate. Additionally, though the bag's material is durable and water-resistant, some pilots might prefer a hard shell bag for extra protection.
All things considered, the Wairworthy Solo Pilot Flight Bag is a great option for pilots who want a compact yet versatile bag. While there is some room for improvement regarding the zippers, the overall design and functionality of the bag make it a solid choice for organizing and transporting essential flight gear.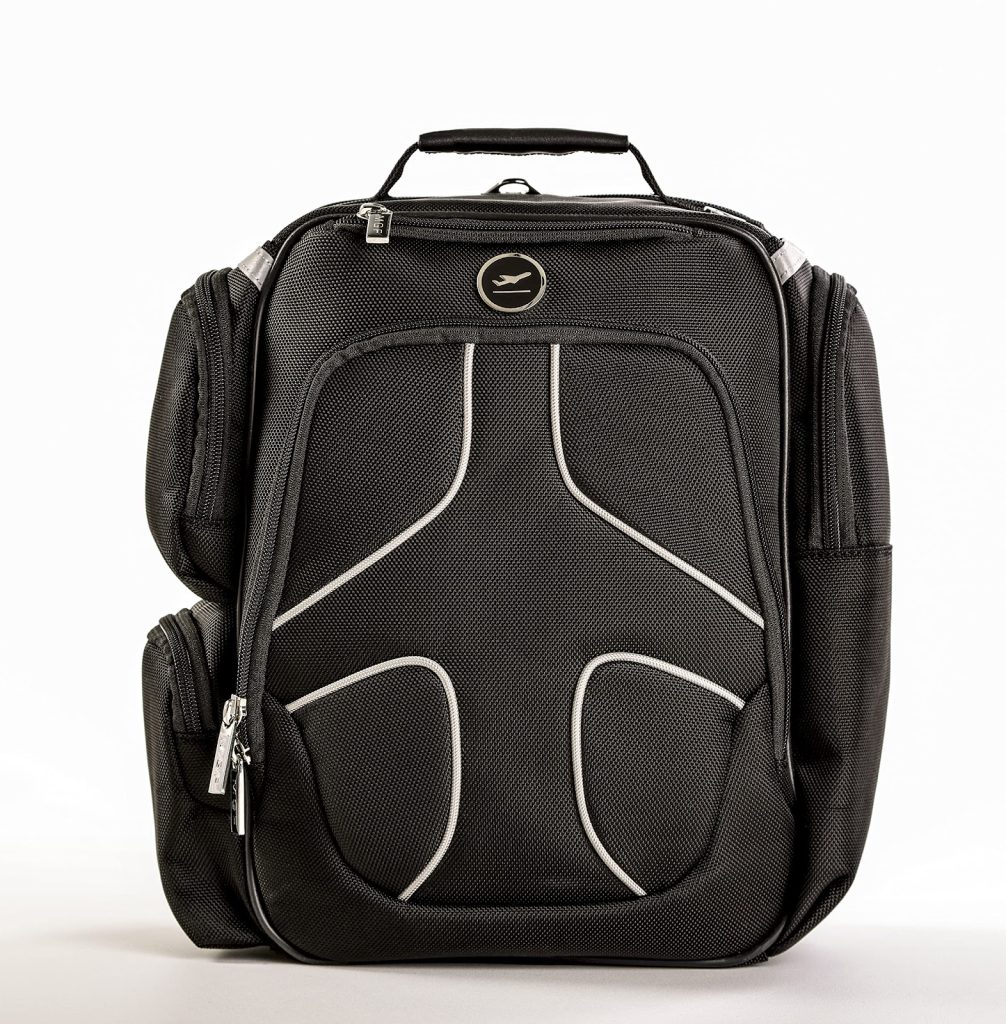 The MYGOFLIGHT PLC Sport is a top pick for pilots seeking a durable, feature-packed flight bag that caters to both iPad and laptop storage.
Pros
Durable and water-resistant construction
Smart storage compartments for iPads, laptops, and other essentials
Compact, lightweight, and comfortable to carry
Cons
Carrying handle may experience wear over time
Bag size might be small for some users
Backpack-style option not available in this size
I recently took my MYGOFLIGHT PLC Sport flight bag on a solo cross-country trip, and it exceeded my expectations. The ballistic nylon exterior not only looks sleek, but it also resisted water during an unexpected downpour, keeping my electronics safe and dry.
As an iPad user, I appreciate the specially designed compartment that provides extra protection for my device. Although laptop users have a dedicated storage pouch as well, the bag does feel slightly cramped when carrying a laptop with a 13-inch diagonal screen. Despite its smaller size, the bag still offers ample space for a headset, kneeboard, logbook, and flight computer. For bulky items like water bottles and handheld radios, the exterior side pocket is a useful addition.
The padded top carry handle made it easy for me to lug the bag from my car to the cockpit, but I noticed the rubberized material starting to split after a few months of use. However, this didn't deter me from utilizing the bag on a daily basis, thanks to its practical compartments and sturdy construction.
Overall, the MYGOFLIGHT PLC Sport is a versatile, high-quality option for pilots with iPads and laptops. While it has some minor drawbacks in size and handle durability, its advantages make it a valuable investment for anyone seeking an efficient flight bag that won't let them down.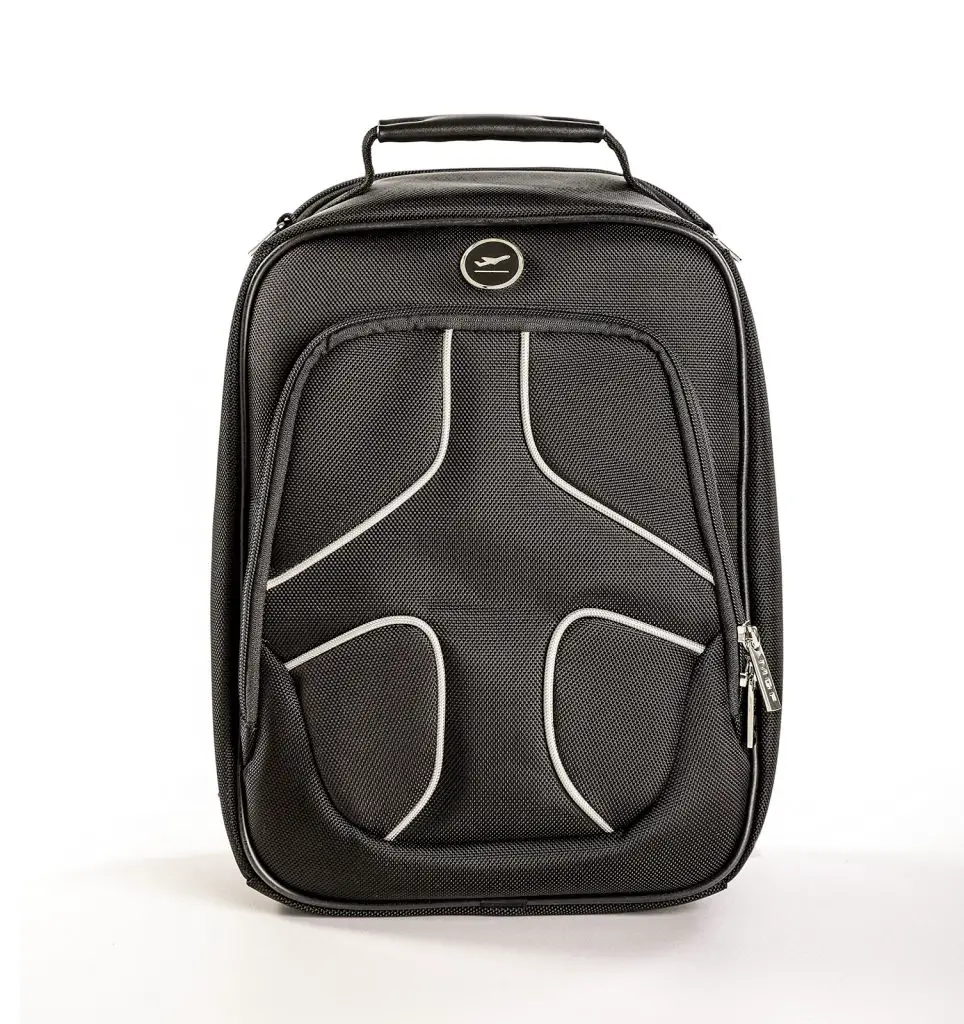 The MYGOFLIGHT PLC Lite is an excellent flight bag for pilots seeking a compact, durable, and functional solution for their essential gear.
Pros
Sturdy ballistic nylon exterior
Specially designed compartment for iPad or laptop
Ample storage with well-organized interior
Cons
Limited small pockets for miscellaneous items
Might be smaller than expected
Not discontinued by the manufacturer
As an aviation enthusiast, I recently took the MYGOFLIGHT PLC Lite on a trip with me and loved how it kept all my gear organized and protected. The ballistic nylon exterior not only looked rugged but also provided excellent durability for my continuous usage.
What stood out for me was the padded iPad and laptop storage compartment. I managed to secure my iPad and small laptop snugly, without worrying about them getting damaged during my travels. The interior also had mesh pockets and a section for storing headsets or overnight gear, as well as compartments for office supplies, charts, and books.
However, while the bag had ample storage, I felt it could have used a few more small pockets for miscellaneous items. The bag's size was also surprisingly smaller than I had anticipated but eventually found it was just the right size for my essential equipment.
The MYGOFLIGHT PLC Lite Flight Bag is a superb choice for pilots in search of a compact, sturdy, and well-organized bag. With it, you can focus on your flying adventure without being concerned about the safety of your essential gear.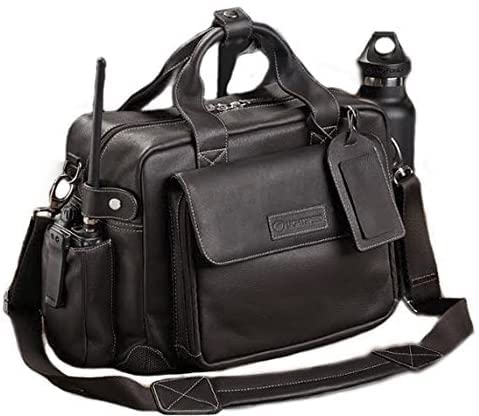 The Lightspeed Aviation Markham Flight Bag is perfect for pilots seeking quality, durability, and style in their bag.
Pros
Roomy main compartment for headsets and essentials
Easily accessible antenna-on transceiver pocket
Spacious front organizer pocket and side pocket for large water bottles
Cons
A bit expensive
May be too bulky for smaller aircraft
Leather may require some maintenance over time
When I first got my hands on the Lightspeed Aviation Markham Flight Bag, I instantly noticed the impressive quality of the full-grain, oiled South American cowhide. The espresso brown leather has an authentic look, gaining a rich patina as it ages.
During my flights, I found the main compartment spacious enough to hold my headset and other necessities, and the transceiver pocket securely stored my antenna-on equipment. The expanded front organizer pocket provided me with easy access to essential items while in the cockpit. I also appreciated the side pocket for my large water bottle.
The only downsides I noticed were the price, which may be steep for some pilots, and the size. The bag is a little bulky, so it may not fit comfortably in smaller aircraft. As with any leather product, the Markham might require occasional maintenance to maintain its appearance and texture.
Overall, the Lightspeed Aviation Markham Flight Bag is an excellent investment for any pilot looking for a stylish and functional bag that can withstand the test of time. With its unique design and thoughtful features, this bag will make flying more enjoyable for years to come.
I recommend this bag for pilots who want a stylish and functional bag for their flying adventures and beyond.
Pros
High-quality material
Customizable compartments
Ample storage pockets
Cons
Might be bulky for some
Higher price point
Limited color options
The Flight Outfitters Bush Pilot Flight Bag has been my go-to for keeping all my gear organized as a pilot. The bag boasts a rugged design featuring thick canvas and leather accents that give it a timeless, bush pilot vibe. The first thing that struck me about this bag is how rugged and durable it felt, due to its quality construction and materials.
The bag has a main compartment with two movable dividers that have helped me customize it to perfectly suit my needs. I've been able to accommodate multiple headsets, as well as create a spot for cockpit mounts and cameras. The signature orange interior is also a nice touch, making it easy to find items within the bag.
My favorite feature of the Flight Outfitters Bush Pilot Flight Bag has to be the abundance of external pockets that keep frequently used gear close at hand. The bag offers two padded headset pockets, an external iPad and logbook pocket, a front organizer pocket with key clip, a water bottle holder, a padded ADS-B receiver pocket, a flashlight/fuel tester pocket, a phone pocket, and pen/pencil holders. These pockets have made it extremely convenient for me to access essential gear during flights, without having to dig through the main compartment.
While I love the bag's functionality and style, I do wish it was a little less bulky for smaller aircraft and had more color options. Additionally, the bag is on the higher end in terms of price compared to some alternatives..
Key Features to Look for in a Flight Bag
Durability Considerations
It's important for pilots to have a bag that can withstand the rigors of constant travel, from being packed and unpacked to being loaded onto flights numerous times. To ensure long-lasting use, look for bags made with durable materials like ballistic nylon, heavy-duty zippers, and reinforced handles.
Essential Compartments
As a pilot, we need to organize and store various items, such as headsets, logbooks, maps, charts, and other essentials. The best flight bags offer multiple compartments, including headset pockets, a specific spot for logbooks, and even a dedicated tablet or laptop sleeve.
Padding and Protection
Since many items we carry as pilots are delicate (like headsets and electronics), we need to ensure they are safe and secure. A well-designed flight bag will have ample padding around the headset compartments, laptop sleeves, and other essential pockets to absorb any impact from daily usage.
Size and Weight
When it comes to size and weight, we need to find a balance between a compact size that's easy to carry and a bag with sufficient space for all our gear. Lightweight bags are a great option, as they reduce strain on our shoulders during long days at the airport. However, we must also ensure that the bag is large enough to hold everything we need without feeling cramped or overflowing.
Versatility and Functionality
We want a bag that not only meets our organizational needs but also provides extra features that make our lives easier. Some flight bags provide modularity, allowing us to customize the bag to fit our specific requirements or quickly adapt to different situations. Look for features such as quickly accessible pockets, comfortable straps, and even built-in charging ports for our devices.
Specific Flight Bags Suitable for Different Pilots
As an aviation enthusiast, I understand the importance of having the right flight bag for different pilots' needs. 
Flight Bags for Student Pilots
As a student pilot, it's crucial to have a dependable and affordable flight bag that can store all the essential gear like headsets, maps, and books. I would recommend the Jeppesen Student Pilot Bag, which is both budget-friendly and compact. It offers plenty of storage space for aviation essentials and comes with an adjustable shoulder strap, making it comfortable to carry around the airport.
Professional Pilot Flight Bags
For professional pilots, investing in a high-quality flight bag is a must. One of my favorites is the Brightline Bags Flex B7 Flight Preconfigured Modular Bag. This bag is not only extremely durable with its nylon construction but also offers the convenience of a modular design. The multiple compartments make organizing flight gear easy, leaving pilots more time to focus on their responsibilities in the cockpit.
Flight Bags for Private Pilots
As a pilot, I look for a flight bag that offers a good balance of practicality, sophistication, and style. The Flight Outfitters Lift Flight Bag is an excellent choice. The bag's thoughtful design and compact size securely hold my essential items. With a reputable brand like Flight Outfitters, I trust that this leather bag will serve me well during my trips.
Commercial Pilot Flight Bags
For commercial pilots, a reliable and functional flight bag is critical to make it through long days at the airport. The Simple Flyer Alpha Pilot Headset Flight Bag is a great choice for airline pilots who need ample storage space for headsets, flight attendants' equipment, and other essential items. With its uncomplicated design and extra pockets, I find it to be extremely helpful in keeping things organized during my hectic flights.
Remember, before making any purchase, always consider your needs, the durability of the bag, and your budget. Good luck, and happy flying!
General Types of Flight Bags
As a pilot, I know how crucial it is to have a reliable flight bag to keep all my essential gear organized and accessible. There are several common materials used to make flight bags, and they differ in terms of durability, style, and price. In this section, I'll cover the general types of flight bags, including Nylon Bags, Leather Bags, Canvas Bags, and Backpacks.
Nylon Bags
Nylon is one of the most popular materials as it is lightweight, durable, and generally less expensive than other materials. I have found that these bags can handle everyday wear and tear quite well, and they often come with multiple compartments and pockets to organize gear. Some nylon flight bags even include reinforced stitching and water-resistant properties for added protection against harsh weather conditions. However, one downside might be that they can look more casual and less professional than some other options.
Leather Bags
If you're looking for something a bit more stylish and sophisticated, consider leather. Leather bags typically have a higher price tag, but they make up for it with their elegant appearance and long-lasting durability. I appreciate the luxurious feel and timeless design these bags offer. Some leather flight bags also feature additional padding for added protection for sensitive equipment like tablets and headsets.
Canvas Bags
Canvas is an excellent alternative for pilots seeking something sturdy and versatile without breaking the bank. Canvas is a robust and resilient material that resists tears and wears over time. Additionally, canvas bags tend to develop a unique patina with use, giving each bag a distinct character that can be quite appealing. Canvas flight bags are often available in a variety of styles and sizes, making it easy to find the perfect fit for your needs.
Backpacks
Sometimes, a traditional bag may not be the most convenient option, especially when you're constantly on the go. That's where flight backpacks come in handy. These bags feature ergonomic designs and often include specialized compartments for items like laptops, tablets, and other personal gear. I've found that flight backpacks provide a convenient and comfortable way to carry my equipment while maintaining the organization necessary for a smooth flight experience.
Essential Items to Keep in a Flight Bag
Here are some of the items that I never leave behind when preparing for my journey.
I always pack a few books and pens for taking notes and studying during downtime. These can be handy when it comes to jotting down important information, planning for the flight, or simply keeping my mind engaged.
A flashlight is crucial for night flights or those with unexpected low-light situations. With a good flashlight, I can efficiently check the aircraft during pre-flight inspection or quickly find items inside the cockpit.
I cannot stress enough the importance of a fuel tester. This small tool helps me ensure that the aircraft's fuel is clean and free from contaminants, guaranteeing a safe flight.
As a pilot, charts are among my top must-haves. Whether they are paper charts or digital ones, they provide vital navigation information to guide me throughout the flight.
For clear communication and noise reduction, a good quality headset is invaluable. It just makes those long hours in the cockpit much more comfortable.
Of course, I don't underestimate the importance of a pair of sunglasses. Flying under bright sunlight can be straining on the eyes, and sunglasses not only reduce fatigue but also improve visibility.
In case my electronics run out of battery, I always pack spare batteries. You never know when an extra set can save the day.
It's essential to have a small bag of toiletries on board for those multi-leg flights. This may include items like tissues, hand sanitizer, and a toothbrush for maintaining hygiene and comfort.
To keep all my important documents organized, I carry a kneeboard. It helps declutter the cockpit and ensures easy access to essential documents while in-flight.
I never forget to pack my logbook for recording flight hours, as it's a critical part of pilot record-keeping.
Lastly, snacks, drinks, and an extra water bottle pocket keep me fueled and hydrated during my flights. I love having a variety of snacks and drinks handy as it helps maintain my energy levels.
Additional Tips when Shopping for Flight Bags
When I'm looking to buy a flight bag, there are a few essential factors I always consider. I understand that shopping for the perfect flight bag can be overwhelming, so I'd like to share some tips to help you make the best choice.
Firstly, I always make sure to choose a flight bag made from durable materials like heavy-duty leather, canvas or polyester to ensure it doesn't wear out quickly. The bag should be well-organized, featuring thoughtful compartments, such as a headset compartment, padded laptop compartment, chart pockets, and a fuel tester pocket. Detachable headset bags and interior pockets are great bonuses that help me keep my bag clutter-free.
As a pilot, having a bag designed for easy access to my personal items is crucial, especially when I need them in-flight. For this reason, I make sure that my bag has adequate space for both my essential in-flight and overnight items, including a change of clothes and a sturdy J-hook to hang it up in the cockpit.
In addition to durability and organization, affordability is also important when choosing. I always look for a quality bag that won't break the bank. Online deals, discounts, and shopping around at different stores can help you find an affordable option that suits your needs.
A good flight bag should be easy to maneuver and suitable as a carry-on luggage, saving me the hassle of checking it in. It's essential to pick a bag that can cater to my specific flying needs. For instance, as a fixed-wing pilot, I would need a larger bag that can accommodate charts, headsets, and GPS devices.
Lastly, I personally cannot go wrong with a reliable brand like Jeppesen, known for its high-quality flight bags designed with pilots in mind. You can never underestimate the importance of the brand you choose in making your flying experience smoother and more enjoyable.
Which bags are ideal for student pilots?
As a student pilot, you should look for a flight bag that is affordable, durable, and has enough space for your essential gear. The Brightline Bags Flex B7 Flight Preconfigured Modular Bag is a great option for students as it offers a customizable, modular design to accommodate your growing needs.
Do military pilots have specific flight bag requirements?
Military pilots often have specific requirements for their flight bags. While I don't have direct experience as a military pilot, I believe a rugged, well-organized bag with a weather-resistant design is crucial for military aviators. You can check with your unit or branch for specific requirements and recommendations.
What are the key features to look for in a quality pilot bag?
When choosing a pilot bag, I find it essential to consider durability, organization, and comfort. Look for a bag made of high-quality materials like ballistic nylon or leather, with multiple compartments and pockets for keeping your gear organized. Additionally, a comfortable shoulder strap or handles can make carrying your bag around the airport and cockpit more manageable.
Which popular brands offer great flight bags?
There are several popular brands known for producing high-quality flight bags for pilots. Some of my favorites include Lightspeed Aviation, Flight Outfitters, and Brightline Bags. These brands are well-regarded in the aviation community and provide a range of options to suit various needs and preferences.
Are there any compact options for pilots with limited cockpit space?
Yes, there are compact flight bag options available for pilots with limited cockpit space. The Flight Outfitters Lift Flight Bag is a compact bag designed specifically to hold essential items while maintaining a smaller form factor. This bag's size and thoughtful pocket design make it a suitable choice for pilots looking for a minimal yet functional one.
Latest Articles