A folding luggage cart or luggage trolley with wheels makes it easy for you to carry your luggage, packages, or other adventure gear as you travel to and from your travel destination. It is one of the best upgrades that will make your travel experience smoother and easier. Check out seven of the best folding luggage carts with wheels in this article.
In a Hurry? Here's What We Recommend
Lots of duffel bags come with wheels these days but there are a surprising amount that don't. And there are lots of things that you may travel with that don't come with wheels: packages, boxes, additional duffle bags, or adventure gear. Sometimes, luggage with wheels is easier to carry if you can pile it on one cart.
There are a number of features and functions to consider when selecting a cart. We'll walk you through them later in this article if you would like a little assistance getting the right one for your needs. For now, here are our top 7 best folding luggage carts below.
#1 Samsonite Compact Folding Luggage Cart
Quality of Material
The quality of material matters a lot in every product you buy, this is especially true in portable luggage carts. The Samsonite Compact Folding Cart does not compromise on its quality, thanks to the stainless steel exterior. It is resistant to corrosion and will stand any adverse travel conditions.  

Uses
This portable luggage cart can help you transport your luggage anywhere you need to move it – from multiple luggage pieces like suitcases to boxes. It looks small in size and lightweight, but the handle is expandable (19-37 inches), allowing it to accommodate more luggage. Additionally, the bungee cord makes it possible for you to tie your luggage in place.
Size and Capacity
This cart holds up to 70 lbs.  It weighs 28 lbs with dimensions of 15.5 x 10.5 x 3.5 inches. Because it's so small, you can bring this on board a plane as a carry-on. The bungee cord is adjustable up to 188 inches.
Other Features
Samsonite Compact Folding Cart has two rugged oversized wheels, which allow you to wheel it around on most surfaces. It comes with two adjustable straps, which are used to anchor your luggage more tightly. 
What We Like
It is easy to fold it up
Made of durable stainless steel
The handle extends longer compared to other available carts
It is small and light in weight
It is affordable
What We Don't
If the load is not well balanced, it can easily tip off to the sides
The handle might get stuck during the first notch 
The wheels are small
#2 Magna Cart Personal 150 lb Capacity Aluminum Folding Hand Truck
Quality of Material
The Magna Cart is made of aluminum, steel, plastic and polypropylene, which makes it incredibly durable.

Uses
This cart is the perfect one to use when traveling, in the office, at home or for any other recreational use. The rubber wheels are ideal on most surfaces including carpets and linoleum.
Size and Capacity
The Magna Cart measures 25 x 15 x 2.5 inches with a base of 15 inches in width. It weighs 7 lbs. The cart is foldable and has a width of 2.5 inches when folded. With this cart, you can move luggage weighing up to 150 lbs.
Other Features
The 15-inch rubber wheels on the cart do not need to be inflated. In addition, the base of the cart is easily folded to fit in most areas like your car trunk, storage container, closet, or even as a carryon when flying. 
What We Like
Compact design makes it easy to fold up.
Rubber wheels that work on most surfaces.
Made of aluminum, steel, and polypropylene, which improves its durability. 
The handle extends to an extra 39-inches. 
It is small and light in weight. 
It is affordable. 
Does not require any assembling after purchase.
What We Don't
The truck for luggage wobbles sometimes. 
The base is small to accommodate heavy luggage. 
The handle is shorter compared to other carts on the list.
#3 Sparco Compact Luggage Cart
Quality of Material
The Sparco Compact Luggage Cart is made of metal, but the wheels are made of synthetic rubber. The metal ensures that it can support heavy weights while the rubber on wheels helps with mobility.  

Uses
This compact can be used to carry heavy luggage, suitcases, and boxes. In case you have hard-sided suitcases with heavy and precious items, then this cart is ideal to help prevent the items from damage when moving around. 
Size and Capacity
It measures 15.4 x 9.8 x 4 inches and weighs around 2.26 kgs. The handles can be extended up to 35 inches. This cart can accommodate up to 150 lbs of weight.
Other Features
The Sparco compact cart has a support platform that flips out, and is used to carry larger luggage. It also has a strap to help hold the luggage in place when moving. The handle is easy to grip and durable. The cart is easy to carry around in your bag or small luggage, thanks to its foldability. 
What We Like
Lightweight and compact
Has a flip-out platform for carrying heavy luggage
The front stand is foldable
Easy-grip handle that is durable and easy to hold
Wheels made of synthetic rubber for sturdiness
Made of metal for durability and support
What We Don't
With a lot of tension, the cart might not fold 
The straps are not strong enough to hold big or heavy luggage 
The handle is not very strong and might keep collapsing
It has a small base
#4 Travel Smart by Conair
Quality of Material
The Travel Smart luggage Cart by Conair is made using steel and rubber wheels. The steel helps with durability, while the rubber wheels make it possible to wheel the cart around many surfaces.

Uses
If you're looking for a cart that will help you transport very heavy loads of luggage with little to no hassle, then the Travel Smart Cart by Conair is your best bet. You can use it to move a heavy load of boxes, suitcases, leather luggage, or hard-side cases.
Size and Capacity
It measures 30 x 15.2 x 2.2 inches. It has an adjustable telescoping handle, up to 39 inches but has a standard height of 35.5 inches.
Other Features
This cart measures up to 2.25 inches when folded, making it easy to have it as a carry on when flying or fit in your car's trunk. It also has foldable wheels, which engage automatically on a raised platform.
What We Like
The wheels fold in and out automatically 
compact and easy to store when the wheels are folded
The handles are telescoping in two different heights
The handle has a soft and comfortable grip
It is made of heavy-duty steel for durability
It is perfect for moving heavy and wide loads
What We Don't
It is sturdy and a little heavy compared to the other carts 
Cannot fit in a bag or backpack
A little expensive compared to others
#5 BlueJan Four-Wheels Heavy-Duty Luggage Cart
Quality of Material
The handle of the base plate the Bluejan Four Wheel Heavy Duty Luggage Cart is made of steel while the platform of the base plate is made of high-end plastic construction material. All of this enhances its durability. It has two rugged wheels made of rubber, which can move freely on many surfaces.
Uses
This cart is perfect for everyday use even when you are not traveling. With its 77 lbs carrying capacity alone, you can use it to move your backpack and suitcases of various sizes. It is perfect for anyone who may struggle to carry heavy items.
Size and Capacity
The Bluejan the cart weighs and measures 9.8 x 4.3 x 17.7 inches with an extendable handle, up to 38 inches long. It's light in weight and the bluejan luggage cart weighs in only 2.9 pounds.
Other Features
It has two straps, both adjustable to help hold your luggage in place. The wheels are colored for a classy, stylish look.
What We Like
It is lightweight
Has an extendable handle that works for tall people
The wheels are sturdy
Folds up easily
The wheels are colored for a funky look
It is affordable
What We Don't
Cannot accommodate luggage over 77lbs 
It is wobbly when overloaded
#6 Folding Travel Smart by Conair
Quality of Material
The Folding Travel Smart Luggage Cart by Conair is a durable cart, manufactured with strong stainless steel. It is also lightweight with a high handle that's easy to access.

Uses
If you are looking for a cart to help you move luggage for at least two people when traveling, then this is the cart for you. It can handle up to 75 pounds, making it perfect for lightweight luggage. You can also use it at home, around the office to move light luggage.
Size and weight Capacity
It folds to a compact size of 20 x 11.75 x 3.75 inches and weighs only 3.25 pounds. You can use it on luggage weighing up to 75 lbs. The handle is 34 inches in height and has 3.75-inch wheels.
Other Features
The bungee cord has plastic features to help you hook. Be cautious with these plastic accessories around children.
The platform is sturdy but has expandable wings for support.
What We Like
It is affordable
It is lightweight
Sturdy
Has wings and a foldout kickstand to help hold luggage in place
What We Don't
Does not have an extendable handle
The cart needs some setting up before using
Not ideal for heavy loads over 75lbs
#7 Compact Travel Smart by Conair
Quality of Material
The Compact Travel Smart Folding Luggage Cart by Conair has a body made of aluminum and two wheels. The wheels are smooth and will work on most surfaces. 

Uses
Since this cart is light in weight and accommodates only 75 lbs, it is perfect for your light travels. You can also use it around the house or in the office to move light luggage.
Size and Capacity
The body of this cart measures 3 x 3.5 x 16.5 inches and weighs only three pounds. It is compact, and the telescoping handle can be extended up to 35.5 inches high. The capacity of this cart is 75 lbs making it perfect for light travels.
Other Features
As much as this cart is compact, it is also sturdy. This enhances its durability. It also comes with a bungee cord to help you tie your luggage in position.
What We Like
Affordable
Has a bungee cord
Lightweight
Compact making it easy to store
The handle is extendable
What We Don't
It cannot be used to move heavy luggage
A little unsteady
Types of Luggage Carts with Wheels
Standard or Non Folding
A standard luggage cart is the type that you see at hotels, resorts, and airports. They are large, heavy and sturdy with large bases or platforms. Sometimes they include hooks or racks where you can hang clothes or other accessories. These carts are also found at airports. 
Luggage carts are available for rent in the US at airports and typically free of charge outside the US. They may cost you $3 to $6 for a one-time-use.
You're not able to take them on the plane or use them outside of the airport, which is one reason why many people buy their own folding or portable luggage cart. 
Folding, Compact or Portable
These are popular because they are so convenient. One reason people buy them is because it is accessible from the minute they leave their home all the way until they reach their destination.
Folding luggage carts are compact and lightweight. They typically fold right up with ease, including their base. Luggage straps to them, making it easier to carry large loads wherever you travel.
People love folding portable luggage carts because they minimize the chance of damage to luggage and protect that investment incredibly well. You can take these through airports, on taxis, in hotels, buses, down cobblestone roads, off curbs, into elevators…the list goes on.
Qualities to Look for in Folding Luggage Carts
Materials and Durability
The quality of the material and durability of your luggage cart is crucial. There are a number of options to choose from.
Whether you choose a high-quality lightweight plastic composite or a metal like steel or aluminum will depend on a number of things like the maximum amount of weight you may need to carry or the amount of bags or luggage you need to carry at one time. 
Do you need the absolute strongest and most heavy-duty cart or do you need something that is lightweight and extremely agile? As you go about looking at all the features of different carts we have found to be the best, consider how much weight you will need to carry. Take that amount and find a cart that is rated a little above that, just to be safe.
Uses
As you look at the quality of the material you'll also want to consider how you're going to use your new cart. Different carts are designed for different uses. You'll want one that matches your needs.
Here are a few questions to think about and plan for as you make your purchase.
Do you need it to lift and carry heavy amounts for long distances? 
Do you need it to be more agile as you navigate quickly in and out of people at the airport?
Are you going to use it in situations besides travel like around your home or neighborhood?
Where will you store your cart?
Will you use it primarily indoors or outdoors, on smooth surfaces or rough?
Size/Capacity
Keep in mind what you will be loading on your cart. Most carts will carry a couple of average sized pieces of luggage or small boxes or packages. Do you have other needs? Make sure that the base measurements of your cart will adequately suit what you will be storing inside.
Other Features
Pay attention to other features like wheels, straps, locking mechanisms, and clips that need to be used as you fold and unfold your folding luggage cart.
Wheels
One important thing to consider with wheels is their size. The a bit larger the wheel, the smoother it pulls over rough terrain, up curbs, and over cracks in the sidewalk. Will you want hard wheels that might require a little less maintenance but will be harder to maneuver? Will you want a softer wheel that absorbs the shock more? Shock-absorbing wheels, at times, can be a little more to maintain or can wear down faster. Some of these wheels are filled with air or foam or wrapped in soft rubber.
Straps
Some folding luggage cart straps are elastic and made of a bungee cord-like material that can be very convenient to ensure everything stays on the cart. This could be adequate if all you will ever do is stack two or three pieces of luggage on a cart.
Other straps will be not elastic and we'll cinch down and lock them in place. This can be helpful when putting several or more cumbersome items on your folding cart. They can help immensely at keeping your baggage load secure as you weave in and out or turn corners while traveling through airports.
How much weight can a travel luggage cart carry?
It is possible to carry 80 pounds or more on a compact travel luggage cart. Carts vary in size and material, as some can only hold one bag, while others can hold more. It also depends on the weight capacity and size of your travel bags or suitcases.
Can you carry a travel luggage cart with you?
Yes there are some travel luggage carts that are surprisingly easy to take with you nearly anywhere. You can carry, easily store, and assemble compact, foldable travel luggage carts anywhere. Almost any storage space will accommodate these small-sized, easy storage carts, regardless of the vehicle.
Can I take a folding cart on a plane as a carry-on?
Even folded up, some of them seem too long for overhead bins. Most aren't too big and will fit just fine. Mine were always checked on board back when rolling bags weren't available, so we checked ours with our luggage.
How much weight can a luggage cart carry?
You can carry 80 pounds or more with a compact travel luggage cart. Some carts have only one space for each bag, while others can hold more, depending on folded dimensions of the material and size of the cart base.
Are foldable luggage carts allowed in airports?
Yes, foldable luggage carts are allowed in airports. Most strollers or folding wagons must be checked at the gate before boarding, but most of the folding carts in this article can even be carried with you onto the plane. 
It's also possible to use them in airports. It is not possible to check large strollers or non-folding wagons at the gate because they are not collapsible. Make sure yours is foldable, like any of the ones highlighted in this article if you wish to bring them on the plane with you.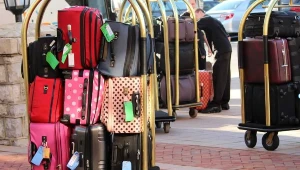 I love using folding carts in the airport for several reasons
Folding carts are really convenient and will save you time by making it so easy to carry multiple pieces of luggage and simplify the airport experience so much.
they also reduce strain and fatigue on your trip. Carrying multiple heavy bags can be physically demanding and can cause strain on the back, arms, and legs. A folding cart makes it so easy to roll your bags and reduces the weight and strain on your body.
Additional tips when buying a folding cart or luggage trolley (as my wife would say)
Check for portability: Look for a cart that is easy to carry and store, especially if you plan to travel frequently.
Consider a cart with a compact design, a lightweight frame, and a carrying case or strap.
Consider the weight limit: Make sure the cart you choose can support the weight of your luggage.

Tip – Consider your packing style and the size of your bags to make sure the cart can handle the load.

Look for durability: A folding cart that is made from high-quality materials is more likely to withstand the wear and tear of travel. Consider a cart made from steel or aluminum or one with a reinforced frame.
Check the wheels: The quality and type of wheels can affect the ease of maneuvering your cart.

Tip – Consider wheels that are smooth-rolling, swivel-friendly, and puncture-resistant.

Evaluate the handle: A comfortable handle is important for ease of use, especially if you're traveling for long periods. Consider a handle that is adjustable to different heights or one with a sturdy but soft grip. Most these days have them, but if you're ordering one that I haven't recommended, double check that.
Look for additional features: Some folding carts come with additional features, such as an umbrella holder, a beverage holder, storage bags or bungee cords to secure items during transport. Consider whether these accessories would be useful for your needs.
Read reviews: Before making a purchase, read online reviews from other travelers to see how well the cart has worked for them. This can provide valuable insight into the cart's durability, maneuverability, and overall quality. That's why I typically refer readers out to amazon.com because they make it easy to see what others have said and questions that have asked and answered about products.
Consider terrain: If you plan on using the cart on rough or uneven terrain, make sure it has sturdy wheels and can handle the terrain type.
One of the best gifts for people who travel
If you're looking for the perfect gift for someone who loves to travel, a folding luggage cart is a great option.
Their ability to make navigating airports, train stations, and other travel destinations a breeze and easy storage, can save your traveling friend or loved one from the strain of carrying heavy bags. These are a few reasons why a folding luggage cart is an excellent gift for anyone who loves to hit the road.
Whether your loved one is a frequent flyer, a road tripper, or a backpacker, a folding luggage cart is a gift that they'll appreciate more than thought they would. Just an idea for you.
Additional FAQ
What are the different types of folding carts available in the market?
There are various types of folding carts available in the market, including traditional four-wheeled carts, two-wheeled dollies, and hand trucks. The choice of cart depends on the user's needs, such as the weight and size of the luggage and the ease of maneuvering the cart in tight spaces.
Is it easy to assemble a folding cart?
Yes, most folding carts either don't need to be assembled or are designed to be easy to assemble, with simple instructions included. Some carts can be assembled in just a few minutes, while others require a bit more effort. In any case, it's a straightforward process.
Can a folding cart be used to transport items other than luggage?
Yes, a folding cart can be used to transport items other than luggage. They can transport groceries, packages, or even sports equipment. The versatility of a folding cart makes it a useful tool for all kinds of things.
Do all folding carts come with a warranty?
Most folding carts do come with a warranty. Some manufacturers offer warranties on their carts, while others do not. Before purchasing a folding cart, make sure it comes with one, and double check how long it's covered.
Do folding carts have a weight limit?
Yes, most folding carts have a weight limit. This limit varies depending on the aluminum folding cart's size, material, and design. It is important to check the weight limit of the cart before purchasing, but for the most part, you should be ok carrying your packed bags on your cart through the airport.
In Conclusion: Best Folding Luggage Cart With Wheels
Hopefully, this has been a helpful guide and you are able to find the right folding luggage cart for you. There are a lot of folding luggage carts with wheels out there, and if you haven't seen one here that quite looks like it would fit all your needs, check out the carts above on Amazon.
Portable luggage carts are a must-have for anyone who travels frequently or needs to move heavy loads. The wheels fold up easily, making them compact and easy to store in a closet or car trunk. Bungee cords can be used to secure duffel bags, boxes, or multiple pieces of luggage to the cart base. The rugged wheels can handle heavy loads and rough terrain, while the plastic or aluminum construction ensures durability. The compact size and lightweight design make these carts perfect for carry-on luggage or for those who need a cart for occasional use. Additionally, some models like the aluminum folding hand truck have a handle that extends and a solid base that can handle heavier loads. The foldable luggage cart is the perfect blend of convenience and functionality, providing a reliable way to transport your belongings without breaking your back.

This article is meant to help anyone searching for any of these: best luggage cart, smallest folding luggage cart, lightweight folding luggage cart, best luggage cart for travel, samsonite luggage cart, best luggage carts, heavy-duty folding luggage cart, mini folding luggage cart, portable folding luggage wheels, portable folding, luggage cart, mini luggage cart, best lightweight folding luggage cart, luggage cart folding, collapsible luggage cart, folding luggage trolley, luggage carrier with wheels, foldable luggage trolley, samsonite folding cart, luggage cart, luggage roller cart, collapsible luggage trolley, foldable luggage cart with wheels
Thanks for reading! Hope to have you back again soon.
Related Articles