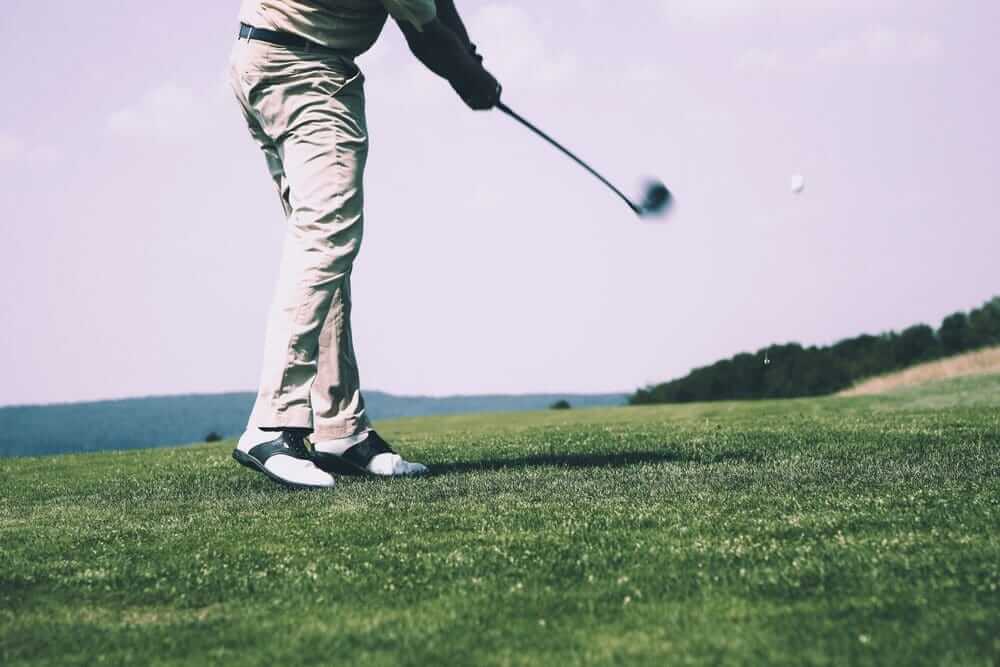 If you love sports like me and fly often, you may be asking yourself this question: can you take golf clubs on a plane?  Maybe you want to venture to a golf course out of town. Well, flying with golf clubs is possible, but there are many different things to consider before booking your flight. The most crucial thing you can do is research the baggage restrictions of the airline you are flying.
In this article, we'll discuss how to fly with golf clubs, the dos and don'ts of flying with clubs, the best golf travel bag, and other helpful information.
Can you bring your own golf clubs on a plane?
The answer to this question is no. You can not bring a golf club on board an airplane. According to the TSA website, clubs are prohibited on board as a carry on item.
But you can bring your clubs with you as part of your checked baggage. I always mention that you should contact your airline first to confirm their requirements for carry on and checked luggage. It can vary for different airlines.
The TSA mentions other items that are allowed on board. You can bring both tees and balls.
Although you can bring along your golf clubs if they are part of your checked luggage, this comes with a few challenges. Let me explain a few things that you will need to know.
1. Be Careful Of The Overweight Fees
 All airlines will have restrictions for luggage size and weight. Not all airlines are the same. So if you plan to bring your clubs along, this is something you need to consider.
For example, many airlines will restrict checked luggage to a max of 50 lbs and 62 inches in length. So if your clubs exceed that, you will need to pay an overweight fee. These fees can be hefty. So it may not be worth it to you.
How much does it cost to bring golf clubs on a plane?
Make sure to check online or contact the airline prior to travel to confirm the weight and size restrictions for your particular airline.
2. Don't Check In Your Clubs Without A Proper Bag
 If you absolutely must put your clubs on the plane without them being in a proper bag, make sure that they are protected. There is a good chance that they will get tossed around a bit during the flight and you don't want them damaged.
You can wrap the shafts and heads with a protective cover, towels, and sponges. Headcovers and even bubble wrap is an option. I have seen many clubs just wrapped in bubble wrap with duct tape. This is not ideal, but it has been done.
I highly recommend you protect your clubs while traveling on a plane with a proper golf bag that is suitable for airplane travel. There are so many options out there, and your choice will depend on many factors including the number of clubs, club size, soft shell or hard shell etc.
Here are some reliable travel bags for golfing that you'll love.
What is the best travel golf bag? 
Best Soft Shell Golf Bags For Air Travel
First, you need to determine if you want to use a soft shell or hard shell case. Both have pros and cons. If you are looking for a cheaper option, then the soft shell case  will most likely be your choice.
They are also smaller, easier to transport and can save you money at the check-in counter in overweight baggage fees.
CaddyDaddy Golf CDX-10
CaddyDaddy CDX-10 Golf Travel Bag Cover
1 Year Full Bag Replacement Warranty – covers any damage to the bag caused by airlines

In-Line Skate Wheels & Lockable Zippers (with optional TSA lock not included)

Internal & External Compression Straps to Keep Clubs Secure

Heavily Padded on Top to Protect Club Heads

13 x 50 x 15 inches ; 8.5 pounds
If you decide to go with the soft shell, I recommend you choose a cover that is very durable and lightweight. These will protect your golf bag and clubs from damage during air travel. The CaddyDaddy Golf CDX-10 is a great option.
Also, consider how much padding and protection the cover offers. The budget options will not provide as much protection as some of the higher-end ones.
How many pockets and storage space do you need? If you plan to bring golf balls, tees, shoes, and other golfing accessories, you may need to have extra storage space within the bag. So make sure you consider this when choosing the right one for you.
Amazon Basics Soft-Sided Travel Bag
AmazonBasics Soft-Sided Golf Club Travel Bag Case With Wheels – 50 x 13 x 15 Inches
Soft-sided golf travel bag for conveniently transporting a set of golf clubs (not included)

Made of durable nylon fabric; reinforced stress points; stands up on its own when holding a set of clubs

Smooth-rolling, inline-skate-style wheels; heavy-duty curb rails; well-placed, riveted handles

Compression straps keep clubs secure; heavily padded top section protects club heads

Multiple zippered compartments for storing extra gear; measures 50 by 13 by 15 inches
Amazon Basics Soft-Sided Travel Bag – Perfect option if you are on a budget but still provides great quality.
 Bag Boy T-2000
Bag Boy T-2000 Travel Cover, Royal/Black
Ergonomic patented Pivot-Grip handle twists to the bag position which reduces arm and wrist strain in transit

Deluxe skid resistant ABS Base

Lockable, full wrap-around main zipper simplifies access and packing

Deluxe in-line skate wheels provide smooth rolling action

Internal compression strap stabilizes bag during travel

Ergonomic Privot Grip twists to the bag position which reduces arm and wrist strain in transit

Ultra thick warap around padded top to protect clubs.

Internal compression strap stabilizes bag during travel. Deluxe in-line skate wheels provide smooth rolling action.

Lockable, full wrap-around main zipper simplifies access and packing. Pockets include two oversized garment pockets and an oversize shoe/accessory pocket

Fits a 48 driver and up to a 10 cart b
Bag Boy T-2000 – If you are looking for a higher quality product  with wheels, this is a great option for you but will cost more.
Best Hard Shell Golf Bags For Air Travel 
The hard shell cases definitely provide more protection for your clubs. They are more durable, modern, and are commonly used among air travelers. But be prepared to pay a bit more for them. Most times they will cost more than the soft shell bags.
So, it will come down to a personal choice for you and what your needs are at the time. I prefer the hard shell case. I am prepared to pay a bit more to have that added security of my clubs. You might consider this if you have a higher end set that is valuable to you. A hard shell case will go a long way in properly protecting your prized set of clubs!
Here are some of the best hard shell cases on the market:
SKB 2SKB-4814W
SKB Cases ATA Deluxe Standard Hard Plastic Storage Wheeled Golf Bag Travel Case
Keep your golf club safe when traveling with a case that is contoured to fit cart bags, carry bags, and drivers up to 48 inches

Molded from ultra high, molecular weight polyethylene and manufactured to meet or exceed ATA 300 Category I

Comes with TSA Locking System for ease of airline travel and SKBs exclusive Perfect Match valance bending system, providing tight, secure fits to prevent dirt, dust, and moisture from getting inside the case

New, patent pending industrial strength latches for superior valence closure and overall latch security

Carton Dimensions (L x W x D): 52 x 13 x 16 inches and weights 19 pou
SKB 2SKB-4814W Deluxe with Wheels – Solid, durable and lightweight. Perfect for air travel and at a great price.
Samsonite Primo Deluxe
Samsonite Primo Deluxe with Wheels – Another solid and durable hard shell cover. Slightly more expensive but you get quality.
3. Make Sure Your Golf Bag And Clubs Have ID Tags
You would be surprised how many people forget or don't bother putting proper tags on their bags. When you are bringing your golf clubs and travel bag with you, make sure your proper identification is on them. Name, address, contact information, and flight information is important.
Also, make sure the tags are strong and durable. You don't want them to tear or break off easily. A high quality luggage id tag is important. Here are a couple of suggestions.
Customized Travel ID Tags
And don't forget those luggage locks! These are TSA approved luggage locks that are great to protect your clubs and any other luggage items you have safe.
As you can see, there are several options for you if you plan to bring your golf clubs with you if traveling by air. Just remember that you can not bring them on board the plane as carry on luggage, but you can bring them in your checked bag.
If you plan to check in your golf clubs at the ticket counter, remember to read the airline's limits and restrictions ahead of time. Be prepared to pay a possible excess baggage fee, but that will vary by airline.
Choose the cover that works for you. This will depend on many variables, but I suggest you go for the hard shell bag with wheels. Not only will it be much easier to transport, but it will protect your clubs the best so you can rest assured that your clubs will arrive at your destination safe and sound!
Hopefully, you found this article on bringing golf clubs on a plane helpful. Thanks for reading!
Now check out our buyer's guide. We'll discuss the best way to travel with golf clubs, golf travel bag fees, and much more.
Do airlines charge extra for golf bags?
Most airlines do not charge extra for golf travel bags, as long as you remain within the standard weight limits. Delta, United, American Airlines and other major airlines allow one golf bag per passenger as checked luggage.
Can you carry on a golf putter?
No. Airlines do not allow golf putters on airplanes – as carry-ons, that is. Golf clubs on airplanes may be used as weapons, so they are prohibited. Likewise, any sporting equipment that could be used as a weapon, such as a putter or a baseball bat, cannot be carried on a plane.
Instead, your putters will need to be packed securely as checked baggage along with your clubs.
Can I pack clothes in my golf bag?
You can pack whatever you like in your golf bag, as long as there is room. But, overpacking may lead to potential damage to your clubs and other equipment in the bag. If you have room, clothes can act as a nice buffer between the clubs to cushion them as they move around during your flight.
How do you travel with golf clubs without a bag?
You need some type of golf bag for your clubs. Most major airlines actually require hard shell travel bags to reduce the risk of damage in transit. Although some are fine with softside bags, keep in mind that the airline is not responsible for any damage your bag incurs during the flight. Especially if you will be flying often with your golf clubs, consider investing in a hard shell golf bag.
Golf balls and golf tees can be carried on the flight, but golf clubs are too large and potentially dangerous.
How to Pack Golf Clubs in a Bag
Buying a golf bag is the first step to flying with golf clubs. But it's not the last. Now, you need to ensure that you pack everything smartly and securely.
Here's what you need to know to pack your clubs effectively in a bag:
Remove the club heads from the shafts.
This will minimize damage during travel. Be sure to mark where you attached the club head with tape so you can reattach it accurately after your flight.
Store the head covers in your golf bag.
The headcovers can go in a smaller compartment of your golf bag.
Use bubble wrap or towels to cover the shafts that stick out of the golf bag.
Bubblewrap is a cheap and reliable way to give your shafts some padding. To ensure the bubble wrap stays on, seal it with some durable tape.
Place a stiff arm tool in your bag.
A stiff arm is an extendable handle with a large circular end. Extend this tool longer than the shafts and then set it in your golf bag. If the bag moves around during your flight, the end of the stiff arm will absorb the impact, rather than your clubs.
Place your set of clubs in the travel bag.
Once you've packed up your clubs, place them into your soft or hard shell travel bag.

Here's a short video to show you how to pack golf clubs in a bag. Check it out!
That's it for our guide on flying with golf clubs. Traveling with golf clubs may seem trivial, but there's a lot of different factors to consider when it comes to purchasing the right bag. Hopefully you can find the right golf travel bag for you in this article. Thanks for reading! 
Related Articles
Can you bring a razor on a plane?
Can you take headphones on a plane?