Understanding Delta's Seat Availability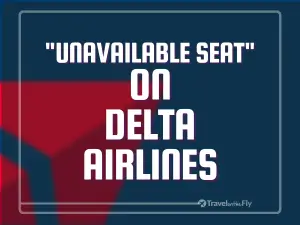 "Unavailable seat" on Delta means to a seat on a Delta flight that is not able to be selected or booked by customers. Some common reasons a Delta seat may show as unavailable include:
The seat is already occupied by another passenger. Once booked, a seat will show as unavailable to other customers.
The seat is blocked for airline use. Delta may block certain seats for crew rest purposes, for passengers with disabilities, or to spread passengers out for weight and balance.
The seat is broken or unusable. If a seat is broken or has some other mechanical issue, Delta will block it from being booked.
The seat is held for elite/full-fare passengers. Delta reserves some seats for elite-status passengers and those booking more expensive ticket classes that allow seat selection.
The seat map hasn't been fully loaded yet. Sometimes on the website or app, it takes a minute for the full updated seat map to load. A seat may appear unavailable until the map refreshes.
So you know, it's a normal part of the booking process, not an error. Checking back often or selecting another flight can sometimes resolve unavailable seats.
Remember that while you might not always be able to secure your preferred seat immediately, keeping an eye on your booking in My Trips will allow you to check for any updates to seat availability and make changes as needed. This way, you can have a comfortable and enjoyable flight experience with Delta.
Seat Map and Aircraft Details
Interpreting Delta's Seat Map
When booking a flight with Delta, you will come across their interactive seat map. This handy tool allows you to view, select, or change your seat assignment in a user-friendly manner. The seat map displays the aircraft's layout and provides details on seat availability. It is important to understand the various designations shown on the map.
An "occupied" seat label means someone has already selected that seat. On the other hand, an "unavailable" label might indicate the seat is blocked for various reasons, like a schedule change or aircraft substitution. In some cases, unavailable seats may later open up and become available for selection before the departure date.
Don't be alarmed if you see some seats marked as unavailable, particularly middle seats. Delta has a policy of blocking select middle seats as a safety measure amid the ongoing pandemic. This ensures a certain level of social distance between passengers.
Types of Seats on Delta's Aircrafts
Delta offers various seat options on their flights to suit your preferences and budget. Here is a quick overview of the types of seats available:
Basic Economy: These are the most affordable seats, but with limited perks. Seat selection is typically not available until check-in, which may result in limited choices.
Main Cabin: More comfortable than Basic Economy, Main Cabin seats offer complimentary snacks, non-alcoholic beverages, and in-flight entertainment. Delta lets you select your seat at the time of booking or later.
Delta Comfort+: Offering more legroom and some additional perks, Delta Comfort+ seats provide a more enjoyable experience. Expect priority boarding and dedicated overhead bin space with this upgraded choice.
First Class: For an elevated travel experience, First Class comes with premium seats, personalized service, and exclusive amenities. Expect wider seats, more legroom, and a premium dining experience.
Delta One: As the ultimate in luxury, Delta One is available on select long-haul international flights and cross-country routes. It offers lie-flat seats, premium dining, and exclusive in-flight amenities.
When selecting a seat on Delta's aircraft, it's essential to consider the various options available and your personal preferences. Remember that the seat map is your key to understanding the aircraft's layout and ensuring a comfortable flight.
Unavailable Seat Reasons
Delta Air Lines may label some seats as "unavailable" for various reasons. Understanding these reasons can help you better plan your trip and be aware of potential changes to your seating arrangement. In this section, we will discuss the most common reasons for unavailable seats on Delta flights, including seat blocks, seat upgrade options, and high demand routes.
Seat Blocks
Sometimes, Delta may block certain seats from being selected by passengers. These seat blocks could be reserved for passengers with basic economy fares, allowing the airline to seat families together or accommodate passengers who need to change their seats due to flight changes or other issues. This is one reason you might see an unavailable seat next to you when booking or managing your seat selection.
Seat Upgrade Options
Another reason for unavailable seats could be related to seat upgrade options. Delta offers passengers the opportunity to upgrade their seats for more comfort, extra legroom, or more advanced features. If a seat is marked "unavailable," it may be reserved for passengers who choose to upgrade their ticket class or seating. This allows the airline to provide better seating options for their more premium or loyal customers.
High Demand Routes
Lastly, high demand routes might also influence the availability of seats on Delta flights. On popular routes, there may be a higher demand for specific seating, which can result in seats being marked as unavailable. The more passengers there are on a route, the more likely it is that you will see unavailable seats on the seat map. This is the airline's way of managing high demand and ensuring that they maximize their revenue potential.
In summary, unavailable seats on Delta can come from a variety of reasons, including seat blocks, upgrade options, and high demand routes. By being aware of these factors, you can better understand why certain seats are not available and potentially make adjustments to your seating preferences accordingly.
Ticket Types and Seat Availability
Basic Economy Tickets
When you book a Basic Economy ticket with Delta, it's important to know that seat selection is subject to a few more restrictions. As a result, you might come across some seats marked as "unavailable" on the booking platform. These are typically reserved for passengers who don't have advance seat assignments, such as those on Basic Economy fares. This reservation ensures that families and other groups can be seated together prior to departure.
In addition, Delta might block certain seats for contingencies, like the last few rows of the plane or the first row of Comfort+ seats. These unavailable seats might show up as "occupied" or "blocked," giving you an indication of how full the flight might be. It's worth keeping this in mind when you're selecting seats, as it can impact the overall flight experience.
First Class Tickets
When booking a First Class ticket with Delta, you'll enjoy a more seamless seat selection process and increased availability. With First Class, seat assignment is usually confirmed at the time of ticket purchase, and you'll have access to preferred seats. However, there can still be occasions when certain seats are marked as "unavailable."
This can happen if the seats are being held for other passengers with priority access or in case of operational reasons, like accommodating passengers with special needs. In these situations, you might find that some First Class seats are temporarily marked as "unavailable" and might open up closer to the departure date.
Remember, seat availability varies based on the ticket type and the specific flight. Factors like operational requirements and passenger needs can impact seat selection for both Basic Economy and First Class travelers on Delta. So, as you plan your trip, it's helpful to be aware of these differences and how they might affect your booking experience.
Passenger Groups and Seat Availability
Traveling with families or groups can make seat selection on Delta flights a bit more challenging, but don't worry, there are ways to ensure you sit together. First and foremost, it's important to understand what "unavailable" means when viewing the Delta seat map. An "unavailable" seat is usually marked with an "X" and could be temporarily unavailable for a variety of reasons, including reserving some middle seats to maintain social distancing, seat assignments for elite status members or disabled passengers, or because a schedule or aircraft change has occurred.
If you're traveling with family or friends and want to secure seats next to each other, be proactive in choosing your seats as early as possible. Delta may block some middle seats for certain situations, but that doesn't necessarily mean these seats won't become available later on. If you booked your tickets separately, try adjusting your seat selection closer to the departure date as some seats might become available.
If you're flying in Basic Economy class, you likely won't have the option to select your seats together, as seat assignments are given when you check-in. However, you can always kindly ask the gate agent to help accommodate your group if possible, but be prepared for the possibility that you may not be able to sit together.
Sometimes, a fellow passenger might be open to switching seats with you, which can create an opportunity to sit with your family or group members. Don't be afraid to politely inquire if another traveler would be willing to help you out, so you and your loved ones can enjoy the journey together. Just remember to maintain a friendly and understanding tone while making such requests.
In summary, be proactive in selecting your seats early by keeping an eye on seat availability via the Delta seat map and adjust your bookings as needed. Secondly, utilize the support of gate agents and fellow passengers to improve your chances of sitting with your family or group members during your Delta flight.
Delta Airline History and Service
Delta Air Lines, one of the world's major airlines, has a rich history dating back to its humble beginnings in 1924. It was initially founded as a crop dusting company, and since then, it has grown into a global airline serving more than 300 destinations in over 50 countries.
As a passenger on Delta flights, you can expect a friendly and comfortable travel experience, including various in-flight amenities. The airline offers an extensive selection of food and drink options for you to choose from, suitable for different dietary needs. Savor a tasty snack, indulge in a full meal, or sip on your favorite beverage while you fly. If you have specific dietary requirements, you can request a special meal in advance by contacting Delta's customer service.
Entertainment on board is an essential part of your travel experience with Delta. You can enjoy a wide range of movies, television shows, and music channels to keep you entertained throughout your journey. Tune in to the airline's specially curated playlists or browse through the extensive collection of albums and tracks from various genres.
Delta's commitment to superior customer service can be seen through their continuous efforts to improve and innovate. Over the years, they have introduced new aircraft and cabin designs to enhance your comfort, including larger overhead bins, spacious seats, and modern in-flight entertainment systems.
No matter where you're flying to or from, choosing Delta as your airline ensures a pleasant and enjoyable journey. Relax in one of their comfortable seats, enjoy the carefully selected food and beverages, and immerse yourself in the diverse entertainment options, all while appreciating Delta's friendly services and rich history.
Public Feedback on Delta's Seat Availability
It seems that many people have been wondering about Delta's seat availability, specifically seats marked as "unavailable." This post on Reddit is a good example of public feedback discussing this topic.
One user explains that some seats, typically at the back of the plane or in an exit row, are held for gate control. These seats might be reserved for passengers with basic economy fares or those with disabilities. This could be a reason why you see many seats marked as "unavailable."
Another Reddit discussion raises the same question – why are so many seats marked as unavailable? Users mentioned that they knew some seats were occupied because they had relatives on a flight. It appears that Delta might block seats in advance for various reasons, not just because they are already occupied.
In some cases, seats might be marked as unavailable to keep them free for families traveling together, or passengers who need special assistance. Delta may want to ensure there's flexibility to reassign seats if necessary for operational reasons or customer satisfaction.
So, now that you have an idea of what the public has to say about Delta's seat availability, remember to keep an open mind and not assume that an "unavailable" seat is necessarily occupied. There could be multiple reasons for that designation, making it a flexible and dynamic seating arrangement.
Frequently Asked Questions
Why are some Delta Comfort seats marked as unavailable?
Some Delta Comfort seats may be marked as unavailable because they are reserved for passengers with special needs or for those who purchased Basic Economy tickets. Additionally, Delta may hold back certain seats for potential seat assignment changes or last-minute customer needs.
What does it mean if a seat on Delta is not available but not occupied?
If a seat is marked as unavailable but not occupied, it generally means that the seat is temporarily blocked for pre-assignment. Delta may reserve these seats for specific situations, such as accommodating families, passengers on Basic Economy tickets, or those with special needs.
How do seating options vary on Delta Airlines?
Delta Airlines offers a range of seating options to cater to different passenger preferences and budgets. These include Main Cabin, Comfort+, and First Class. Each option offers varying levels of comfort, legroom, and amenities, allowing you to choose the experience that best fits your needs.
Can you explain why some first-class seats are unavailable on Delta?
Some first-class seats on Delta might be marked as unavailable if they are blocked for Elite customers or passengers who might be eligible for a complimentary upgrade. Additionally, these seats could be held for last-minute customers or operational considerations.
When is seat selection not accessible on Delta flights?
Seat selection may not be accessible on Delta flights during some situations, such as if you're booking a Basic Economy fare, which only provides seat assignments at check-in. Also, certain international flights may have restrictions on seat selection, especially for passengers without a specific fare class.
What is the meaning of a blocked seat on an airplane?
A blocked seat on an airplane generally refers to a seat that is not available for advance assignment but may become available later. Airlines may block certain seats for a variety of reasons, including maintaining flexibility in accommodating passengers with special needs, last-minute customers, or operational considerations.
What Does Unavailable Seat Mean?
An "unavailable seat" on Delta refers to a seat that cannot be selected or booked. This could occur for various reasons – the seat is occupied, blocked by the airline, broken, held for elite passengers, or the seat map has not fully loaded on the page.
More Posts for You