If you're currently planning or thinking of a trip to the Bahamas, then this post is for you. We've compiled 30+ questions that we've been asked by people thinking of traveling to the Bahamas and provided detailed answers and helpful tips for each of them.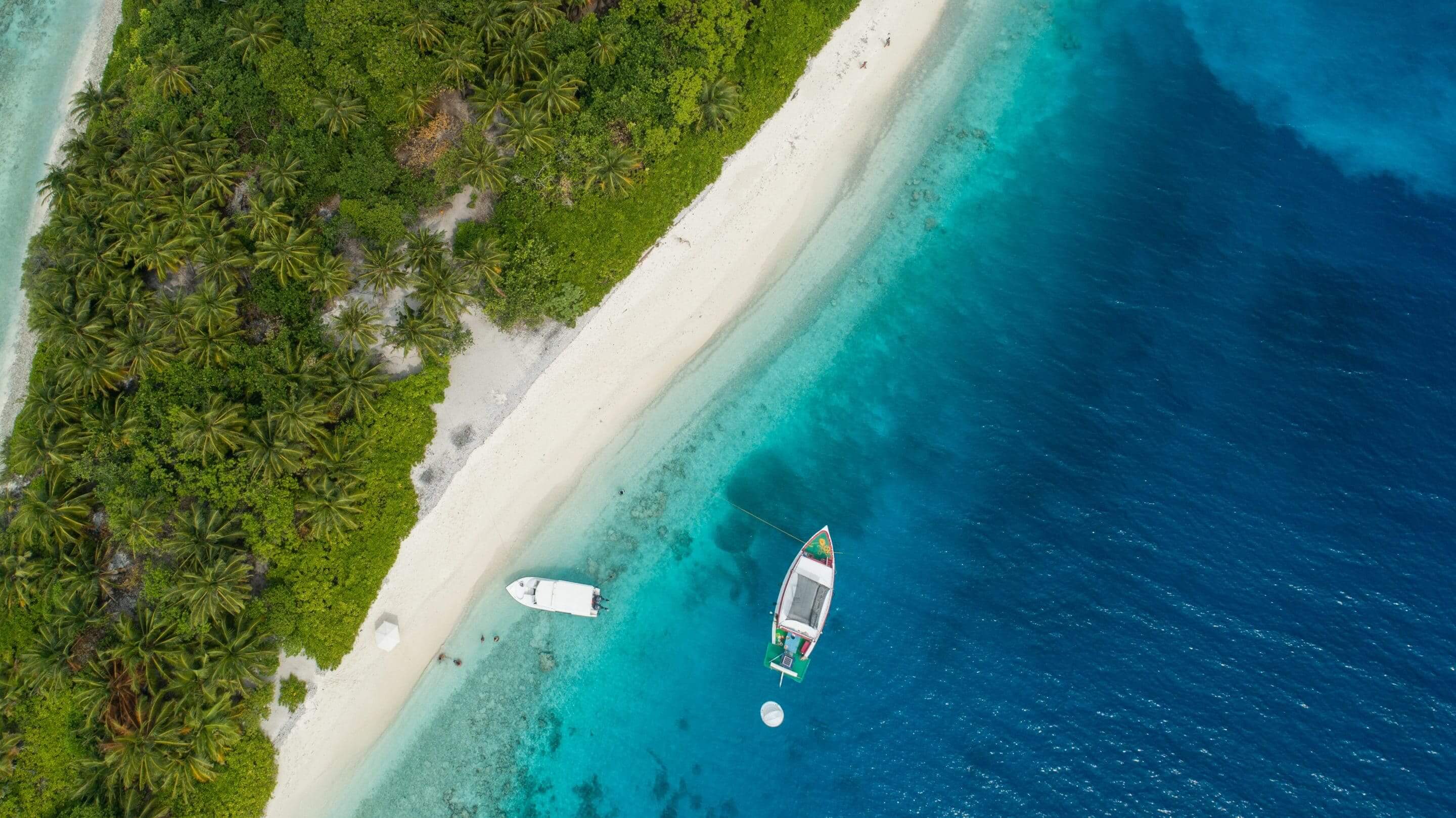 Whether you have a specific question about traveling there or just want some general information, our guide will help answer any questions that might be on your mind!
The Bahamas is a beautiful, welcoming island chain with so much to offer. You'll find plenty of outdoor activities to enjoy like snorkeling on pristine coral reefs or kayaking among mangroves.
But I'm getting distracted. Let's answer your questions. Check out the table of contents to get right to the questions that are most important to you, or simply read on.
Do you need a passport to go to the Bahamas?
Yes, a valid passport is typically required for all U.S. citizens to travel to the Bahamas. They will also ask you when you anticipate leaving the country as well.
If you will be in the Bahamas on a cruise, another Western Hemisphere Travel Initiative (WHTI) compliant document will usually suffice as well. Check with your cruise line for their specific instructions. Here is more information on WHTI.
Do I need a passport to go to the Bahamas on a cruise?
If you are a US citizen, you do not need to have a passport in order to take what is called an "open-loop cruise" (one where the beginning and end of the cruise are different locations) from the United States. You'll need to show another form of proof like a birth certificate and government-issued ID though.
Is the Bahamas a US territory?
The Bahamas are not a U.S. territory and have been an independent country since 1973. The Bahamas were a territory of the United Kingdom before then and achieved independence from Britain on July 10, 1973.
It is now a fully self-governing member of the United Nations.
Where can US citizens go without a passport?
US citizens can go to the following locations without a passport: The U.S. Virgin Islands, Puerto Rico, American Samoa, Guam, and the Northern Mariana Islands.
They are all located in the Caribbean or the Pacific Ocean. They are some great options for booking a vacation or some traveling, and you don't need a passport for them!
US citizens cannot go to the Bahamas without a passport.
What is the best month to go on a cruise to the Bahamas?
The best month to cruise to the Bahamas is in January. It comes after the rainy and hurricane seasons and is typically really cold in the U.S. making a perfect time to visit.
One of the worst times to book a trip to the Bahamas is hurricane season: June through early November. If you book a trip during those months, check the forecast before booking. Make sure you're prepared for possible travel delays.
You can find some great travel deals at that time of year though. But the Bahamas offer many incredible qualities all year round. You will usually find good weather and beautiful surroundings most anytime you go.
How many people live in The Bahamas?
There are more than 400,000 people living in the Bahamas. In 2019 it was 389,482 according to World Bank and The United Nations.
How big are The Bahamas?
5,358 mi² or 13877 km². The Bahamas is a collection of nearly 700 coral islands. The largest five by area are:
North Andros 1,328 miles²
Great Inagua 596 miles²
South Andros 559 miles²
Great Abaco 442 miles²
Grand Bahama 423 miles²
How much does it cost to go on a cruise to the Bahamas?
Bahamas cruises from Florida for three or four days can cost from $200-$600 for an inside room with double occupancy.
There are other variables as well of course. And upgrades to things like an ocean view are always available for an additional $100-$1,300. And suites or balconies for another $200-$1,500.
Can you use your driver's license in the Bahamas?
Foreign visitors may drive in the Bahamas for up to three months with their domestic driver's license or an international driving permit.
Many forms of ID are accepted in the Bahamas, including driver's licenses, passports books and cards. U.S. and UK driver licenses are valid in the Bahamas for up to three months as well.
Can felons go on a cruise to The Bahamas?
Yes, officials do not typically ask about a traveler's criminal record of those entering the Bahamas.
I would suggest if you are asking for yourself that you dress nicely. Be respectful when you present yourself to the customs agent and you should be fine.
What is the best cruise to the Bahamas?
There are lots of great options. MSC Cruises is my all-time favorite, but Royal Caribbean, Norweigan Cruise Line, and Bahamas Paradise Cruise Line are a ton of fun, too.
Best Overall: MSC Cruises
They are great because they offer lots of different types of ships, so you can choose what fits your needs best. If you feel like you want a luxury experience, they have that. If you would rather be on the spacious ship with tons of activities and stuff to do or more like a floating resort then MSC is for you too!
The MSC Divina has some great features if you are looking at an all-inclusive cruise as well. It was voted best cruise line
Best for Families: Royal Caribbean
Families love Royal Caribbean because they have lots of great activities and facilities including an 18 hole mini-golf course, a video arcade room, and kid's clubs. And they are pretty affordable as well.
Best Value: Norwegian Cruise Line or Bahamas Paradise Cruise Line
These cruise lines make it affordable to travel to the Bahamas. They have great rates and options to get your whole family on a cruise without paying an arm and a leg.
Best for Couples: Carnival Cruise Lines
Carnival is a great choice because they offer a lot of different cruise options. So you can find one that best fits your needs and price range. They have more family-oriented options, short "getaway" type trips, or longer vacations if you are looking for something more extravagant.
They also have lots of romantic features on their ships like sushi bars, chocolate fountains, and loads of choices when it comes to top deck games.
Best for Adults: Celebrity Cruises
Celebrity offers adults a luxury experience that is unlike anywhere else, they are an upscale cruise line and have lots of onboard activities to choose from including golf courses, movie theaters, casinos, and spas. They also offer some ships with nightly live shows like Broadway productions
Where do the cruise ships dock in the Bahamas?
The Bahamas is an archipelago of 700 islands, with the largest being Grand Bahama Island. Approximately 50 islands are inhabited and most of these are found in the western chain.
Cruise ships dock at a number of different ports on Grand Bahama Island including Freeport, Nassau, and Paradise Island which is home to many hotels and resorts. 
There are a lot of different islands and ports in the Bahamas that cruise ships dock at. Here are a few of the bigger ones.
Disney Castaway Cay
Disney Cruise Line's private island, Castaway Cay, may be the most spectacular beach and port in the Bahamas. The Walt Disney Company acquired a 99-year lease to the land on the Bahamian island in 1997. The lease gives the cruise company total control of how visitors experience their visit to the island.
Bimini Islands
The Bimini Islands are located approximately 140 miles west of Nassau and about 53 miles east of Miami. Biminis are the closest Bahamian destination to the U.S.
The Bimini Islands have a total population of around 2,000. They are made up of several cays and 3 islands – North Bimini, South Bimini, East Bimini.
Coco Cay
Coco Cay, an island in the Berry Islands in the Bahamas is one of the most popular destinations for people seeking a relaxing getaway. It is privately leased and used exclusively by Royal Caribbean for its cruises.
It is located approx 55 mi (90 km) north of Nassau and adjacent to Great Stirrup Cay, an NCL or Norwegian Cruise Line's private island.
Nassau
The Bahamas' capital and largest seaport is located east of Florida, USA. Nassau covers an area a little more than twice the size of New York City's Central Park with a population of 275,000 people in total inhabiting just over 80 miles (207 km) squared.
MSC Ocean Cay
Ocean Cay is a private island in the Bahamas owned by the cruise line MSC Cruises. The company bought the small Bahamian island and built an exclusive cruise port there.
Exuma Islands
The Bahamas consists of many island groups and districts. Exuma is one of them, located in the Bahamanian Southern islands with 365 cays (small islands), a total area of 72 miles² (187 kilometers²), and a population of around 7000.
Great Exuma Island is the largest island in the archipelago. It's 37 miles long and 61 square miles (158 kilometers²). Little Exuma is 11 miles² (29 kilometers²).
The capital and largest town of the island is George Town/Georgetown, with a population of about 1500.
Harbour Island
Harbour Island is part of the Out Islands, a destination in the Bahamas located off its northeastern coast.
What is the cheapest month to go to the Bahamas?
The lowest-priced flights in the Bahamas tend to happen from August to November. Because there aren't a lot of people who tend to flock to the Bahamas in search of a beach holiday during this time there are lots of great deals to be found at the hotels and resorts.
With the islands being less crowded, it can be a fantastic opportunity to have a more quiet and relaxing vacation than when it is packed with tourists. Just keep in mind it is hurricane season.
Can you take a ferry to The Bahamas from Florida?
Yes, You can take the Baleària Caribbean ferry from Port Everglades in Fort Lauderdale, Florida to Bimini in the Bahamas. It's a convenient and affordable way to visit the Bahamas!
Can you see the Bahamas from Florida?
No, you can't see the western islands of the Bahamas as they are 50 miles from the Florida coast. But being that close, it is easy to find a ferry or boat that can take you there.
There are ferries from Miami, Tampa, Fort Lauderdale and other Florida ports as well which travel the short distance to the Bahamas.
Can I use U.S. dollars in the Bahamas?
Yes, you can use U.S. dollars in the Bahamas. In fact, the Bahamian dollar, the official currency in the Bahamas, and U.S. dollars are used interchangeably.
If you are traveling to the Bahamas from another country, I always recommend converting your currency into Bahamian currency before your departure to avoid the hassle and high exchange rates of changing your money on the island.
Is it dangerous to go to the Bahamas?
It is not dangerous to travel to the Bahamas, especially if you follow some basic safety tips. The risk of experiencing violence or theft. However, there are some things you should be careful about while you're on vacation regardless of where you are.
– Keep your money and important items in a safe place.
– Avoid walking around at night by yourself or flashing cash while you're out partying. It's best to take taxis home if possible, but not the unmarked ones. Use common sense before deciding on transportation.
– Be aware of what is happening on the news while you are there.
– Use caution when on the water, whether it be by boat or swimming in the ocean. The water and beaches are beautiful but follow any signs that prohibit swimming. You don't want to get caught up in a rip current.
Most of the crime reported throughout the Bahamas is in New Providence and Grand Bahama islands. But it is likely this is because there are more people that live there.
Crimes, such as burglaries, sexual assault, and robberies happen in the Bahamas. But these crimes are usually not as prevalent in tourist areas.
Why is the Bahamas so rich?
The gross national product or GNP per capita is one of the highest in the Caribbean. The Bahamas' economy has largely been developed by tourism and international financial services. When tourism flourishes, they do really well.
How much are flights to the Bahamas?
The price of your flight will vary based on a number of factors including the time of year, the airline, how far in advance you book your ticket, and what airport you will be flying from. My favorite way to find great prices on flights is Google Flights.
How much is a trip to the Bahamas?
Traveling to the Bahamas can be an expensive endeavor or a relatively cheap one depending on how you like to travel. Do you like to live out of a backpack and stay in hostiles? Or do you need to have a 5-star hotel with personal wait staff? Do you like to have a new excursion planned and provided for you every day? Most of us are somewhere in between.
The average hotel price in the Bahamas for two people is $175 USD. And flights, depending on when you fly and from where are about $375 USD. So, a week-long trip for two to the Bahamas including flights and hotel costs on average $1,800 to $2,000. Keep in mind additional costs for food, transportation, and activities or entertainment.
Whether you're looking for a romantic getaway with your better half or a month living out of a backpack with friends, you can still find affordable vacation packages that offer great value in the Bahamas. 
Is Jamaica part of the Bahamas?
Jamaica is not a part of the Bahamas. The Bahamas are an island country in the Caribbean Sea that lies south of Florida and Cuba. They are a chain of 700 islands from east to west with just under 400,000 people living on them.
The island nation of Jamaica is south of The Bahamas and Cuba and west of Hati. When it comes to Caribbean vacations, they both have a lot to offer – Jamaica with its lively, bustling atmosphere and The Bahamas with its laidback island vibe.
The people of The Bahamas speak English as well as Spanish. The official language of Jamaica is English, and the unofficial language is Patois.
What islands can you go without a U.S. passport?
Here are five exotic places you can go without a U.S. passport, the U.S. Virgin Islands, American Samoa, Puerto Rico, Guam, and the Northern Mariana Islands.
Altogether, these five places encompass thousands of miles of beautiful tropical paradise and thousands of beaches, ruins and adventures fully accessible to you without a U.S. passport.
The Bahamas are not on this list because it is an independent country and you need to have a passport in order to travel there.
Can you drive from Florida to the Bahamas?
While the Bahamas close to Florida, you can't drive from Florida to the Bahamas.
To get there, you need to cross about 50 miles of the ocean so flying or taking a ferry are better options than driving. 
How long can I stay in the Bahamas?
Thirty days is the maximum amount of time U.S. resident non-citizens will be able to stay in the Bahamas after their arrival date without a visa, even if they have a valid U.S. Passport.
If you are a Canadian citizen, you can enter the Bahamas without a visa. If you plan on staying in the country for longer than eight months, however, then you will need to apply for one through your local embassy or consulate.
Which is better Bahamas or Caribbean cruise?
The Caribbean is full of great options for a vacation, but you can't beat the convenience of traveling to the Bahamas. In the end, it really depends on what you are looking for. They are both great options and a lot of the times a cruise to one will overlap into the other as well.
Caribbean cruises are usually a little cheaper, but travel to and from the islands at will can be more difficult. The Bahamas is very close to the United States and many people prefer having a shorter trip at their destination. Additionally, The Caribbean has more opportunities for excursions and activities than you will find in Nassau or Freeport.
They are very similar in many ways. The Bahamas is technically closer to the U.S., but then again there are many different islands in the Caribbean you can visit which will save you time and money on travel. You might also want to consider whether or not you plan on doing a lot of excursions and what type you would enjoy the most.
The Bahamas is a great place to visit with its famous Atlantis Resort, while the Caribbean has some of the best white sand beaches ever! If you are looking for good snorkeling and scuba diving spots then head on down south to the Bahamas.
In the end, just hop on Google Maps or Instagram or your favorite travel site and look at options in both and you will find what best suits your vacation needs and travel style.
What should I avoid in the Bahamas?
Here are a few mistakes that people make when vacationing in the Bahamas!
Hitching a ride in an unmarked taxi
Whatever you do, don't take an unmarked taxi in the Bahamas. There are many cabs and taxis that are legitimate and marked, but it's better to be safe than sorry! Stick to the ones with the taxi company's name on it and be sure to ask for a receipt when you get out. Better yet, tell them you will need one when you get in.
You can also use Uber or Lyft in the Bahamas, which is safe and reliable!
Drinking water from a tap or unfiltered source
One thing you should avoid is drinking any water sourced from an unknown location, even if filtered. Tap water can also contain harmful bacteria and viruses. If you're unsure of the water quality, just buy bottled water!
Just staying at your hotel or resort (like The Atlantis)
There are so many incredible things to do in the Bahamas! Don't stay at your hotel or resort the whole time!
Here are a number of things you can do
– Waterparks
– Explore the Pirate Museum
– Snorkel with dolphins and sea turtles on an excursion
– Visit a local market for souvenirs (Nassau Market)
– Dive the Great Blue Hole 
– Go on a boat tour of the islands 
– Visit an underwater museum and aquarium
– Watch a sunset from your private beachfront villa or yacht club dock
– Rent a boat and go deep-sea fishing 
– Watch flamingos in the wild 
– Ride a jet ski or parasail over crystal clear waters of the Caribbean Sea 
– See some amazing wildlife, including turtles and iguanas on Grand Bahama Island's beaches
– Spend time at one of many beautiful white sand beaches like Cable Beach or Lucayan National Park Beach on Grand Bahama Island or Treasure Cay Beach on Abaco Islands' coastlines in the Bahamas where you can snorkel, swim, kayak, fish, scuba dive, and more!
– See a show at the Bahamas National Theater
– Take a day tour of New Providence Island, including stops at Fort Charlotte and Sandy Point Beach Park 
– Visit Grand Bahama Island to see its famous pink sand beaches and go deep-sea fishing or scuba diving off Long Bay Beach Resort's pier 
– Hike through nature trails on Cat Island, home to some of the world's oldest living trees and one of only two places where you can find flamingos outside of Latin America
Skipping the grocery store
Make sure you hit the local grocery stores! There are so many great new products that can be found in local stores and markets. This is one of my favorite things to do when traveling anywhere!
Expecting punctuality
The Bahamas has a very laid-back vibe and it is not uncommon for someone to be a few minutes late. If you are planning on meeting with somebody, or if you book a table at a local restaurant or book an excursion and things get started a little later than you specifically booked, don't fret.
Take a deep breath and remind yourself you're on vacation. The Bahamian culture is very laid back, and it's not uncommon for someone to be five or ten minutes late. If you're meeting somebody local or working with local services, and they are running behind, don't get stressed out about it! In their mind, they are on time.
Wandering alone in the Bahamas
This one depends on your comfort level. I don't typically worry too much about wandering around my travel destinations alone, but some people do. Those people might not know how to spot areas to stay away from or shady people. It's not for everybody! I typically suggest having at least one other person with you if you go for a walk-about.
Traveling to the Bahamas during hurricane season.
The summer months are often considered hurricane season in the Bahamas, so if you or your family is thinking about traveling there this year then be aware that it might not be the quiet and relaxing vacation that you were looking for.
It's not always bad weather though and you can find some killer deals in those months as well.
I recommend visiting in the winter months for both safety and peace of mind.
Is Nassau or Freeport Bahamas better?
That is a tough decision. I prefer Freeport. Both are great, but Freeport feels more culturally rich and laid back, which I value in a vacation spot.
Freeport, the quieter and safer of the two cities, has better beaches (though not as many), a smaller selection of shops for tourists, and a type of atmosphere that I like.
Nassau (393,000 people)
Nassau is a popular cruise ship stop, which happens to be the capital of the Bahamas. With beautiful hills and beaches as well as its offshore coral reefs. It's no wonder Nassau has become one of those all-around fun spots for so many, including those who like diving and snorkeling! 
You'll find many pastel-colored buildings in this city with origins from British colonial-style architecture; their colors are so vibrant. They stand out more when you see them in person against the backdrop of blue skies or crystal clear waters.
One building worth mentioning specifically here is Government House. It was originally painted pink back in 1812 during King George II's reign over England. But now it's sporting a light shade called English Rose. It was later renamed.
Freeport (43,000 people)
Freeport is the gateway to the Bahamas! The city has a variety of exciting things for visitors and residents, like beaches with white sand lining the coast. You can't go wrong visiting Lucaya district where there are resorts, shopping centers, nature trails. There are fantastic snorkeling opportunities on Deadman's Reef.
If you're more interested in underwater caves than above water activities then head over to Roscoe Village which features extensive undersea passages that provide excellent opportunities for exploration.
Can you walk to a beach in Nassau?
Yes, absolutely you can walk to a beach in Nassau. There are a number of very nice beaches. Some within walking distance and others you could easily bike or take a taxi to get to. There are a bunch of beaches in Nassau! Here are our favorite ones!
When should you not go to the Bahamas?
If there is a time to not go to the Bahamas it would be hurricane season. It is officially from June 1 until Nov. 30. But, just like in the U.S., August through October are the months that hurricanes are most likely to occur. Those are the months I would avoid.
What is the coldest month in the Bahamas?
It gets cold in the Bahamas too! Usually, December through Feb are the three coldest months, just like in the U.S. Back in January of 1981, it dropped to 43 °F or 6 °C, and in February 1996 it hit 48 °F or 9 °C.
How long is the flight to the Bahamas?
In-air flying time from the United States to the Bahamas is about 3 hours and 45 minutes. This measurement is only for the actual flying time. Remember to add more time for the plane to taxi between the gate and the airport runway, to pick up or drop off bags, or arrive early at your gate. Sometimes it takes extra time in line at security or customer service desks.
And remember that the Bahamas is two hours ahead of the Central time zone here in the U.S. as well.
Is the Bahamas a third world country?
The Bahamas is considered a third-world country. However, they do enjoy good healthcare, infrastructure, technology, and a stable political environment.
The political stability of the Bahamas
TheGlobalEconomy.com, which uses an index that rates over 200 countries between -2.5 as weak and +2.5 for strong political stability. The average of the 200 countries they have data for is 0.00 on their index
According to them, from 1996 – 2019, the average during that time for the Bahamas was 0.96 points with a maximum of 1.28 points and a minimum of .73.
What nationality are the Bahamas?
The Bahamian people are primarily African (85%) with European descendants (12%) and Asian and Hispanic residents (3%) mixed in as well.
In Conclusion
The Bahamas are a great place to visit almost any time of year. You'll be in warm, sunny climes all year round if that's what you want. You'll be wearing shorts and tank tops come December or January when it starts getting cold back home, too.
There are lots of great places to stay, and the food is great too. The Bahamas are perfect for a family vacation whether you want to visit on your own or with friends, or if you are looking for some adult-only spots to relax or escape to.
I hope this post has been helpful to you as you think about or plan your next trip.
Related Articles
What do I do with my luggage after checking out of my hotel?
12 Easy Ways to Find Cool Places to Go Near You