13 Air Travel Tips For First Time Flyers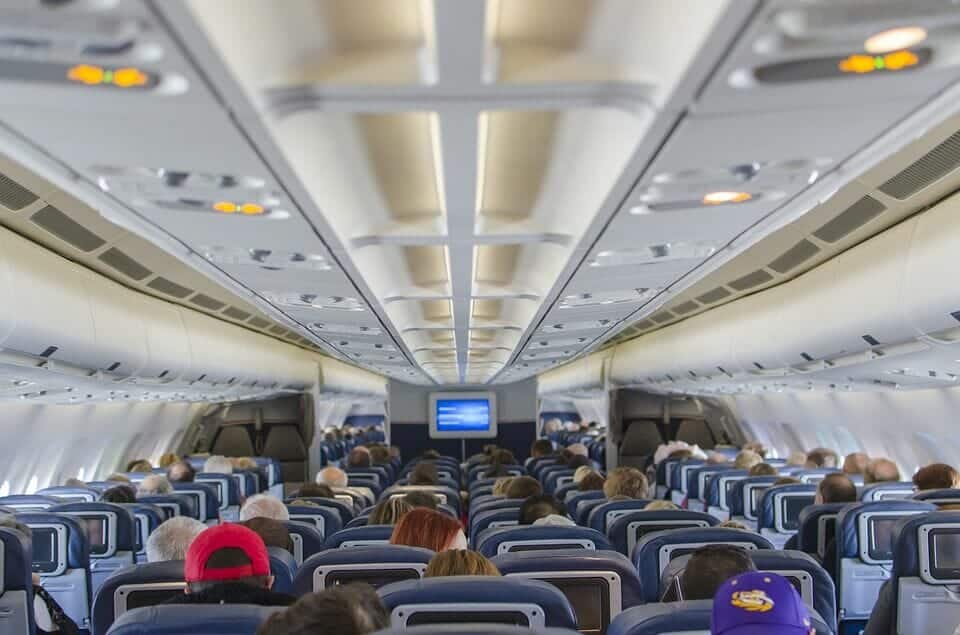 It can be very stressful and confusing for you if it's your first time traveling on an airplane. First-time flyers can be nervous, and possibly make mistakes. 
While not every flyer makes the same mistakes, there are some common ones that most people do when flying for the first time. In this post, I will show you 15 air travel tips so you will have an enjoyable and successful first flight!
Take note of the baggage requirements.
The weight of your luggage is going to be something you need to focus on before setting out on your trip. This is something that most air travelers forget to do. Prior to booking your flight reservation, you should check the airline's baggage requirements first. It can be very frustrating to find out at check-in time at the airport that you will need to pay extra hefty fees that most airlines are now charging for overweight bags. Don't be caught paying those ridiculous fees!
In most cases, international flights usually provide you with more baggage allowance than the domestic ones. Aside from checking on the check-in baggage terms and conditions though, don't forget to read the terms for carry on bags as well.
You are much better off investing the proper bags and luggage that meets the airline's regulations saving you money in the long run. Not to mention that dragging around heavy luggage can be quite annoying!
The best way to find out the luggage regulations for your trip is to contact the airline via their website or call to confirm. You can also have a look at the following page on Wikitravel to see a weight limit guide for some of the major airlines.
So don't forget to check with the airline for both size (dimensions) and weight limitations. It is easy to check the weight of your luggage at home with a portable luggage scale.
2. Arrive at the airport early.
I can't express this tip enough. You need to arrive early for your flight! So many times, I have seen people show up late for their flight. It's very important that you arrive at the airport about 2 hours before the flight.
You need to allow time for check-in, luggage, airport security screening and anything else you need to do prior to boarding the flight. If you miss the flight due to your late arrival, it will cause a huge headache for yourself and the airline. Not to mention the financial burden as well.
3. Select your seats early.
Selecting your flight seats can actually be done days before your actual flight. Although this may depend on the type of airlines you are booking it from, most of them offer seat selection online. Therefore, instead of waiting for the day to take the flight, select your favorite seats online ahead of time, so that you would have the utmost comfort in traveling. It's nice to pick your own seat instead of someone assigning a seat you may not want like the back row or emergency exit.
4. Pack a carry-on bag.
If possible, try to bring a carry on bag along with you. It should include some of the necessities you may need in the event your luggage gets misplaced or stolen.
I have experienced this myself. My checked luggage was lost for a period of time where I had to live out of my carry-on bag. I am glad I packed some fresh clothing, toiletries, and a few other goodies to help me get by.
5. Do not drink alcohol.
When traveling on a plane, it is always better to skip the alcoholic beverages. This is because boarding on a plane, taking care of your luggage, minding the weather, can already provide you with lots of stress for the day. You don't need to mix in alcohol on a plane where it will affect you more than you think. Instead of drinking alcohol, drink lots of water, so that you won't get dehydrated. If you want to avoid Jet Lag, you need to avoid alcohol. Read how to avoid jet lag here. 5 Tips for avoiding Jet Lag
6. Bring your own snacks.
I get asked this question all the time. Can I bring my own snacks on board? Yes, you can. Before finalizing your decision about a certain flight, check whether it offers an in-flight meal or not. If the flight does not offer it, then you should bring your own food, such as a sandwich. By doing this, you would be able to prevent yourself from paying exorbitant prices for the meals offered onboard.
The food that is offered on the flight, whether it is snacks or a meal, may not be to your liking or if you have allergies. It is always best to bring a snack along with you. Most flights will have a variety of drinks so that most likely won't be an issue. You can bring a drink on board as well, as long as it is purchased after passing through security.
7. Know the necessary requirements for your destination.
Depending on where you are traveling, domestic or international, some countries may require only a passport, while others would also require visas. It is best that you know your destination's requirements regarding this so that you can prepare them beforehand. Keep in mind that these documents may take some time to acquire or renew. You should keep your documents in a multi-purpose RFID blocking travel passport folder. This will keep them safe and secure, and it's always best to use the RFID technology if you can.
8. Bring something on board to keep yourself entertained.
This is something like a book or tablet to keep busy and pass the time while on the flight. If you enjoy reading, it is easy to bring a book along with you in your carry on bag.
Many people will bring a tablet or laptop with them on board. You can catch up on some work, watch movies or play games. I don't recommend all types of tablets for airplanes. Some are better than others due to the size, weight, comfort etc.. The Amazon Fire HD is a great tablet that will work well for most travelers.
9. Bring your own headphones.
This is another question I have been asked many times. Can you bring your own headphones on a plane? Yes, you sure can. The sound of the airplane plus the noise of other people, crying babies etc.. can make your flight tiring and stressful.
I highly recommend you bring a pair of noise-canceling headphones along with you. If you enjoy watching movies or listening to music, it is nice to enjoy them with no outside noise or distractions. You don't need to break the bank on a quality set of headphones either. A good budget set are the Paww Wavesound 3 Bluetooth Headphones.
10. Bring along a travel pillow.
If you are going on a longer flight, you may like to take a nap or get some rest. A comfortable travel pillow goes a long way in helping you achieve that. They will fit easily into a carry on bag and you will find that most people will bring their own versus using the tiny and uncomfortable pillow the airline may provide you.
A good travel pillow like the Everlasting Comfort is very affordable and does a great job.
11. Make copies of your travel documents.
It is a great idea to keep multiple copies of your travel insurance and other travel documents. Keep one in your carry on luggage and one in your checked luggage in the event of lost or stolen luggage.
12. Wear comfortable clothing.
Most airlines will do a great job adjusting the temperature inside the plane to keep it comfortable. Going overseas usually involves very long flights, where you may sleep and sit in the same seat for a long time which is why it is a good idea to wear comfortable clothing. Aside from that, you should also bring a jacket so that you won't feel cold. Not all flights will have blankets. Proper footwear is also important to stay comfortable both on the plane and walking while boarding or leaving.
13. Be polite.
Unfortunately, I have had the pleasure of working for the airlines and being abused verbally by passengers. I will say that it is a no win situation for everyone involved.
Being polite to all airline staff will go a long way to ensure you have a pleasant flight. Flight attendants, pilots, and other staff are there for your safety and security and will not tolerate any rudeness or abuse. Some people believe that they can be rude to other passengers or staff members in flight. I have seen it time and time again and not once has it been beneficial to anybody. So please be smart and don't be rude!
Hopefully, you found these 13 air travel tips for first-time flyers were helpful. There are always many things to prepare for when traveling, the list is endless. But having some great tips can go a long way in helping you plan your trip, and be mindful of events during your trip.
As always, feel free to leave a comment or send us a message anytime via our contact form.
Thanks for reading!
You may also like: