Best Compact Cameras Under $400 – Compact cameras are, of course, compact, lightweight, and easy to use. That makes them an ideal choice for frequent travelers and your next adventure!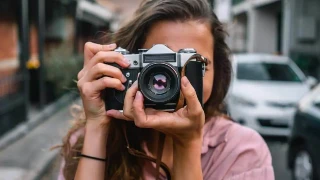 We will review some of the best compact cameras available today. After our review, keep reading for our comprehensive buyer's guide to learn more about how to find a camera that works best for you.
Our Top Pick – Canon PowerShot ELPH 360 HS
Although the Canon 360 HS is a few years old now, it's still one of the best budget cameras on the market today and is great for travelers. It's compact and lightweight design makes it easy to pack and take with you anywhere.
This point-and-shoot camera will take amazing photos and professional quality videos in HD. It has image stabilization and with multiple settings, you will have no problem getting the perfect shot. It's perfect for beginners, and professionals will appreciate some of the great features.
Overall this is one of the best cameras, available at an affordable price. The only negative is the battery life is poor compared to some others. Expect to get about 180 photos before you will need to charge or replace the battery. Also, a viewfinder is nice to have.
What We Like
Great quality and features for the price
Excellent image quality 
Perfect for beginners or professionals
Several different special effect shooting modes
Versatile 12x optical zoom lens
High 20.2 megapixel CMOS sensor
High definition 1080P video
What We Don't
2. Canon Powershot SX 720 HS
The Canon PowerShot SX720 HS camera is perfect for family vacations, parties, and other outdoor moments.
Its 40x optical zoom means you can capture close-up portraits of your family, landmarks in the distance, and virtually everything in between.
While you're away traveling, everyone at home will stay updated as you share your shots with the PowerShot SX720 HS's built-in Wi-Fi and NFC connectivity.
The 20.3-megapixel CMOS sensor and DIGIC six-image processor will combine to bring you stunning images and spectacular 1080p Full HD video.
What We Like
Small size 2.51 x 1.41 x 4.32 in. and lightweight 0.54 lbs.
Image Sync Function – In addition to wirelessly transferring photos and videos through Canon Image Gateway to your computer, you can now view and download them from your compatible smartphone.
Intelligent IS – This analyzes camera movement and applies a suitable shake correction method for the shooting situation.
Lightweight – At just 8.6 ounces, this camera is one of the best cameras to use while on the go.
What We Don't
Focus Time Is Slow. This is not a huge deal but it's worth mentioning. Depending on the situation you are in, you may find it slow to focus.
The Canon Powershot SX720 HS is a great camera and I highly recommend it. You can check it out on Amazon via the link. Also, watch the video below for more info.
3. PANASONIC LUMIX ZS60 4K Point and Shoot Camera
One of the best things about the Panasonic ZS60 is the clean lines as well as textured grips. This camera won't win any awards for its looks but it definitely has its advantages.
It looks fairly similar to the ZS50 but has improved performance and features.
Panasonic Lumix point-and-shoot digital cameras are known for their reliability and innovative features. You will get both of those with this camera. It has the optical performance of a 30x (24-720mm) LEICA DC Lens, and its compact size and light weight make it a great choice.
You will love the hands-on manual feel of a lens-mounted control ring and thumbwheel, plus the familiarity of an eye-level electronic viewfinder. Wi-Fi mobile device controllability and 4K video and 4K PHOTO modes are also included in this model, which is perfect for the modern traveler.
What We Like
Has Leica Vario-Elmar 30x zoom with (24-720mm)
Built-in optical image stabilization to reduce blur at long ranges
4K Ultra HD video recording
Post Focus 4K Photo modes
Compact design 4.4 x 2.5 x 1.5 inches
Great price 
What We Don't
Lower quality compared to a DSLR Similar to the ZS50, this camera has a small chip which reduces the quality.
The Panasonic Lumix ZS60 is another great camera at an affordable price. You can see more info on Amazon by clicking the link.
4. Canon PowerShot SX730 Digital Camera
This is Canon's newest superzoom travel compact camera. The Canon PowerShot SX730 HS has improved specifications over its predecessor, the SX720.
This camera is very easy to use and is super comfortable to hold. One difference that may be slightly noticeable on this camera vs the SX720 is that the size has increased.
This is due to the new tilting screen. It's not a huge difference; you can still fit it in your pocket but it is noticeable.
The 40x zoom feature is very nice and with zoom framing assist, you can take great shots using longer focal lengths. Wifi and Bluetooth technology are very convenient features to have. Use your smartphone's GPS to tag your photos!
What We Like
DIGIC 6 Image Processor – Helps boost image quality in both stills and videos for high resolution with minimal noise when shooting in dark conditions
Dynamic IS – Creates video virtually free of distortion.
Tilting 3″ Screen 180-degree tilting is a great added feature.
Self-Portrait Mode – With so many people taking selfies these days, this mode just makes it so much easier.
Easy To Use Menus – This camera has some great features for advanced photographers but the easy to use menus make this camera great for beginners as well.
What We Don't
No Touchscreen – We found that, for the price of this camera, a touchscreen LCD should have been an option to have with the swivel screen.
No 4K Video Recording – Again, for the price point of this compact camera, there should be an option of 4K recording like many others.
These features may not be something that every user cares about or needs. But while this is a great camera overall, we feel the SX730 should have these two features.
Just like I mentioned with the Canon 720SX, I highly recommend the Canon Powershot 730SX. For the price, both Canon cameras listed here will give you great value. You can't go wrong with either.
5. Sony DSCHX80/B High Zoom Point & Shoot Camera
The Sony HX80B is another affordable camera with lots of cool features. We really like this camera and recommend it, but there are a few things this camera can improve on.
You will get sharp detail up close with the world's smallest and lightest 30x zoom camera. There's even a pop-up electronic viewfinder for eye-level framing and a 180-degree tilt screen for 18.2MP selfies — very similar to the Canon SX730 for selfie mode.
Stunning picture quality comes from the low light Exmor R sensor and premium ZEISS lens with 5-axis image stabilization. You can share photos instantly with built-in Wi-Fi and NFC.
What We Like
Very Compact – 4″ x 2.3″ x 1.4″
5-axis Image Stabilization – Greatly reduces blur; shoot remarkably sharp images with Sony's Optical SteadyShot image stabilization for both stills and video.
Tilting 180 Degree 3″ Screen
Pop Up Electronic Viewfinder
What We Don't
Menu Difficult To Navigate – Might not be a concern for some users, but for beginners, I can see this being a problem.
Slow To Focus – Personally, I didn't find this to be a big issue but there have been many complaints about this in the past.
Settings Need To Be Changed Often – You can adjust your settings and save them in manual mode, but for a point-and-shoot camera, most people don't want to spend their time changing the settings.
Overall, the Sony HX80B is a great camera. It has some minor flaws that can be a nuisance to some users, but I still recommend it for the price.
Check out the video below for some additional info.
6. Panasonic Lumix FZ80
The Lumix FZ80 a point-and-shoot camera offers an amazing 60x zoom lens and 4K technology.
You might be thinking 'Wow, that must be expensive!' But, you will be impressed by the price of this camera, which is another high quality camera for travelers.
I really like the design of this camera. Sure it's a bit bigger than some others but for me, I don't mind that. The Lumix FZ80 also ticks all the boxes for must-have items with a travel camera.
What We Like
4K video capture technology
Touch screen LCD with viewfinder
Post focus and focus stacking
What We Don't
Short USB cable
Slight noise with the autofocus
Bonus Pick: Compact Waterproof Camera for Travel
There is a good chance that while you are traveling, you will be around some water. Whether it is at the beach or near a lake, you don't want to risk your camera getting wet.
Waterproof cameras are a great option if you know you will be around water but want to take great photos and videos without worrying about your camera accidentally getting ruined by water damage.
A waterproof camera doesn't have to be expensive either. My suggestion is to look at the Fujifilm Finepix XP80.
Best Waterproof Compact Camera for Travel –  Fujifilm Finepix XP80
This camera is durable and has four rugged protection features: waterproof, freezeproof, shockproof, dustproof. You can't go wrong with that.
You can read my full review of the Fuji Finepix here or check the current price below.
Frequently Asked Questions
Best Compact Cameras Buyer's Guide
Cameras sure have changed over time. They just keep getting better, and if you are tired of taking photos with your smartphone and are ready to upgrade to a better digital camera, keep reading.
The compact camera is also known as a point-and-shoot camera. These types of cameras are designed mainly for their simple operation and ease of use.
The thing is, if you want a camera that is suitable for traveling, you need to pay attention to some specific details about the camera that maybe you wouldn't really consider if you were not traveling.
It is not always easy to make the right selection for a good travel camera and stick to a budget.
One important thing to know is that you don't need to spend a fortune. You can stay on a budget and still buy a really nice travel camera that you and your family will love.
Most people use the compact camera for taking snapshots of outdoor events, vacations, parties, and other functions.
If you are traveling, the point-and-shoot camera is a great option as they are lightweight and versatile. They are usually the smallest and most affordable option as well.
But the one negative to using a compact or point and shoot camera is they most likely will lack in image quality when compared to a higher-end DSLR camera. 
In general, compact cameras offer great portability, but at the cost of some image stability and quality.
Shopping for cameras involves many trade-offs, based on your specific needs.
It's important to consider your photography habits before deciding on the right type of camera for you.
What are you shooting? How often will you use your camera? Will you be traveling a lot for your photography? What time of day will you take most of your pictures?

These are just a few questions to consider to decide on a camera that is right for you. Everyone's answers will be different, so don't just take your friend's word for it. Instead, do a little self-reflection on how you use your camera and find one that suits all your needs.
Check out a detailed list of pros and cons for compact or point and shoot cameras below.
Point and Shoot Cameras Pros and Cons 
 Pros
Size & weight: The modern point and shoot cameras are small and light enough to fit in your pocket.
Price:  Very affordable and in most cases, you are going to pay less than an entry-level DSLR.
Noise: Most compact point-and-shoot cameras are virtually silent in most cases.
Ease of use: Most point and shoot cameras are set up to take good photos right out of the box. The controls and menus are simple and easy to understand for beginners.
Cons
Image quality: Some point and shoot cameras are not very good at capturing images in low light situations.
Flexibility: Zooming in on objects far away reduces the quality significantly. Changing the lens is not an option.
Manual controls: Selecting your own aperture and shutter speed will be an issue for most point and shoot cameras.
Speed: Focusing is much slower and they are famous for shutter lag.
So, are you ready to move past taking photos on your cell phone and find a real camera?
Now ask yourself, is a standalone camera really required? Do I need one? Probably not in today's world of technology.
Although smartphones today will take great photos and videos, compact digital cameras are often more versatile and comfortable.
And don't worry, you can get a really great camera for a decent price. Before I list my compact camera recommendations, here are a few tips that will help you choose the best one for you:
Determine what you need the camera for
Don't make the mistake of buying extras that you don't need. Are you going to use it for landscape photos, sports, weddings…? What type of lighting will you be shooting in? Are you looking for a certain zoom or image stabilization? These are some questions to ask yourself before buying the camera. The size and portability is also an important factor.
Don't worry too much about megapixels
Megapixels are something that most people notice when buying a new camera. Usually one of the first questions asked is: How many megapixels does it have? Don't worry about that. Today's cameras are normally built with at least 5MP; gone are the days when the megapixels were a huge concern. Actually, it can be a disadvantage to have high megapixels. The images end up being so large that they take up significant space on memory cards and computers.
Remember you may need extras
It's possible that you may need some extras to go with your new camera. Things like a memory card, case, batteries, and charger, tripods. Most places will offer a bundle price which will be cheaper than buying the items separately.
So those are just a few tips, there is also a great article on Digital Photography School showing more tips on buying a compact camera.
What To Look For With Travel Cameras – Must-Have Items
Portability
Awesome zoom
The "F" factor
Image stability
WiFi
1. Portability
This is definitely something to consider when buying a travel camera. Your camera needs to be portable so it will be easy to bring with you. Whether it will be in your carry on bag for the airplane, or perhaps you are an outdoor traveler, your camera needs to be portable.
This would include weight and size. Of course the lighter and more compact the better. That is not always possible, depending on the type of photography you do.

Compact cameras are some of the most portable ones out there. They are small and lightweight which makes them easy to transport.
2. Awesome Zoom
Travelers love to have a camera with a huge optical zoom feature to capture those far away images. A really good zoom will let you capture a great shot of an animal in the distance or a building that is far away.
But be aware that a big zoom can mean a loss in resolution. You can add zoom lenses to DSLR and mirrorless cameras, but that will cost more.
Since we are trying to stay on a budget here, a compact camera with a decent zoom will suffice.

If you are looking for a camera with fantastic zoom, check out this article where we reviewed some of the best zoom cameras on the market.
3. The "F" factor
If you are going to be traveling to spots that have low light areas, you will still want to use your camera. Some cameras are better than others when taking photos in low light – a museum for example. For this, you will want a camera with a high f-stop.
In general, the lower the f-stop, the larger the lens opening, or aperture. This means that your camera will take in more light and photos in low-light will show up clearly.
But, in low-light environments, use a tripod to take your shots. The camera takes more time to capture the light in dark settings and photos can become blurry with just a small shake of the hand.
High f-stops are great to use in bright environments – in the middle of the day, for example. They will produce incredibly crisp photos.
Generally, under f-4 is used with low light and over f-4 is better for bright environments.
Due to the size of the lenses on most compact cameras, they have a lower f-stop range than DSLR or other high-end cameras.
4. Image stability
Image stability is important on a zoom lens. As mentioned earlier, a big zoom feature is great to have. But as you zoom in more, image stability decreases. You will want to find a camera that has great image stability.
5. Wifi
Some people may say that a Wifi feature is not that important on a travel camera. I will gladly disagree with them. Although I don't think it's a deal-breaker, it still is an important feature for me and I prefer to have the convenience of storing and sharing images and 4k videos right over the internet instantly. You never know when your camera can be lost or stolen.
Other Great Features
4k video, an electronic viewfinder, and an APS C sensor are a few other great features of budget compact cameras. Be sure to consider all of these as well before making your purchase.
Summary: Best Compact Cameras Under $400
If you are looking to get a compact point-and-shoot camera and not break the bank, any one of the above-mentioned cameras will do the trick. Of course, you can spend more money and get a better camera depending on the features you are looking for.
There is no right or wrong answer to the question of which camera is best for you. Make sure you consider more than just technical features like megapixel count and sensor size when you're choosing a camera. What is most suitable for you will depend on your photography style and your needs.
You don't need to spend more than $400 for a great camera. The price, features, and quality you'll receive from any of these cameras will give you great pics for years to come!
If you enjoyed our best compact cameras under $400 guide, have a look at some of our other camera guides below.
You May Also Like
Best Cheap Digital Cameras Under $50
Best Travel Cameras under $500