There can be a lot of confusion when it comes to traveling with Bluetooth speakers. Is that even allowed? What are the rules and regulations for bringing one on board? What is the best Bluetooth speaker for travel?
Well go over these questions and more so you can make an informed decision about taking your speaker on the plane!
The TSA allows passengers to bring Bluetooth speakers on a plane. You can bring your Bluetooth speaker in your checked luggage or carry-on bag. If your speaker uses a Lithium ion battery, do not pack it in your checked bag. They have a small possibility of catching fire while inside the aircraft. If youd like, you can remove the batteries from your device and take them with you on the plane.
Most airlines will allow you to use your Bluetooth speakers on a plane. But, you cant use them during takeoff or landing.
Can you take a portable speaker in your hand luggage?
Yes, you can take a portable speaker in your hand luggage. In fact, we recommend taking your speaker in your carry-on because you can keep close track of it.
After take-off, you can use your speaker if youd like. But this is not the best etiquette on a plane with other passengers. Youd probably be told to turn it off or turn it down.
Can I bring a JBL speaker on a plane?
Yes, you can bring a JBL speaker on a plane. When you get to airport security, take the speaker out of your luggage and set it into the bin for screening. Do not use your JBL speaker on the plane during takeoff or landing.
Some airlines have different policies when it comes to using Bluetooth speakers. If youre in doubt, ask the flight attendant about the regulations. Or, before flying, check the airlines website.
5 Best Bluetooth Speakers for Travel
OontZ Angle 3 Bluetooth Portable Speaker
OontZ Angle 3 Bluetooth Portable Speaker
HIGHER QUALITY CRYSTAL CLEAR STEREO SOUND - The OontZ Angle 3 is Designed and Engineered by Cambridge Sound Works in the USA for greater clarity sound, accurate mids and clear highs from dual precision acoustic stereo drivers; the bass output is enhanced by our proprietary passive bass radiator; unique triangular design and downward facing bass radiator further enhance the sound quality; the Higher Quality Crystal Clear Sound & Features distance it from the competition.

LOUDER VOLUME - Surprisingly loud, the Volume Booster 10+ watt power AMP pumps out more volume and plays your music with no distortion, even at maximum volume; the louder volume makes the OontZ Angle 3 Portable Bluetooth Speakers the perfect speaker for any room and the ideal Outdoor Speakers.

INCREDIBLE 100 FOOT BLUETOOTH RANGE - Play the OontZ Angle 3 Bluetooth Speakers up to 100 unobstructed feet away from your device; advanced antenna design with Bluetooth 4.2 provides greater wireless range and faster Bluetooth connection; connects easily with the Echo Dot, Echo Dot 3rd Gen, Echo, Echo Plus, iPhone 6, iPhone 7, iPhone 8, iPhone X, iPad, Samsung Galaxy 8, Samsung Galaxy 9, Samsung Note, Smartphone, Cellphone, Laptop, computer, Mac, and all other Bluetooth devices

IPX5 WATER RESISTANT - The OontZ Angle 3 is totally Splashproof, Rainproof shower speaker, great Shower Speaker; with IPX5 certification the speaker can resist gentle water spray and splash but cannot be partially or fully submerged

LONGER BATTERY PLAYTIME UP TO 14 HOURS - Play from morning till night; bigger 2500mAh rechargeable battery can play up to 14 hours at 2/3 volume; AUX IN Jack connect from TVs and non-Bluetooth devices with a 3.5mm Line-In cable for the Perfect Line-In Speaker; BUILT-IN Microphone for personal handsfree speakerphone calls from a Cellphone or iPhone; Light-weight just 10 oz, 5 long, 2.8 high INCLUDES Micro-USB charging cable
Ditch the old-style speakers that look like a jumbo box, and get crystal clear sound from the OontZ Angle 3. Loud enough to hear at any party or outside event up to 100 feet away; this speaker is perfect for group playlists! With 14 hours of battery life, you can enjoy listening throughout the day without interruption.
The unique triangular design and bass radiator make the sound quality clean and crisp.
IPX5 water-resistant ensures protection from rain and spills, so bring your tunes outside with confidence.
At about 5x3x3 inches, you can carry this splashproof Bluetooth speaker anywhere.
Pair your iPhone, Android or Amazon echo easily with this versatile Bluetooth speaker. Or use the microphone to make quick phone calls too.
Take a look at the OontZ Angle 3 Bluetooth speaker right here from Amazon.
JBL FLIP 4 - Waterproof Portable Bluetooth Speaker - Black
JBL FLIP 4 - Waterproof Portable Bluetooth Speaker - Black
Wirelessly connect up to 2 smartphones or tablets to the speaker and take turns playing impressive stereo sound

Built-in 3000mAh rechargeable li-ion battery Supports up to 12 hours of playtime

Ipx7 waterproof means no more worrying about rain or spills; you can even submerge flip 4 in water

JBL connect+ allows you to Link more than 100 JBL connect+ enabled speakers together to amplify the party

Dual external passive radiators demonstrate just how powerful your speaker is
Introducing the JBL FLIP 4! With this powerful Bluetooth speaker, you can go anywhere!
With the ability to connect two phones or tablets to this speaker, you can take turns playing your favorite music. Everyone will have an interactive experience unlike any other. You can forget about cords dumping from lights in water dishes all too often because this Bluetooth speaker is Ipx7 waterproof! Yes, you can even fully submerge it in water!
Not only that - it comes with a built-in battery that lets you enjoy up to 12 hours of music. And, the 2000mAh amplifier dual external passive radiators are just wow.
Check out this JBL speaker from Amazon by clicking on the button below!
Anker Soundcore 2 Portable Bluetooth Speaker
Anker Soundcore 2 Portable Bluetooth Speaker
Unbelievable sound: 12W of pure audio power with enhanced bass Thunders from dual neodymium drivers. An advanced digital signal processor ensures pounding bass and zero distortion at any volume.

Intense bass: exclusive bass up technology and a patented spiral bass port boost low-end frequencies to make the beats hit even harder.

Outdoor-proof: IPX7 protection safeguards against rain, dust, snow, and spills. Get incredible sound at home, in the yard, or anywhere else imaginable.

24H Non-Stop Music: Ankers world-renowned power management technology and a 5,200mAh Li-ion battery deliver a full day of sublime sound.

Grab, go, Listen: classic design that has been refined and lightened, with effortlessly simple controls.
Get your tunes going and impress every speaker savant you know with the Anker Soundcore 2 Portable Bluetooth Speaker.
Its got 12 Watts of pure audio power with enhanced bass so theres never a need for a filter, all while taking care of those pesky amplifier flaws that cause distortion and listener fatigue.
The IPX7 grade waterproofing means it can withstand any weather condition thrown at it-including outdoor use! And dont worry about running out of juice because this floating party animal has got 5,200mAh powering it up into the late-night hours.
Get ready for outstanding sound quality from one small device! Check out the Anker Soundcore 2 Bluetooth portable speaker below!
MusiBaby Bluetooth Speaker
Musibaby Bluetooth Speaker - Black
♩♪♫【Portable and Long Battery Life】Bluetooth speakers small, Size only 4.9*2.9in, designed as a portable speaker. With 1500 minutes playtime, long enough for any outdoor activities. Special designed as outdoor speakers.Its Ideal gifts for men or women, also affordable valentines gift for him.

♩♪♫【True 360°Stereo Sound & Amazing Bass Sound】Stereo sound with full bass---the speaker delivers immersive sound with rich bass, mids and highs,dynamic sound.Even at maximum volume, in the same way as the live concert performance. You will like MusiBabys true 360°Stereo Sound wireless speakers.Enjoy booming sound effects at this Halloween.Its an Ideal halloween gifts.

♩♪♫【Dual Pairing wifi speaker】Connect 2 speakers together, they would play together at the same time!Every time the two wireless Bluetooth speakers are turned on, they will be connected automatically by themselves before they connect to any other blue tooth devices.However, either of the two wifi speakers can be sold alone. One Bluetooth speaker also plays great!

♩♪♫【IPX5 waterproof】The MusiBaby waterproof Bluetooth speaker is resistant to splash, rain, gentle spray, therefore is applicable in shower room,by the pool or beach, and even in the rain.Do not put directly it in water.This waterproof speaker is also a shower speaker!

♩♪♫【Strong Bluetooth 5.0 signal】It can connect normally under difficult conditions and the signal is not disturbed.Antenna design with Bluetooth 5.0 provides greater wireless range 100ft and efficient connection to Bluetooth cell phone or devices.The 5.0 Bluetooth chip easily reads music play list,and connect any devices. It can not only connect laptop, phone, MP3, iPhone,iPad, but also personal computer, TV or other non-Bluetooth device with 3.5mm audio jacks.
The MusiBaby Bluetooth Speaker is small enough for indoor or outdoor use. At 13 ounces, its incredibly lightweight which makes it perfect for travel.
It has a long battery life of 1500 minutes which can keep you entertained outdoors all day if necessary! In addition, this powerful speaker features true 360° Stereo sound with amazing bass!
The dual pairing Wi-fi speakers will connect automatically and they have a long 100 ft range.
IPX5 water resistance keeps water away preserving this little beauty no matter where you are. Just avoid submerging it in water!
With the Musibaby Bluetooth Speaker, turn any event into a bigger, better experience. Check it out on Amazon at the button below.
Bose Soundlink Color Bluetooth Speaker
Bose SoundLink Color II: Portable Bluetooth, Wireless Speaker with Microphone - Soft Black
Innovative Bose technology packs bold sound into a small, water resistant speaker

Built-in mic for speakerphone to take clear conference or personal calls out loud with a wireless range of approximately 30 feet.

Rugged, with a soft touch silicone exterior that makes it easy to pick up and go

Voice prompts talk you through the Bluetooth pairing so its easier than ever or even quick-pair with NFC devices

The lithium-ion battery lets you enjoy up to 8 hours of play time, rechargeable with USB power sources

Wireless Bluetooth pairing with voice prompts allows you to easily take calls and access your phones virtual assistant - hands free

Pair 2 SoundLink speakers together for party mode or stereo mode or use Bose SimpleSync technology to pair with a member of the Bose smart home family to play in sync
The SoundLink speaker is the peak of innovation with Bose technology packing bold sound into this compact, water-resistant speaker.
You can take it anywhere. It weighs just 1.2 pounds so you wont even know its there! The soft silicone exterior makes it easy to grab and go.
It provides up to 8 hours of seamless playtime, which is rechargeable easily with any wireless device USB charger. It has a built-in microphone for taking conference or personal calls out loud.
Check it out by clicking on the button below.
Bluetooth Speaker Buyer's Guide
There are seven things to consider before buying your Bluetooth speaker. They include the sound quality, microphone, size of the speaker, battery life, waterproofing, price, and style.
Sound Quality
What are you using your Bluetooth speaker for? If its to listen to music or podcasts on a long trip then the sound quality is important.
A good rule of thumb is if you cant tell what song is playing after listening for a few seconds then the speaker probably isnt worth it. If the speaker sounds muffled, the quality isnt too great, either.
Look for a bass radiator and 8-12 Watt drivers to get the best sounding Bluetooth headphones. Some speakers even have dual drivers for twice the power!
Microphone
Does the Bluetooth speaker have a microphone? This is important if you are using your wireless speaker for hands-free phone calls or Skype video conferences while on the go.
If youre an avid traveler, find a Bluetooth speaker with a microphone to make chatting on the go convenient.
Size of Speaker
Do you want to pack light and small when traveling, or do you need something thats a little bit bigger?
Compared to large speakers, most small speakers wont have great sound quality. But they are much easier to travel with. You can even find some at a pound or less that can fit in your pocket!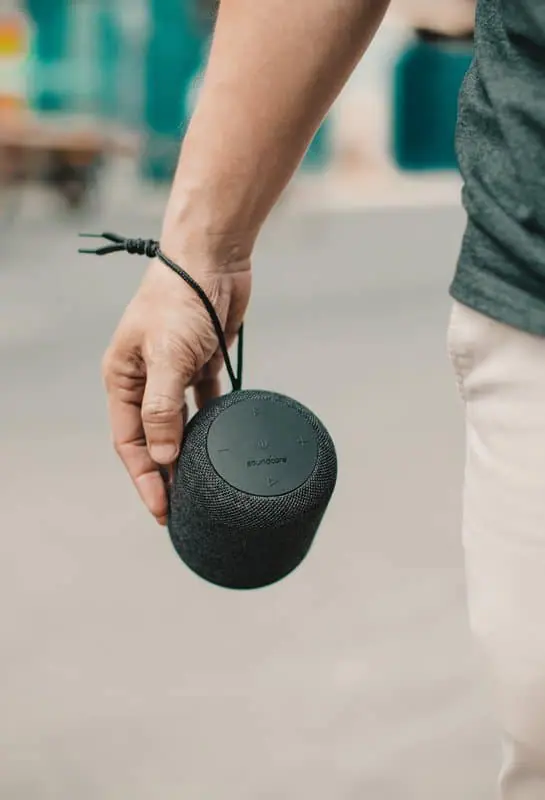 Battery Life 
Before you head out on your road trip, make sure your Bluetooth speaker is fully charged! You can find speakers on the market that last anywhere from six hours to 24+ hours! If youre going on a long trip, look for one with high battery life so you dont have to worry about keeping it charged.
But if youre just using it around the house, you wont need to worry as much about battery life. Just plug it into an outlet and let it charge every night before you go to bed.
Price
Do you want to spend a lot of money on your Bluetooth speakers, or would you prefer to buy something a little more budget-friendly?
Most bluetooth speakers range between $15 and $300. More expensive speakers will have a longer battery life, better sound quality, waterproofing, and long-range Bluetooth connection. Theyll also be a little more durable than a low-end speaker.
To decide how much you need to spend, think about how often you use your speaker. If you use it daily, its probably worth it to spend a couple of hundred dollars more for a higher-quality Bluetooth speaker. But if you dont use it very often, think about getting a lower-priced Bluetooth speaker.
Also, if youre getting the speaker for a trip, think about where youre going and how long youll be gone. You might want to take your Bluetooth speaker through the city, in the mountains, on the beach…pretty much everywhere you go.
If thats the case, look for a more durable speaker thats lightweight but still has that sound quality you love. Yes, this may be more pricey, but itll be worth it.
Waterproof and Dustproof
To find a speaker that will last you years, make sure it is waterproof and dustproof. This will keep your speaker in good condition, even if you take it outdoors or enjoy the beach during the summertime.
Even if youre not going to be around water with your speaker, it can save you money if you accidentally get the speaker wet!
Most Bluetooth speakers are IPX-5 to IPX-7 water resistant. IPX-5 means they can be used in the shower or around the pool, but dont submerge them in water at all. IPX-7 speakers are more water-resistant than IPX-5s. These speakers can be partially submerged with no damage.
Style
Bluetooth speakers come in many different shapes and sizes, including rectangular, circular and cylindrical. Pick what style you like best, or what style is easiest to transport for you!

Bluetooth speakers also come in a wide variety of colors so pick one that suits you.
video #1 Travelonthefly.com
That wraps up our buyers guide and travel guide on bluetooth speakers.
Remember, you can bring your bluetooth speaker in your carry-on or checked luggage. But, if it has lithium batteries, remove them and take them in your carry-on.
Also, you can use a bluetooth speaker on a plane, but not during takeoff or landing. However, a plane might not be the best environment to blast your favorite tunes. Instead, put on a pair of headphones so you dont bother others.
Before you get everything packed up for your trip, make sure you can bring it on the plane! Check out our articles below to learn more.
Related Articles
Can you take headphones on a plane?
Can you take golf clubs on a plane?
Can you take batteries on a plane?
We are reader-supported. We may earn a commission as an Amazon Affiliate when you buy through our links at no extra cost to you.