How to Use a Hanging Toiletry Bag – As an experienced traveler, I can't live without my trusty hanging toiletry bag. For the uninitiated, a hanging toiletry bag is a travel bag with built-in hooks so you can hang it from a towel bar or door. This gives you easy access to all your bathroom essentials, unlike a regular one that sits awkwardly on the hotel counter.
I've tried all kinds of toiletry bags over the years, but the hanging style is absolutely essential for keeping organized on the road. No more rummaging around through a messy pile of toiletries! The hanging format allows you to see all your items at a glance. Plus, it keeps everything neat and compact while saving precious counter space.
I've learned that streamlining your routine while traveling is crucial for reducing stress. A structured bag allows me to grab a toothbrush and face wash quickly so I can get out the door faster every morning. It's become an indispensable travel companion.
In this article, I'll share my best tips for selecting, packing, and using a toiletry bag – whether you're on a far-flung trip or just spending nights closer to home. I'll cover how I keep mine meticulously organized and some hanging travel bag options based on my years of experience. 
Here are my favorites
Image
Title
Price
Prime
Buy
Vetelli Hanging Toiletry Bag for Men - Best Bag for Men

Prime

Eligible

Check on Amazon
D&D Hanging Toiletry Bag - Most Spacious

Prime

Eligible

Check on Amazon

Top

Hanging Toiletry Bag By Freegrace - Most Versatile

Prime

Eligible

Check on Amazon
Pro Packing Cubes Travel Toiletry Bag - Most Compact

Prime

Eligible

Check on Amazon
BOACAY Premium Hanging Travel Toiletry Bag - Best Bag for Women

Prime

Eligible

Check on Amazon
Product prices and availability are accurate as of the date/time indicated and are subject to change. Any price and availability information displayed on [relevant Amazon Site(s), as applicable] at the time of purchase will apply to the purchase of this product.
Prices pulled from the Amazon Product Advertising API on:
Let's hit the road!
The Basics – How to Use a Hanging Toiletry Bag
Choose one if you don't have one already. Look for one that is made of water-resistant material and has multiple compartments and pockets to organize your items. Mesh pockets allow you to easily see contents. You can see my favorite ones here and learn more about buying the right one for your needs
Pack your toiletries in the main compartment. Arrange bottles upright and group similar items together ( medications, dental, hair care, etc).
Use the smaller pockets for smaller items like toothbrush, comb, tweezers. You can stand tubes and brushes upright in pockets.
Place liquids in sealable plastic bags in case of spills. Put leak-prone items in the bottom compartments.
Hang it from a towel bar or hook when using the toiletries. The hanging format makes them accessible.
When traveling, hang the bag in the bathroom to keep items organized and in one place. Store bag in your suitcase when not in use.
Packing and Tips 
Over the years, I've learned some key tips for efficiently packing my go-to bag, whether I'm headed on a long trip or just using it at home:
Use the different compartments and pockets to organize by category. I group dental items, medications, hair care, shaving supplies, and so on. This makes it easy to quickly find what I need when I'm on the move.
Only pack the absolute essentials and avoid duplicates. I've learned I can live without my third favorite shampoo for a week! Packing light helps maximize space.
Roll up squeeze tubes and bottles tightly to conserve precious real estate in the bag's compartments.
Use clear plastic bags to neatly group smaller items like makeup, cotton balls, or liquids over 3 ounces.
Whether I'm in a hotel or at home, I'll hang it open near the bathroom sink for easy access while I wash my face or brush my teeth.
Every so often, I'll wipe out the compartments with disinfectant wipes to keep the bag fresh and germ-free. After trips, I'll empty it completely and let it air dry.
I've found these tips help me stay organized and efficient, whether I'm on a cross-country excursion or just using it to tidy up my bathroom at home. It takes some trial and error to develop a personalized system, but it's well worth it!
Click Here to see my favorite hanging toiletry bags!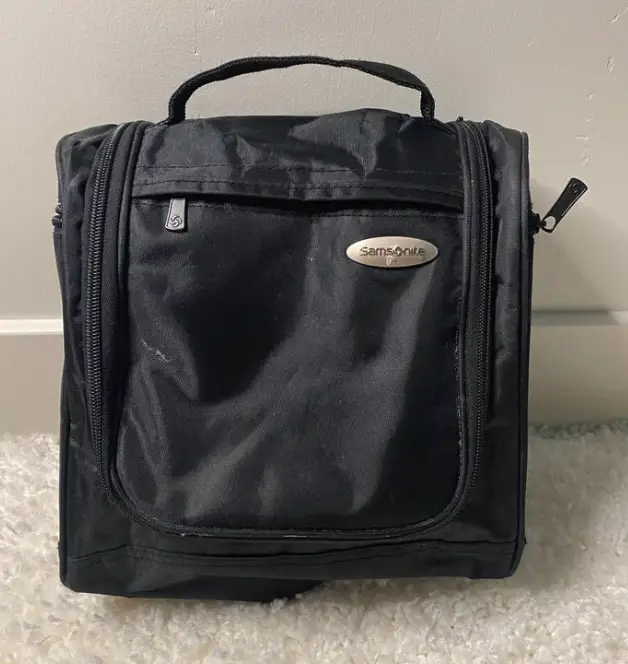 What to Pack
I've developed a trusted packing list as well, that covers all my bathroom basics, whether I'm on a long trip or just using it at home:
The essentials like toothbrush, toothpaste, and floss always make the cut. Fresh breath is a must!
Hair care items are a priority – my brush, comb, shampoo, conditioner and any styling products. Looking put together helps me feel ready to take on the day.
My makeup bag with the works – mascara, blush, eyeliner. I never leave home without it! Plus makeup remover for taking it all off.
Shaving supplies like razor, shave gel go in the exterior pockets for easy access.
Contact lens case and solution – can't see without them!
Any daily prescriptions or medications I need close at hand.
A few key first aid supplies – bandages, aspirin, antiseptic. Useful in a pinch while traveling.
Dental hygiene like floss and mouthwash. Don't want to forget those.
Deodorant and lip balm are must-haves.
Extras like Q-tips, nail clippers, tweezers and moisturizers round it out.
With these toiletries and tools organized neatly in specific compartments, I'm ready to primp and freshen up wherever the day takes me! 
For Daily Home Use
At first glance, a hanging bag seems suited only for the rigors of travel. But I'm here to attest that it can transform your daily home bathroom routine too! Here's how I incorporate this organizational wonder in my own home:
Install a hook somewhere – anywhere – in your bathroom near the sink. Command strips and over-the-door options work great, or get creative with a tension rod and hooks across the width of your space. Now hang it up and watch your countertop clutter dissipate. Having all your daily essentials – toothbrush, skincare, comb – corralled in one upright bag is a game changer.
Short on space? Try an over-the-door organizer with built-in storage pockets. Hang the toiletry bag from one pocket – keep it upright and right at your fingertips. Or stick on an adhesive towel bar or hook on the wall or cabinet. Instant toiletry bag station!
For a shared family bathroom, hang a personalized one for each member. Monogrammed initials or favorite colors help identify bags. No more guessing whose toothbrush is whose in the morning rush.
The takeaway? A hanging toiletry bag boosts organization and efficiency in your home bathroom just as seamlessly as on the road. Ditch nebulous countertop piles, heavy bags that fall over, and toiletries rolling recklessly around drawers. Embrace the tidy, upright world of the hanging bag. Your mornings will thank you!
Tips for home use:
Hang it on a command hook or over-the-door hook on the back of your bathroom door. This keeps all your toiletries in one place and off the counter.
If you don't have a spot on the back of the door, install a tension rod with hooks across the width of your bathroom. Hang it from one of the hooks.
Look for an adhesive towel bar or hook that can stick to your bathroom wall or cabinet. Hang it from this spot near your sink.
If you have limited space, consider a over-the-door organizer with storage pockets. You can hang it from one of the pockets to keep it upright and accessible.
For a family bathroom, hang one for each family member using initials or favorite colors to identify each one.
Keeping your toiletries organized in a hanging bag reduces clutter and makes your daily routine easier. Change out heavier bags for lighter ones during home use if needed.
Other Articles