What's it like working as a TSA Agent? It was an amazing experience working at TSA, I learned a lot there. Over the years, there were great opportunities to grow within the company, but the leadership was prone to favoritism. If you have good coworkers, the workload isn't as hectic. And the benefits are pretty great. 
Let me tell you more about it. 
I will share what it is like, what the hiring process looks like, and then the benefits of working as a TSA agent. 
What's it like as a security officer for the TSA?
The Role of a TSO
Becoming a Transportation Security Officer is a significant opportunity and responsibility. It's a big job, but it's also a tremendous chance to be a part of a mission that really matters. TSOs are the face of the TSA and are one of the most crucial roles.
TSO Responsibilities
As a TSO, you're the face of the Transportation Security Administration to the public, and you do whatever it takes to keep people safe. That means a lot of on-person screening, bag searches, and property screening. It can be challenging work, but it's important. But you know that, or you wouldn't be reading this, right? 
TSO Shifts and Schedules
TSOs work at all times of day and night, so you need to be flexible with your schedule. But as you advance in seniority, you have more control over your schedule.
Qualities of a TSO
To be a TSO, you need to have a strong work ethic, be committed to the mission, and be willing to go through a thorough background check and medical screening. Attributes that are commonly associated with military personnel are the exact qualities that TSA looks for. 
If you identify with any of those, the TSA could be a perfect fit for you.
Requirements to Join TSA
A thorough background check and medical screening are required to join TSA, and federal drug tests are also part of the job. 
The agency's mission is to ensure the safety and security of the United States transportation system, and TSA needs reliable and trustworthy personnel to accomplish this objective. To become an employee, one must be a U.S. citizen or a U.S. national. 
Applicants for the TSO position must be at least 18 years old, and those for the Federal Air Marshal (FAM) position must be at least 21 years old. TSA will evaluate applicants' criminal history records, credit reports, and personal information on the Declaration for Federal Employment (OF-306) form. The agency will also conduct a background investigation through the U.S. Office of Personnel Management, which involves a Standard Form 86 (SF86).
Applicants must meet stringent suitability determinations before joining TSA, including passing a financial review and meeting the requirements specified by law. Having delinquent debt of more than $7,500, unpaid Federal or State tax liens of any amount, delinquent child support arrears, or unsatisfied court judgments will disqualify applicants from the hiring process.
List of requirements to work for TSA:
Must be a U.S. citizen or a U.S. national
At least 18 years old for TSO positions and 21 years old for FAM positions
Pass the Enter-On-Duty (EOD) Suitability Determination
Pass criminal history record checks and local law enforcement agency information reviews
Pass a credit report evaluation
Complete the Declaration for Federal Employment (OF-306) form
Complete Standard Form 86 (SF86) to initiate the background investigation
List of disqualifiers:
Delinquent debt of $7,500 or more
Unpaid Federal or State tax liens of any amount
Delinquent child support arrears
Unsatisfied court judgments
The above lists I provided are not comprehensive and do not include all requirements and disqualifiers. They are intended to give a general idea of what types of factors are considered in the application process.
It's important to refer to the TSA's site here for more detailed information for a full understanding of the requirements and disqualifiers.
Career Progression Potential
Joining the TSA means immense career progression potential, with many aspiring to climb the ranks of a solid organization within the federal government. It also means job stability and solid benefits, including excellent healthcare options, access to work-life programs, paid time off, tuition assistance, and a comprehensive retirement package.
Joining the TSA Community
But perhaps the best benefit of all is the incredible crew of people you work with, all of whom share a common interest in protecting the traveling public and securing our nation.  
The job is not a typical nine-to-five, but it is a place where the mission is to ensure safe travels and help people around the world share the moments that matter.
Benefits of working for TSA
Being a TSO within the TSO can be a challenging job, but it also comes with numerous benefits.
Insurance Benefits
The Insurance benefits are great! All TSA employees are eligible for health, dental, and vision insurance. 
There are no exemptions or penalties for pre-existing medical conditions, and employees may elect to cover themselves and eligible family members for an additional cost. 
Health benefits do vary based on position and number of hours worked, and there are several health insurance carriers to select from at various costs. TSA employees are also provided with life insurance.
Not all employers offer that kind of coverage. You can rest easy knowing that your family will be taken care of should a tragic event occur.
Retirement Benefits
All TSA employees automatically participate in the Federal Employees Retirement System, a three-tiered retirement system that includes Social Security, a defined annuity, and the Thrift Savings Plan. 
After completing just five years of service, TSA employees are credited towards a lifetime retirement pension. Not many places do that anymore.
TSA employees can also participate in the Thrift Savings Plan or TSP, where they receive automatic contributions even if they don't contribute to the TSP from their own pay. 
And all employees receive matching contributions of up to five percent each pay period if they elect to, and there are options to invest in various funds, including stocks, bonds, and government securities.
Other Employment Benefits
TSA employees enjoy paid annual and sick leave and transportation subsidies to help offset commuting costs. 
Veterans can receive credit for leave accrual for honorable active-duty military service. If they make a deposit for their military service, their service may be credited toward retirement. 
If/When certain requirements are met, federal health, dental, vision, and life insurance can continue into retirement too. It can be a great way to be set up in your old age.
In conclusion, working as a TSA agent can be a rewarding career that provides a wide range of benefits. To learn more about these benefits or to start the application process, please visit TSA jobs on the DHS website.
The hiring process of becoming a TSA Transportation Security Officer
The job of a transportation security officer is both challenging and rewarding. However, the unique application process to become a TSO can be complicated and confusing. It takes several months to complete.
How to apply for a TSA Transportation Security Officer position
To apply for a TSO position, go to TSA jobs TSA DHS gov. There you will find information on careers with TSA and a guide on how to apply. To start the application process, you are redirected to usajobs.gov to search for TSO positions. There needs to be a hiring need at an airport for you to apply.
Eligibility requirements for TSA Transportation Security Officer position
To be eligible for a TSO position, you must be at least 18 years old at the time of the application, a US citizen, and have a GED, high school diploma, or equivalent certification. If you're a male born after December 31st, 1959, you must be registered with the Selective Service System.
The TSA Transportation Security Officer application process
Once you have established that you are eligible, you are able to register for the TSA Candidate Dashboard. The candidate dashboard is how you will keep up with the process and progress of your application. Next, you are invited to schedule an online test or CBT, depending on specific airport hiring needs. The CBT includes an English proficiency test and an image interpretation test.
The airport assessment for TSA Transportation Security Officer position
After you complete the CBT, you get an email within a few minutes letting you know how you did. If you pass, you are offered a contingent offer of employment, but there are still a few more requirements before you're eligible to be hired. You have to submit standard authorization forms that allow for the release of information and for TSA to run a credit check on you. You must submit these forms within 14 days of passing the CBT, or else your application will become inactive. 
The next form is called an e-86, which is the national security questionnaire. After you submit your authorization forms, you may be contacted by an airport to schedule an airport assessment, which includes a structured interview, a color vision test, and fingerprinting.
Final steps to become a TSA Transportation Security Officer
During the airport assessment, you also receive more detailed information about the TSO position at that airport, such as dress and appearance standards, shift schedules, parking, and transportation options. You also have to pass a medical evaluation and drug test.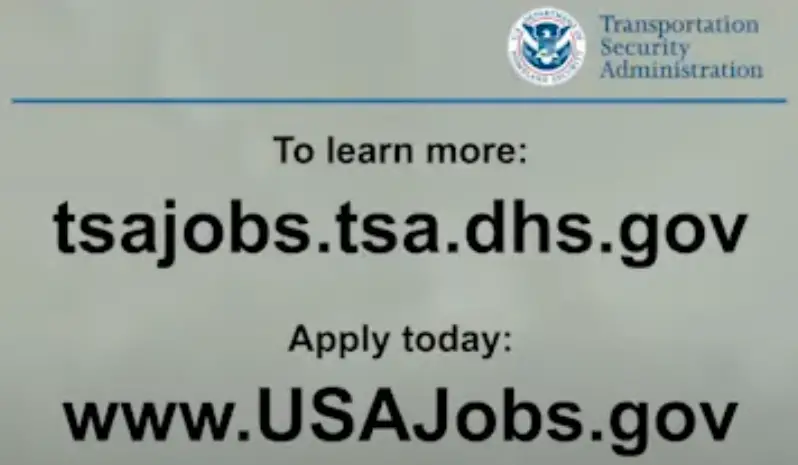 Then make sure to keep an eye on your email and candidate dashboard, because TSA might need more information or have follow-up questions. 
Once you've passed all the tests and completed the background check, you'll be added to a list of people ready to be hired! It's important to remember that your eligibility to receive a final job offer will remain valid for one year. 
Your airport will let you know about the details of your specific training, which usually takes place at the TSA academy in Georgia. 
When you accept the job offer, you'll be off to a great career with the Transportation Security Administration, helping to protect our nation's skies and keep America safe. Thanks for learning with me today!
What other positions are available besides TSO?
The Transportation Security Administration has a range of positions available in addition to Transportation Security Officers. Here are some of the positions available:
Federal Air Marshal
Federal Air Marshals (FAMs) are armed law enforcement officers who work undercover on commercial flights to protect the traveling public from acts of terrorism.
Transportation Security Inspector
Transportation Security Inspectors (TSIs) conduct inspections of airports, airlines, and other transportation facilities to ensure compliance with TSA security regulations.
Intelligence Analyst
Intelligence Analysts work to identify and assess threats to transportation systems and develop strategies to counter those threats.
Program Analyst
Program Analysts provide analytical and programmatic support to TSA management in areas such as budgeting, procurement, and human resources.
Administrative Officer
Administrative Officers manage various administrative functions within TSA, such as human resources, budgeting, procurement, and facilities management.
Training Instructor
Training Instructors develop and deliver training programs to TSA personnel on various topics, including security procedures, the use of screening equipment, and other specialized training.
Information Technology Specialist
Information Technology Specialists manage and maintain TSA's computer systems and technology infrastructure to support its operations.
Law Enforcement Specialist
Law Enforcement Specialists provide support to TSA and other law enforcement agencies on matters related to transportation security, such as investigations and intelligence gathering.
Please note that this list is not comprehensive, and other positions are available within TSA. You can visit their careers website for more information if you're interested in exploring job opportunities at the TSA.
TSA CONTACT INFO
In conclusion, the Transportation Security Administration offers a variety of job opportunities beyond just TSO positions. From administrative and managerial roles to canine handlers and explosive specialists, there are plenty of ways to contribute to keeping the nation's transportation systems safe and secure. 
While the job can be demanding and comes with its own unique set of challenges, working as a TSA agent can also be rewarding and fulfilling, as it provides the opportunity to make a meaningful impact in ensuring the safety of travelers. 
What's it like working as a TSA agent? It varies from role to role, but overall it requires a strong commitment to security and safety, excellent attention to detail and a dedication to following established procedures and protocols.
Other Articles