Should You Carry Your Passport With You in Brazil? – All countries require foreigners entering their borders for whatever reason to present a valid passport from their country of origin in order to be allowed entry. Many countries also require some sort of traveler, student, or work permit visa to enter.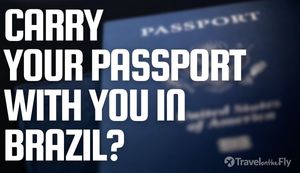 Many countries also require visiting travelers to carry their passport and/or visa, or at least some sort of ID while touring around and visiting. Then there are also countries that require you to present your passport and/or visa to depart their borders. 
Brazil requires tourists and visitors from other countries to carry some form of ID (International driver's license, enhanced driver's license, military ID, etc.) while traveling around the country.
Your passport will be requested at times when entering certain office buildings, and even at some tourist sites. It's also encouraged to carry a photocopy of your passport with you while keeping the original safely locked up back at your hotel.  
Do I Need a Visa to Enter Brazil?
Brazil requires a valid passport for entry, with one page required for your entry stamp. Since June 2019, has not required visitors from other countries to apply for a visa, as long as they are staying 90 days or less for such activities as tourism, business, transit, artistic or sporting events, and have no intention of establishing residence in Brazil.
This 90-day visa can be extended for an additional 90 days. For those staying less than 90 days, they must stay less than 180 days within a 12-month period. 
For other activities (e.g., extended business, student, etc.), you may need to apply for a Brazilian visa online or at a Brazilian consulate in the United States or another country.
Related: Why is Delta saying I need a Visa?
Do Minors Need Special Documentation to Travel Freely Within Brazil, or to Leave?
Minors from other countries can travel within Brazil and can leave, assuming they have the appropriate documentation. Brazil has some very specific laws regarding their citizen minors traveling without both parents. 
Special travel requirements for minors who are Brazilian nationals, including dual citizens: Brazil requires any minor with Brazilian citizenship traveling alone, including dual nationals who may also be citizens of other countries, including the U.S., to have notarized written permission from both parents to travel within Brazil or to leave the country, along with a copy of their birth certificates.
Brazilian minors traveling with both parents do not need any written permission from either parent. If traveling with one parent or without either parent, he or she must have written authorization from each absent parent, and must also carry a copy of his or her birth certificate. 
Regarding absent parent(s) in Brazil, the written authorization letter needs to be written in Portuguese and notarized by a Brazilian notary. Regarding absent parent(s) in the U.S. or any other country outside of Brazil, the authorization/notarization must be executed at the Brazilian embassy or consulate using the form provided.
This written authorization is important to note, because Brazilian Federal Police may verify and keep one written authorization when the minor enters Brazil, then request the second original authorization when the minor is leaving the country. Authorizations written in other languages or notarized by a non-Brazilian notary will not be accepted by the Federal Police. 
The traveling minor may also have a special annotation in his/her Brazilian passport to authorize him or her to travel alone or with only one parent.
Note that Brazilian citizen minors who do not have adequate written authorization and/or their birth certificates/annotated Brazilian passport will most likely not be allowed to pass through immigration or to board a plane leaving Brazil by authorities. 
Note: Non-Brazilian minors have no specific legal requirements regarding their travel alone or with only one parent, but Brazilian Federal Police have been known to hold up the travel of these minors of other nationalities who do not have documentation authorizing their travel. 
It is recommended that families of non-Brazilian minors traveling through Brazil with only one parent or for their minor children traveling without either parent provide written notarized authorizations as explained above, prior to travel, 
It is also recommended that non-Brazilian traveling minors carry an original or notarized copy of their birth certificates.
Can the U.S. Embassy Intervene on Behalf of U.S. Citizens in Brazil?
Regarding Brazilian immigration matters, the U.S. Embassy and its consulates cannot intervene or request that Brazil's requirements be waived for U.S. citizen travelers.
Should You Carry a Copy of Your Passport When You Travel Throughout Brazil?
Should you carry a copy of your passport while traveling within Brazil? Travelers will need their passports to clear airport security and immigration when arriving in Brazil. Brazil does not require visitors to carry their passports once they've arrived, though travelers are required to carry some form of identification while traveling around within the country.
An international driver's license or enhanced traveler's driver's license, military ID, or even a copy of the original passport are adequate. It's recommended to keep the original of your passport locked up in your hotel securely.

According to the U.S. State Department, you should treat your passport as you would any other valuable: keep your passport secure under lock and key at your hotel while traveling.
How Do I Get a Visa to Visit Brazil?
Travelers visiting Brazil from other countries are not required to apply for or obtain a traveler's visa for visits of 90 days or less (i.e., for tourism, business, transit, sporting or artistic events), and with no intention of establishing residence in Brazil. 
If you have plans for an extended stay for work or as a student, you'll need to apply for a Brazilian visa, either online or at a Brazilian consulate in another country.
Tips for Entry, Exit, and Traveling Through Brazil
1 – Violent crime is rampant in most Brazilian urban areas, including in areas with hotels, tourist attractions, and public transportation. Crimes can happen anywhere, however, so always be aware of your surroundings.
2 – Limit your personal belongings you take with you, and carry your money and credit cards in your front pocket. Keep photocopies of all personal documents in a safe place, including your passport, ID, credit cards, etc. This will help you in the recovery process if they are lost or stolen. 
3 – Would-be criminals intending harm to unaware foreigners may try to slip drugs into their drinks at bars, hotel rooms, parties, etc., so be on the alert at all times!
4 – Credit card and ATM scams are common in Brazil, so keep in close touch with your bank/financial carriers to keep a close eye on your accounts. Always keep your credit card in your view while using it. 
5 – Criminals target ATMs and businesses early in the morning. Avoid openly displaying your cell phone and using ATMs in secluded areas, especially if they're unfamiliar to you. If you do decide to use an ATM, use one that is located in a secure facility, like a hospital, government building, bank, or at the airport. 
6 – Wait for taxis and ride share services in secure, well-lit areas.
7 – Stay away from large groups and crowded events. Public events in Brazil, including sporting events and concerts, can suddenly become violent and dangerous. 
8 – You may want to avoid using public buses in Brazil at any time of the day, especially at night. Robbery and other crimes are common on public transit systems in Brazil. 
9 – It's recommended NOT to travel outside metropolitan areas after dark, so plan your touring so you can travel during the daytime. Roads in Brazil are not consistently reliable, and in the dark, you can find yourself in unsafe conditions (e.g., debris, farm animals, speed bumps, potholes, etc.).
Victims of any crime should immediately contact the local tourist or civil police to file a Brazilian police report before leaving Brazil. You should also inform your home country's embassy or consulate, though local authorities are responsible for investigating and prosecuting crimes. Tourists and visitors are encouraged to purchase medical evacuation insurance.  
How much cash can I enter Brazil with?
It is possible for individuals to bring a lot of money into Brazil, however, you will need to declare your money when you enter the country if you are carrying more than R$10,000, the local currency, reais. 
If you are carrying more than ten thousand reais or its equivalent amount in cash, currency, or any combination of checks and cash, you must declare it when you enter.
Do I need security in Brazil?
Brazil as a whole is relatively safe for tourists and visitors. In fact, the petty crimes that happen involving tourists are usually pick-pocketing or street muggings that are not violent and can easily be avoided with some basic forethought and planning.
So, Should You Carry Your Passport With You in Brazil?
The Brazilian government does not require visitors to carry their passports with them while traveling throughout their country, but you should carry some form of valid ID, or at least a photocopy of your passport once you've arrived. It's a good idea to keep your original passport locked up at your hotel while you're out touring. 
Other Reader's Favorite Articles