Finding the ideal spot to store your folding luggage cart can make a significant difference in your living space and personal organization. Let's explore a few options that might work for you, depending on your individual needs and circumstances.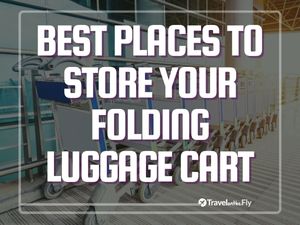 One option is to store your cart in a closet, where it can remain out of sight and protected from dust and potential damage. This can be especially helpful if you have a spacious closet that can accommodate your folding luggage cart without causing clutter. If you don't use your cart frequently, consider placing it in a garage or storage room.
This way, it will stay out of the way until you need it for your next trip or move.
Discover the best folding luggage carts for your next adventure.
For those with limited storage space, sliding your cart under your bed can be a clever solution. Not only does this keep the cart out of sight, but it also frees up valuable storage space in your closet or other areas. Additionally, if you find yourself using your cart often, storing it in your car trunk ensures it's easily accessible and ready for use whenever necessary.
Closet Storage
Storing your cart in a closet comes with several advantages. It helps to keep your it well-put-away and out of sight when not in use. To make the most of your closet storage, consider the following tips:
Choose a designated spot in your closet specifically for your luggage cart. This will make it easier to locate when you need it and keeps it from being a tripping hazard.
Clear some floor space if possible, so it can be stored flat on the ground. This will help prevent any damage and make it easy to access.
If you have shelving in your closet, consider storing smaller accessories associated with your luggage cart, such as bungee cords or hooks, on a shelf above the cart. This keeps everything in one spot, so you don't have to search for these items when you need them.
Remember to keep the area around it clean and free of clutter. This will make it easier to access your cart and help prevent damage or scratches. In addition, keeping it in a consistent spot helps to create a habit of putting it away when not in use, ensuring that your closet stays organized and clutter-free.
Garage or Storage Room
Using a garage or storage room is an excellent option if you use it sparingly and want to keep it out of the way. Here are some tips to help you store your cart effectively in these spaces:
Find a designated area to consistently use so that it can be found easily every time you want it. Ideally, you should choose a spot that is easily accessible and not prone to dampness or extreme temperature fluctuations, as these could potentially damage your cart.
Accessibility: Be sure to store it in a location where you can easily access it when it's time to use it. Consider clearing an area near the entryway or creating a specific spot on a shelf for your cart.
Protection: To protect it from dust, dirt, and potential damage, consider covering it with a tarp or dust cover when not in use. This will keep it clean and maintain its functionality for years to come.
Organization: If your garage or storage room is cluttered, it's essential to maintain some organization. Utilize storage systems, such as shelving units, pegboards, or hooks, to keep your space neat and cart easily accessible.
By implementing these tips, you can ensure that it is stored safely, remains in good condition, and is always easily accessible when you need it.
Under the Bed
Under your bed can be a smart solution if your home has limited storage space. This option keeps your cart out of sight while also making efficient use of unused space.
To store it under the bed, first ensure the area is clean and free of any obstacles. You may want to use a storage bag or cover to protect your cart from dust or possible damage. This will help keep it in good condition and ready for use when you need it.
It's essential to measure the height of your under-bed space before attempting to store your folding luggage cart there. Make sure the folded cart dimensions fit comfortably within the available space. If needed, you can adjust your bed legs to create more room or invest in a low-profile folding cart specifically designed for under-bed storage.
If you have multiple carts or other travel accessories, consider using under-bed storage containers or organizers. These can help keep your items organized and easily accessible when it's time for your next trip. Some options include:
Clear storage bins with wheels for easy retrieval
Under-bed storage bags with handles
Slim storage baskets that slide in and out
Remember to keep a clear path to your under-bed storage area to make retrieving your folding luggage cart hassle-free. By keeping it within reach, you'll always be prepared for spontaneous getaways or last-minute trips.
Fun ways to Save and Make Money with Airport Luggage Carts!
Car Trunk
In your car trunk is a convenient option as well, especially if you use your cart frequently for travel or other purposes. This location ensures that your cart is always available whenever needed.
Before placing it in the trunk, make sure it's clean and dry to avoid dirt or moisture damage. To save space, fold it as compactly as possible, and consider securing it with a bungee cord or strap to prevent it from moving around while driving.
In addition to being convenient, keeping your folding luggage cart in the car trunk provides extra security. Since your cart is out of sight, it reduces the chances of theft or damage from occurring while parked outside.
Here are a few tips for efficiently storing it in the car trunk:
Utilize trunk organizers or compartments to keep it in place and make it easy to access when needed.
Tuck it alongside other items, such as an emergency roadside kit or a portable air compressor, to maximize space usage in the trunk.
Consider investing in a protective cover for it. This will help shield it from debris and potential damage while stored in the trunk.
Additional Considerations
When deciding on the best place to store your folding luggage cart, consider the frequency of use and the available space in your living environment. Here are a few additional factors to keep in mind:
Accessibility
Think about how often you use it and how easily you want to access it. If you use it frequently, storing it in a car trunk or closet near the entrance may be the most convenient option. On the other hand, if you use it occasionally, you might prefer to store it in an out-of-the-way place, like a garage or storage room.
Size and Weight
The size and weight of your folding luggage cart affect where you can store it. Some carts are compact and lightweight, making them suitable for under-bed storage or a closet shelf. Larger or heavier carts might require more space, such as a garage or dedicated storage room.
Climate and Humidity
Environmental factors like climate and humidity can impact the longevity of it. Consider storing it in a dry and temperature-controlled environment to prevent rust, corrosion, or damage to any delicate materials.
Organization and Safety
Proper organization can not only help extend the life of your folding luggage cart but also keep your storage area clutter-free and safe. Use storage solutions like hooks, wall mounts, or designated shelves to keep it securely in place when not in use.
Take the stress out of travel with these top-rated best folding luggage carts.
Other Possible Places
You can also consider these alternative options when looking for the best place to store your folding luggage cart:
A corner in your office or living room:
Convenient when you often need to move heavy items
Easy access to it
Keeps it within sight to avoid forgetting about it
Behind a door:
Saves space by utilizing an often-overlooked storage area
Remains hidden when the door is open
Allows you to quickly grab and use it without searching for it
Inside a storage ottoman or bench:
Combines storage with additional seating or decor
Hides it completely
Keeps it in a frequently-used location for easy access
Wall-mounted hooks or brackets:
Utilizes vertical space to store it off the ground
Keeps it visible, reminding you to use it when needed
Can blend in with existing home decor
Here is a table summarizing the advantages of each storage option:
| | |
| --- | --- |
| Location | Unique Benefits |
| Corner of the room | Convenience, easy access, visibility |
| Behind a door | Space-saving, hidden, quick access |
| Storage ottoman or bench | Dual purpose, hidden, easy access |
| Wall-mounted hooks/brackets | Utilizes vertical space, visible, can blend with home decor |
Conclusion
In conclusion, finding the ideal spot for your folding luggage cart storage comes down to your personal needs and living situation. By considering factors such as accessibility, frequency of use, and space constraints, you can easily determine the best place to keep your cart.
Remember that closets provide a neat and organized option for storage, especially if you have enough space. Your cart will remain out of sight and protected from potential damage.

Utilizing a garage or storage room works well for those who may not need their cart as frequently. This allows for more room inside your living space for other items.

Under-bed storage can be a clever workaround if you're short on space. Just ensure the cart's dimensions fit beneath your bed without causing an obstruction.

Lastly, keeping it in your car trunk is a practical choice for frequent travelers. It'll be ready for use whenever you need it, saving you time and effort.

Be sure to think carefully about your individual situation and preferences, and choose the storage method that works best for you. With proper care and the right storage location, your folding cart will always be ready to provide its convenient, space-saving benefits.
Other Articles