Traveling, even for a few hours, is draining. It calls for thoughtfulness in every step of your preparation. On your packing list, you'll want a well-thought list of best travel accessories for business travelers. Unless you want to arrive for your business meeting looking like you just rolled out of bed, then pack the best.
From ensuring you have quality noise canceling headphones with you, to having just the right amount of clothes for your business trip, everything on your list will alleviate the exhaustion that comes with traveling.
If you have traveled on business for long, you probably have gotten a hang of it. What to pack, how to prepare yourself before and during the flight, and things to be aware of. But maybe you keep missing things every now and then. Once, I got last minute work assignment and in all my rush to pack I forgot my PJs and a few other items. Needless to say, it was a long three days away from home.
So, we are here to help your next business trip go easier and more comfortable. And avoid making mistakes as I did. We have prepared a list of the 10 best travel accessories for business travelers.
Best Travel Accessories for Business Travelers
Before we delve into the details, it is important to note that the accessories you choose should not inconvenience your travel. Bring what you really need and can manage to maneuver with at the airport, hotel, and meetings with the clients. Anything that is not of importance will way you down and delays way in various ways.
The Perfect Bag
For a business traveler, saving time at the airport is of the essence especially once you have landed. So, which is the best option between a carry-on bag and a checked bag? The answer to that depends on how much luggage you are bringing and how long you intend to be traveling.
If you are traveling for a few days, consider getting a carry-on bag. It saves you the long wait at the baggage claim once you have landed. Imagine having a flight within the hour you landed but you have to waste close to 20 minutes waiting for your luggage. It happens, and that time is precious for you.
For a backpack, you would want to get one that is TSA friendly, pack your other accessories, a few clothes, and your laptop. The Matein business backpack and the eBags Professional Weekender Carry-On Backpack are great choices.
If, however, you have a lot of things to pack, then get a duo bundle: a backpack and a duffle bag. The backpack can have your inflight essentials and a few clothes. Then pack the rest of the items in the duffle bag.
Noise Canceling Headphones
Nothing makes the long flights with loud engines, whispers, and crying babies more comfortable and enduring than a pair of noise-canceling headphones. Trust me; whether you are traveling on business or leisure, a pair of noise canceling headphones should be on your list!
As you start ticking off items form your best travel accessories for business travelers list, be sure to pack a pair. In case you have none, we highly recommend buying either the Sony WH1000XM3 noise canceling headphones or the Bose QuietComfort 35 (Series II).
I personally use the Bose and love them! These two are the best noise canceling headphones in the market. You will not go wrong with either of them. 
A Portable Charging Device
When traveling on business, a portable power device for your electric devices is a MUST. The last thing you need is your laptop, tablet or phone going off when you are just about to reply an important email. Or you are working on a report and off goes your battery.
The Anker PowerCore 10000 and the MOGICS Donut-Travel Power Strip are great choices. You do not have to be worried about them taking too much space either.
Phone Camera Lens
In between a number of meetings and hotel rooms, we make time to visit a few places, if the time allows. Just because you want to travel light does not mean you have to settle for bad pictures of all the nice things and places you want to photograph.
To hack this, buy a phone camera lens to help you get the best pictures. This, of course, eliminates the possibility of carrying your bulky camera on a business trip.
You can buy yourself the Vorida Phone Camera Lens or the RGCTL Phone Camera Lens and get a chance to take quality photographs for your travel tales.
A Laptop or a Tablet?
Between a laptop and a tablet, which one is the best travel accessory for a business traveler? Mostly, it will depend on your needs.
If you are looking for a device that is super light and easy to carry then a tablet is the real deal. Samsung Galaxy Tab S 8.4-Inch Tablet, for example, is light in weight, has a power saving mode, a long battery life, and fast internet.
However, if a laptop is what you prefer, there are some really cool options. MacBook Air is lightweight and has a long battery life of up to 12 hours. Another good choice is the Lenovo Yoga 900 2-in-1 laptop. This one is really cool since it can be flipped into a tablet. 
All these are great options when choosing between the best travel accessories for business travel. With them, you can be assured of never missing any work email, as long as you keep the batteries powered.
Travel Pillow
Long flights and in-state bus and train rides need to be as comfortable as possible when you fall asleep. You need to make sure you do not wake up with a stiff neck. The best way to take a comfortable nap is buying a travel pillow.
There are quite a number of travel pillows you can buy to make your travel business comfortable. However, consider getting one of these:
Get yourself one of these and your future business travel will never be the same.
Wireless Travel Router
Between the hotel room and the office or the airport, there is a high chance that you will not have an internet connection. Unless, of course, you have roaming airtime and bundles. The only issue is that roaming charges can be expensive.
You can hack this by getting yourself a wireless travel router. This will ensure that you are always online- you can reply to emails and access the internet no matter where you are. Some of the options to opt for are the RAVPower FileHub, and the TP-Link N300 Wireless Portable Nano Travel Router.
Affordable Travel Watch
As a business traveler, I know how important it is to keep track of time. Even though everyone today has a smartphone and other smart devices that tell time, it's just not the same.
There is something about having a watch on that I love. Plus, we always have a schedule that needs to be followed, so why not get a travel watch. Whether it's check-in time, bus tour or meeting with friends, it's important to have a great travel watch.
I wrote an article showing how you don't need to break the bank to get a really nice travel watch for cheap. Have a look.
Travel Adapter
Yes, believe it or not, a travel adapter is one of the best travel accessories for business travelers. Countries around the world have different charging ports. These might not be compatible with your electronic device chargers. To avoid putting your work on hold when your phones or laptop goes off, buy yourself a universal travel adapter for your business travels.
Some of the great choices to choose from include this Travel Adapter or this T3MCO Travel Adapter. This Worldwide All in One Universal Power Wall Charger is also a great choice for a business traveler.
TSA PreCheck and Global Entry
Imagine being in a position to skip all the TSA checks when you check-in at the airport? No need to remove your remove your belt, shoes, laptops, light jackets and 3-1-1 liquids. Now, that is the kind of deal every business traveler needs to have.
For your domestic travels, consider getting TSA PreCheck and enjoy the speedy security checks at the airport.
If you want to enjoy speedy security checks when traveling internationally, then a Global Entry is what you need. With the Global Entry, you can also skip the part where you have to fill the customs forms.
However, the process of getting these approvals is quite lengthy. You have to do the application online and appear in person for a face-to-face interview with a background check. If approved, well and good for you. go ahead and enjoy the TSA PreCheck. 
For the Global Entry, you have to create a Trusted Traveler Programs (TTP) account, fill in your details, pay the $100 fee, and wait for the review. Once your TTP is approved, you will have to appear in person for your interview.
As much as traveling on business has its challenges, it is very possible for you to make it as accommodating as possible. To do this, you need to get yourself the best travel accessories for business travelers. Accessories like a travel pillow, a backpack or the Wireless Travel Router will make your next travel business easy and comfortable.
Hopefully, you enjoyed our best travel accessories for business travelers guide. We have many other travel gear guides you can check out here: 
Thanks for reading! If you liked this post, PIN IT!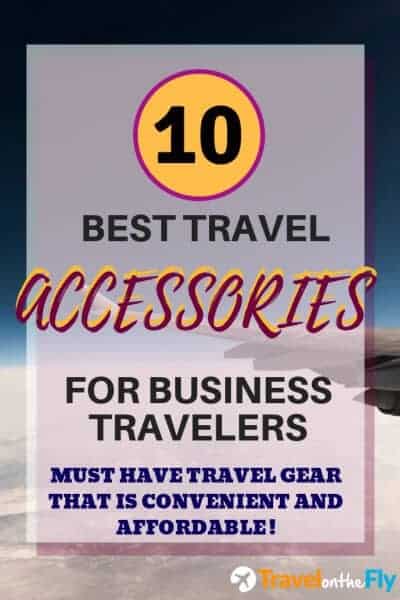 Some of the links on this page are affiliate links, which means we may receive a small commission if purchases are made through those links at zero cost to you. I will only sell and recommend products that I have either used personally or believe will be helpful for you. You will only see proven and trusted gear, and I will help guide you away from the products that simply don't work!