In an age where so many products and services are paid for digitally (and easily) online, it's nice to have a familiar, go-to method of payment that's quick and convenient when need be.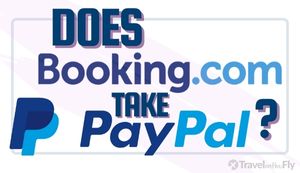 What about travel booking sites like Booking.com? Do they accept PayPal as a form of payment? What about PayPal Credit?
Yes, Booking.com does accept PayPal (and other non-traditional forms of online payment) and PayPal Credit as forms of payment for the site's convenient range of bookable travel services, including flights, hotels, car rentals, taxis, bus and train travel, corporate housing, and even restaurants.
If you've never used PayPal, it's an online payment website, accepted by an increasing number of e-commerce sites. PayPal allows you to save your "digital wallet," featuring your preferred methods of payment (e.g., credit cards, debit cards, bank accounts, etc.), with which you can pay for online goods and services, and even send money to friends and family (assuming they have PayPal accounts, too). PayPal even features PayPal Credit for qualifying account holders, which allows you to buy and pay for things over time.
How to Use PayPal on Booking.com
Once you've created a Booking.com account and have logged in, it's easy to use PayPal to pay for your travel. 
Search for the booking you need, the date of the booking, the number of people you're reserving for, along with their ages, and then proceed to checkout. At this point, you can select PayPal as your preferred method of payment. You'll be redirected to log in to your PayPal account and proceed with payment, then returned to Booking.com. Once booked, you'll receive confirmation emails from Paypal.com and from Booking.com. 
Are There Fees to Use PayPal on Booking.com?
Booking.com and PayPal both charge their own fees for hosts/providers to make their travel goods and services available to site users but do NOT charge a fee to site users. You won't pay any hidden costs as a site user on Booking.com.
Why Use PayPal on Booking.com?
Using PayPal features an easy, convenient way of paying for your Booking.com travel products – not only can you maintain a secure online "wallet," you can securely book and pay for goods and services from just about anywhere in the world.  
Can I Use PayPal Credit on Booking.com?
If you have a PayPal account and are eligible for PayPal credit, you can use the "pay-for-it-later" service to pay for Booking.com reservations. You can also use PayPal Credit for any other good or service you might purchase using PayPal.
Is it Safe to Use PayPal to Pay for Booking.com?
Technically speaking, no site is 100% "unhackable," but rest assured that PayPal goes the extra mile to encrypt data transfers via its site. Booking.com also has its own formidable security measures in place, so you can book goods and services using these services confidently.
Can You Get Your Money Back from Booking.com?
Once you've canceled your reservation, you can request a refund by contacting Booking.com Customer Support at 888-850-3958. Depending on the terms and conditions of your reservation, and how far in advance you canceled, you may be charged a service fee.
Can I Dispute a Booking.com Charge?
Booking.com does have a dispute resolution process in place for charges you feel are unwarranted. Understand that the ease with which you are able to have a charge refunded depends in large part on the terms and conditions you agreed to when you made the reservation, to begin with. If you cancel a reservation at the last minute, or simply don't show up, it may be more difficult to have a charge refunded to you. Also, service fees may be charged to you even if you are deemed eligible for a refund.
Simply contact Booking.com Customer Care at 888-850-3958 for help with processing your dispute. You may also file a dispute through PayPal directly if you used that as your payment method.
Does Booking.com Charge Your Card Immediately?
Unlike purchases for goods that are immediately charged to your credit card or PayPal account, Booking.com operates primarily with what are known as "card pre-authorizations." Pre-authorizations are frequently used by merchants and can be easily confused with immediate charges. Pre-authorizations are temporary holds on your card or account for pre-specified amounts, but the final charge does not actually "hit" until the bill or charge is finalized.
How does Booking.com Show Up On My Bank Statement?
video #1 Travelonthefly.com
You should see Booking.com somewhere on the charge's line item, possibly with the type of service or reservation also (e.g. Booking.com HOTEL). If you ever see a Booking.com charge that looks incorrect or suspicious, be sure to contact Booking.com's Customer Care at 888-850-3958 for assistance.
Does Booking.com Accept AMEX?
Booking.com does accept American Express, and you may even be eligible for discounts or cash back for using your AMEX card when booking reservations on the site.
How Do I Confirm That I Paid For My Booking.com Reservation?
When you make a reservation on Booking.com, you'll receive a downloadable confirmation email (downloadable in .pdf file format). This email will contain your payment confirmation. 
Will I Need to Pay Anything Extra Upon Arrival?
Sometimes you'll be asked to pay for taxes and charges upon arrival at your reservation venue. The total amount charged (booking fees + taxes/charges) should match what's in your Booking.com confirmation email. If no amount for taxes/charges is stated in your confirmation email, you shouldn't pay for anything upon arriving. If you feel you are being charged incorrectly, contact Booking.com Customer Care at 888-850-3958, or on their website. 
Can You Pay for a Hotel on Booking.com with PayPal? 
Booking.com does accept payments from non-traditional payment methods, including PayPal, making travel more accessible to more travelers.
What Payment Methods Does Booking.com Accept?
Online Payments by Booking.com accepts alternative methods of payment instead of a traditional credit card. Payment methods accepted include debit cards, e-checks, and digital wallet services (like PayPal), as well as a number of phone and mobile methods of payment.  
Is Booking.com Only for Hotels?
Booking.com is an Amsterdam-based digital travel agency that provides a number of travel products and lodging services. Booking.com is best known for booking hotel rooms around the world, but its offerings also include airfare, train and bus tickets, rental cars, airport transportation, executive lodging, and restaurants.
Do You Need a Credit Card for Booking.com?
You do not absolutely need a credit card to book a hotel (or anything else) on Booking.com. The website offers a number of booking options, including airfare, hotels, rental cars, train and bus tickets, airport taxis, executive lodging, and even restaurants.
Is It Better to Book With Booking.com or With the Hotel Website?
It just depends. Sometimes you can book with better rates on Booking.com, and sometimes you can book directly. You can always call a hotel or travel agent directly and find out about any special promotions being offered, and possibly get a better room (or airline ticket) for the same price. Just shop around.  
What is Unique About Booking.com?
Unlike other travel booking websites, Booking.com confirms a room immediately upon purchase by a user, rather than negotiating rooms after a reservation is made. Also, unlike other travel websites, Booking.com is completely "fee-free" for users.
Which is Better? Booking.com or Expedia?
In regard to a variety of factors including Brand Ranking, Overall Company Culture Score, CEO Ranking user ratings, and other ratings (not just prices), Booking.com ranks arguably, though only somewhat, better than Expedia.com. Good and negative experiences happen for users of both sites.
So, Does Booking.com Accept PayPal Payments?
Yes, Booking.com accepts PayPal and PayPal Credit (along with other non-traditional payment methods) as legitimate forms of payment when you make reservations on its website. Note that travelers will not be charged extra fees by Booking.com or by PayPal. If necessary, Booking.com charges can be refunded or disputed by contacting the site's Customer Care Team, but note that your ability to receive a refund mostly depends on the terms and conditions you agreed to when making your reservation. Service fees may also be charged out of your refund if you are eligible for one.
Related: