Enjoy this free downloadable and printable full body resistance band exercise chart PDF. This is more than just a table or chart printout that you can download and print. It's a fully illustrated guide with pictures and explanations of each and every exercise for your entire body.
Download it below and keep it with you as a digital copy or print it out and use it as a hard copy as you workout.
Either way, enjoy it, and good luck on your fitness journey.
Free Printable Resistance Band Exercise Chart PDF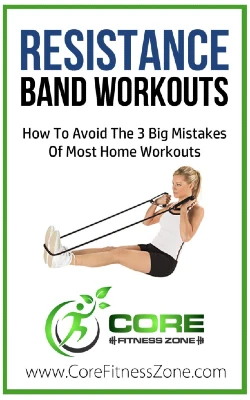 It's the printable resistance band workout book you have been looking for as a free pdf download. You can use it to create your own 4-week resistance band training program. they are free printable resistance band exercises you will find easy to follow and get results from fast if you follow them daily.
Best Resistance Band Set
This Whatafit Resistance Bands Set allows you the most flexibility when it comes to your workouts. You can find just the right band for your specific needs and change them as you get stronger. Its a perfect full body set of resistance bands.
Whatafit Resistance Bands Set (11pcs), Exercise Bands with Door Anchor, Handles, Carry Bag, Legs Ankle Straps for Resistance Training, Physical Therapy, Home Workouts
Different color adjustable resistance bands: Yellow (10 lbs), Blue (20 lbs), Green (30 lbs), Black (40 lbs), Red(50 lbs). All Whatafit exercise bands are 36 in length, and can be used alone stacked in any combination to a maximum equivalent of 150 lbs.

Multifunction and portable: Our resistance bands can apply to different types exercise. Good for toning your arms, shoulders, chest, glutes, legs etc. Also comes with convenient travel pouch! You can also take your bands to Gym, Office, etc.

Good quality materials: Resistance band is made of natural latex is kind to the environment. Strong wear resistance and great elasticity, non-slip handle, comfortable and absorbent.

Personal home gym: WHATAFIT resistance band set includes five exercise bands, one door anchor, two cushioned handles, carrying case and user manual to allow you to perform the widest variety of resistance training exercises possible at home.

Suitable for daily use: Each exercise bands is carefully constructed to resist snapping and breaking, which are able to withstand intense daily exercise sessions. Now enjoy the exercise with WHATAFIT resistance bands s
If you are looking for a simpler full body set or one for traveling, the Fit Simplify Resistance Loop Exercise Bands Set is perfect, compact and effective.
video #1 Travelonthefly.com
Fit Simplify Resistance Loop Exercise Bands with Instruction Guide and Carry Bag, Set of 5
High end exercise bands. Our 12″ by 2″ heavy duty loop resistance bands come in 5 varying resistance levels. This makes them perfect whether you are just starting to workout or a seasoned workout warrior. Our extra light and light bands are great for beginners, while our medium, heavy and extra heavy exercise bands are targeted for more intermediate and advanced strength training.

Great with any workout. This resistance band set can be integrated seamlessly with various popular workout program. Or use them for general exercise, stretching, strength training, power weight programs. The included carry bag makes it easy to take your bands with you and do any workout away from home or your home gym.

Multiple uses. While these resistance bands are often used for sports and fitness, physical therapists love these physical therapy bands (rehab bands) to help them rehabilitate their patients. Our stretch bands work for people suffering from leg, knee and back injuries. They are also perfect for use by women after pregnancy and birth to keep their bodies in shape.

Superior quality. All of our exercise resistance bands are thoroughly tested before we ship them out to you. This ensures your bands are easy on skin and will provide you with a worry free experience. The instruction booklet includes dozens of different illustrated exercises that demonstrate how to use our resistance bands for legs, arms, back, shoulders, ankles, hips and stomach.

What you get: Five exercise bands with color-coded resistance levels, portable travel carry bag and instruction gui
How many times a week should you do resistance band training?
Consider the following as a guide. It depends on your body, experience, and level of health.
Beginner – two to three times per week for the first month
Intermediate – three to four days per week
Advanced – four to six days per week 
If you're not seeing the results you would like, change up your routine. You can vary the exercises or the amount of time you workout or your intensity or speed.
Can resistance bands build muscle like weights?
Yes, resistance bands build muscle and strength. Bands still produce tension and resistance even though they don't weigh nearly as much as free weights. They will also strengthen your muscles over time, especially if you're just starting out with strength training.
Can you get a full body workout with resistance bands or power bands?
Power or resistance bands can provide a great full body workout! In addition, they are very convenient to carry around. The almost weightless nature of this fitness equipment makes it very versatile, which makes it ideal for full body workouts at work, at home, or outdoors. 
 
Many athletes also use resistance or power bands to increase the intensity of bodyweight exercises.
Is it OK to do resistance bands every day?
It is ok to train with resistance bands every day. But follow traditional workout science best practices and allow your body enough time to rest between each workout to rest and repair itself. 
 
When compared to training only five or five days per week, it may not offer any additional benefits to achieving your goals.
Related: FitnessGram Pacer Test (w/Lyrics, Video & Audio)
Related Articles