Travel Retirement Gifts – If you're looking for a meaningful and useful gift for a retiree who loves to get out of town, look no further.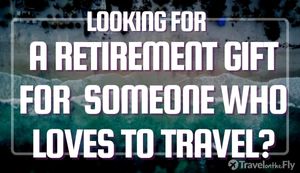 I've put together a list of practical, thoughtful gifts to help retirees travel easily and comfortably. From luggage that can withstand the rigors of being on the road to experience-based gifts that will create lasting memories, there is something for every retiree who loves to travel. So, let's get started!
46 Gift Ideas for Retirees Who Travel
I got these Sony Headphones about a year ago, and I love them! I wear them while working and commuting… 5-9 hours, 5 days a week. I can't say enough good things about them. I love that they connect to my phone and my computer automatically so I can listen to either seamlessly. They don't bother my ears when they go into noise-canceling mode either, like other ones I've tried. And they still look brand new! They're premium in every way.
Note: The headphones do come with a cable that will allow you to plug directly into the entertainment as well, if you don't mind the wire there. BUT if you want to go wireless on the plane check out the Airfly below.
Use the Airfly below to connect them to the Plane's in-flight entertainment. You can use the Airfly to connect any bluetooth headphones or earbuds to any device that doesn't have bluetooth built into it. Pretty slick!

or go with a Kindle gift card
Or grab one of these top folding luggage carts.
Buy a book from an area they always wanted to visit.
Retirement can be an exciting time to explore the world and indulge in the pleasures of travel, but it can also be a challenge for retirees who aren't sure where to begin. There are many things that can be overwhelming about being out of their usual routine if they're new to it. They may not know what accessories they will want or need to be comfortable for a long period of time and make the most of their trips.
That's why this site exists, to help people. I have traveled a lot and have used a lot of airports and stayed in a lot of great places.
I get it. You don't want to give a retiree a gift that will just collect dust on a shelf. 
Think through what will be memorable and truly be useful. You want to give a gift that will help them navigate the challenges of being on the road and create unforgettable memories.
Ok… 
Related: The Best Folding Luggage Carts!
Things to Keep in Mind When You Are Looking for That Perfect Gift
Location
Different destinations may require different types of gear or equipment. Are they likely to be spending more time in warm climates or humid or a variety of climates?
Vacation Style
What types of trips do they like to go on? Are they likely to spend more time lounging on the beach or climbing the nearest mountain? All that can happen in the same location. If they, for example, are going on a safari, a good camera with a zoom lens might be a great gift
Are You Supporting or Pushing?
Also, are you trying to reinforce their current preferences or push them a little outside their comfort zone? Sometimes I do one or the other with my parents, who retired not that long ago.
Ease of use
It's good to think of choosing gifts that are easy to use and don't require a lot of setup or instruction. For example, a great pair of noise-canceling headphones are easy to use and can be a great gift for retirees who want to relax on a long flight.
Accessibility
Consider any mobility or accessibility needs the retiree may have when selecting a gift. For example, a lightweight and easy-to-maneuver suitcase with wheels might be a good choice if they have mobility issues. Is there anything like a folding cart for luggage that would make their trips any easier?
Language
If your retiree is traveling to a country where they don't speak the language, consider gifting a language translation app (or phrasebook, if that's more their style) to help them communicate with locals. You could even get them a local language class or tutor. (or a tutor in the location they are traveling to)
Technology
Are they good with tech or not really? Thinking through this will help guide your gift buying as well. Tech can be a great help to travelers. Even low-tech, like a well-designed portable charger, might be a thoughtful gift.
Weight and size
Think about the weight and size of the gift, especially if the retiree will be flying or traveling by other means with limited space. You don't want to give them something too bulky or heavy to carry… if they are taking it with them. 
Serves multiple purposes
Items that serve multiple purposes can be a great choice for travelers, especially if they have limited space. Think of items like a jacket that can be converted into a pillow, a backpack that can double as a daypack, or a toiletry kit that can hang up for easy access.
Personal touch
Don't forget the importance of a personal touch when selecting a travel gift for your friend or loved one. Consider adding a handwritten note, their name or initials, or just a gift you know they will love that has some inside joke attached to it. 
These little touches can make the gift feel more thoughtful and meaningful.
Practical or sentimental
Think about whether it will be more practical and useful on their trips or if it will be more emotionally sentimental. 
Quality
I always look for high-quality gifts built to last and withstand the wear and tear of time and use. Travel can take a toll on things quickly. Items made from durable materials or backed by a warranty are a good choice.
Experience-based
Rather than giving physical items, consider gifting an experience-based gift such as a guided tour or a cooking class in a foreign country. (or that language class either before they go or after they arrive at their destination) These types of gifts can create lasting memories for them and you.
67 More Travel Gift Ideas – What Kind of Traveler Are They?
The Bottom Line – Retirement Gifts for Travelers
When it comes to finding the perfect travel gift for a retiree, there are lots of things to think about. At the end of the day, I hope there has been something in this post that helps spark some ideas.
You'll want to think about what your retiree(s) loves most about traveling and find a gift that will help them enjoy their adventures even more.
The best travel gift is not always the most expensive or elaborate one. But with the right gift, you can help them embark on their next adventure. And every time they use their gift, they will remember you.
Related Reads